Kenlie rocking out with Jason Thomas Gordon, musician and grandson of St. Jude founder Danny Thomas during a Music Gives to St. Jude Kids photoshoot.
Now 10 years old, Kenlie has undergone knee replacement surgery, radiation therapy, chemotherapy, physical therapy, and in February 2016, amputation of the affected leg. 
Today, with her prosthetic leg, she still takes any opportunity to dance. "The tears have been very few and far between with her," said her mom, Jennifer. "She's a very strong little girl."
Treatments invented at St. Jude have helped push the overall childhood cancer survival rate from 20% to more than 80% since it opened more than 50 years ago. St. Jude is working to drive the overall survival rate for childhood cancer to 90%, and we won't stop until no child dies from cancer.
"The hospitals back home are good," Jennifer said, "but if your kid has cancer, why would you want to go anywhere else other than here? You're getting the best care. The radiation oncologist is talking to your regular oncologist and talking to the orthopedist, and you have a social worker, and more. We have a whole team, and they're all talking about Kenlie. And that makes me very happy."
I love St. Jude because they never give up, and they fight along with us.
Kenlie
Kenlie became a big sister a couple of years ago, and she adores her baby brother. But in true big-sister fashion, she sometimes rolls her eyes at him. "He's a challenge, because he likes to get in my room," she explains. "You don't know how many times I have to say, 'No, no, not in my room. You can't mess with my stuff!'"
Editor's Note: We regret to inform you that Kenlie passed away in July 2017.
Help our families focus on their sick child, not medical bills.
When you donate monthly, your gift means families, like Kenlie's, never receive a bill from St. Jude for treatment, travel, housing or food — because all a family should worry about is helping their child live.
Other ways to get involved
Start a workplace giving program at your office. Learn how to make your workplace fundraiser for St. Jude a success and get your employees engaged.
View All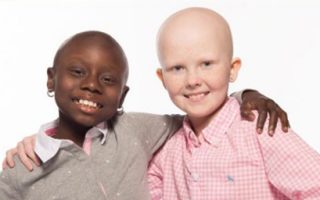 Learn more about how you can stay connected with St. Jude Children's Research Hospital.
View All
Participate or organize a fundraising event for St. Jude in your school to help kids fighting cancer and other life-threatening diseases.
View All