Patient Kensley poses with her older sister
None of this could happen if we had to receive a bill. I start crying if I talk about it.
Kensley's mom
At St. Jude, Kensley has received more than 28 rounds of chemotherapy since February, to be followed by oral chemotherapy at home. She also sees a nutritionist, a speech therapist, an occupational therapist and a physical therapist. 
Kensley thinks her big sister and brother are the funniest people on Earth
Help our families focus on their sick child, not medical bills.
When you donate monthly, your gift means families, like Kensley's, never receive a bill from St. Jude for treatment, travel, housing or food — because all a family should worry about is helping their child live.
Other ways to get involved
Start a workplace giving program at your office. Learn how to make your workplace fundraiser for St. Jude a success and get your employees engaged.
View All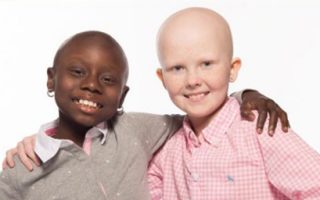 Learn more about how you can stay connected with St. Jude Children's Research Hospital.
View All
Participate or organize a fundraising event for St. Jude in your school to help kids fighting cancer and other life-threatening diseases.
View All