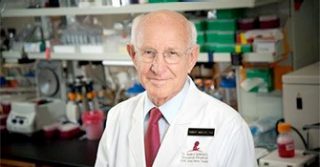 Virologist Robert G. Webster, Ph.D., of St. Jude Children's Research Hospital, is the recipient of the Charles Mérieux Award from the National Foundation for Infectious Diseases (NFID). Webster accepted the award recently at the organization's 16th Annual Conference on Vaccine Research.
The Charles Mérieux Award is given to those who have demonstrated a commitment to science-based medicine and research in infectious diseases, proven excellence in clinical and research activities, and shown dedication to improving public health.
Webster is internationally recognized as an expert in how new influenza strains evolve, credited with demonstrating the importance of aquatic birds as the reservoir for influenza and in aiding the development of better influenza vaccines and anti-viral drugs.
His work was instrumental in St. Jude being designated in 1975 as a World Health Organization (WHO) Collaborating Center for Studies on the Ecology of Influenza in Animals and Birds, of which he was the first director. The center at St. Jude — the only non-governmental organization among the current six centers — is focused on how the influenza virus mutates as it passes from birds to other animals and ultimately to humans and has surveillance sites around the globe to track the spread of new influenza strains.
St. Jude is currently producing seed stock for a potential vaccine against H7N9, the deadly new influenza currently affecting people in Asia.
Webster has received many honors, including election to the Royal Society, London; the Royal Society of New Zealand; and the U.S. National Academy of Sciences. In 2010, Webster presented the Leeuwenhoek Prize lecture, a prestigious recognition awarded by the Royal Society, London. He has also served as a consultant to the WHO, the National Institute of Allergy and Infectious Diseases, and holds the Rose Marie Thomas Chair in Infectious Diseases at St. Jude.
The NFID is a non-profit organization dedicated to educating the public and health care professionals about the causes, treatment and prevention of infectious diseases. The NFID award is named in honor of Charles Merieux, M.D., a French humanist and entrepreneur who devoted his life to infectious diseases prevention.
St. Jude Children's Research Hospital
St. Jude Children's Research Hospital is internationally recognized for its pioneering research and treatment of children with cancer and other life-threatening diseases. The hospital's research has helped push overall survival rates for childhood cancer from less than 20 percent when the institution opened to almost 80 percent today. It is the first and only National Cancer Institute-designated Comprehensive Cancer Center devoted solely to children, and no family ever pays St. Jude for anything. For more information, visit www.stjude.org. Follow us on Twitter @StJudeResearch.
St. Jude Media Relations Contacts
Summer Freeman
(desk) (901) 595-3061
(cell) (901) 297-9861
summer.freeman@stjude.org
Carrie Strehlau (desk) (901) 595-2295
(cell) (901) 297-9875
carrie.strehlau@stjude.org