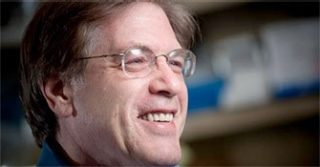 Charles Sherr, M.D., Ph.D., of St. Jude Children's Research Hospital, is honored by the AACR Academy for his scientific contributions to advancing understanding and treatment of cancer
Charles Sherr, M.D., Ph.D., chair of the St. Jude Children's Research Hospital Department of Tumor Cell Biology and a Howard Hughes Medical Institute Investigator, has been named a fellow of the American Association for Cancer Research (AACR) Academy.
Sherr is scheduled to be inducted into the academy's inaugural class of fellows on April 6 in Washington D.C. The induction coincides with the group's annual meeting. The designation recognizes scientists for making an extraordinary contribution to cancer research. Fellows were selected through a rigorous peer review process that focused on scientific achievements and contributions to the fight against cancer.
Sherr's work has advanced scientific understanding of the mammalian cell cycle and tumor suppressor genes, which are both disrupted in cancer. He is a member of the National Academy of Sciences and the Institute of Medicine. He has received numerous other honors and holds the Herrick Foundation Endowed Chair.
He is one of 106 fellows in the AACR Academy's first class. Going forward, a maximum of 11 individuals will be elected annually to membership by the current fellows. The AACR was founded in 1907 and is the oldest and largest scientific organization in the world focused on cancer research.
St. Jude Children's Research Hospital
St. Jude Children's Research Hospital is internationally recognized for its pioneering research and treatment of children with cancer and other life-threatening diseases. The hospital's research has helped push overall survival rates for childhood cancer from less than 20 percent when the institution opened to almost 80 percent today. It is the first and only National Cancer Institute-designated Comprehensive Cancer Center devoted solely to children, and no family ever pays St. Jude for anything. For more information, visit www.stjude.org. Follow us on Twitter @StJudeResearch.
St. Jude Public Relations Contacts
Summer Freeman
(cell) 901-297-9861
(desk) 901-595-3061
summer.freeman@stjude.org
Carrie Strehlau
(cell) 901-297-9875
(desk) 901-595-2295
carrie.strehlau@stjude.org