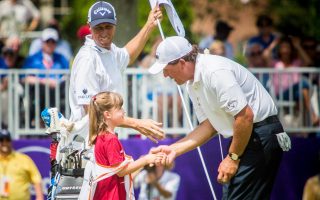 Each year, the FedEx St. Jude Classic provides St. Jude patients with a unique opportunity to interact with professional golfers and celebrities, while introducing professional golfers to the hospital's lifesaving mission: Finding Cures. Saving Children.®
Media are invited to attend any of the 2016 FedEx St. Jude Classic events that will once again appeal to golf enthusiasts and supporters of St. Jude Children's Research Hospital.
St. Jude Women's Club Patient Golf-A-Round
1:00 – 2 p.m.
St. Jude Campus – Danny Thomas ALSAC Pavilion
Visuals: Tournament players will visit St. Jude and participate in miniature golf with patients. This event is closed to the public – media should RSVP with contact above.
St. Jude Presents John Rich and Friends
7:30 p.m.
The Cannon Center for the Performing Arts
Featuring Big & Rich, Kristian Bush of Sugarland, Frankie Ballard, Chace Bryant, Drake White, Songwriters Rodney Clawson, Nicolle Galyon, Robbie Krieger.
Limited availability: Media must RSVP with contact below.
Little Loopers Honorary Caddie Experience
7 a.m. – 12 p.m.
11th Hole
Visuals: St. Jude patients will serve as "Little Looper caddies" for professional player on the 11th hole during Pro-Am play.
PGA TOUR Wives Association Patient Art Party, presented by Tumi
10:30 a.m. – 12:15 p.m.
ALSAC/St. Jude 18th green Hospitality Suite, TPC Southwind
Visuals: Wives of participating players host an art party for patients of St. Jude. This event is closed to the public -- media should RSVP with contact above.
Purple Eagle FedEx Plane Naming
12:30 - 1 p.m.
Plane will be located between the driving range and main Clubhouse.
Visuals: FedEx will honor a special selected St. Jude patient who is also the child of a FedEx employee by naming a Cessna Caravan in the patient's honor. St. Jude and FedEx executives will speak, and patient will participate in the unveiling.
Seersucker Sunday
2 – 5 p.m.
TCP Southwind
St. Jude patients serve as 18th green Pin Flag Caddies and later participate in the trophy presentation, adorned in seersucker attire to recognize the champions' Brooks Brothers seersucker jacket. 
About
St. Jude

Children's Research Hospital
St. Jude Children's Research Hospital is leading the way the world understands, treats and defeats childhood cancer and other life-threatening diseases. Families never receive a bill from St. Jude for treatment, travel, housing or food – because all a family should worry about is helping their child live. Treatments invented at St. Jude have helped push the overall childhood cancer survival rate from 20 percent to 80 percent since we opened more than 50 years ago. St. Jude is working to drive the overall survival rate for childhood cancer to 90 percent. We won't stop until no child dies from cancer. St. Jude freely shares the discoveries it makes, and every child saved at St. Jude means doctors and scientists worldwide can use that knowledge to save thousands more children. Learn more about us.
Media Contact:
Holly Cooper
ALSAC/St. Jude Children's Research Hospital
Office: (901) 578-4793 | Cell: (901) 573-0309
holly.cooper@stjude.org