St. Jude

has one of the largest sickle cell programs in the country. We treat children with sickle cell disease from birth through age 18.
Our sickle cell disease specialization
St. Jude has been researching sickle cell disease since the hospital opened in 1962. Our milestones are many, and include:
The first research grant ever received by the hospital was for the study of sickle cell disease.
In 1983, a St. Jude patient was the first in the world to be cured of sickle cell anemia through a stem cell/bone marrow transplant.
Leah hasn't had any hospitalizations in almost two years. I just love the treatment she receives at St. Jude.

Temaiko, mother of Leah, sickle cell patient
St. Jude provides outstanding treatment and educational resources to help sickle cell patients live long, happy, and healthy lives.
From exceptional patient care to innovative research, St. Jude is one of the nation's leading centers for sickle cell disease.
St. Jude is the primary treatment center for children with sickle cell disease in the Memphis area. We also consider referrals of children who are eligible for an open clinical trial.

Here are common questions families ask about sickle cell disease, treatment, and St. Jude.
The Sickle Cell Transition E-Learning Program (STEP) offers videos that help teens with sickle cell disease successfully transition to adult medical care.
By having a transition clinic that bridges pediatric care to adult care, we can make teens feel comfortable about continuing their health care and give them fewer reasons to abandon their sickle cell treatment.

Jane Hankins, MD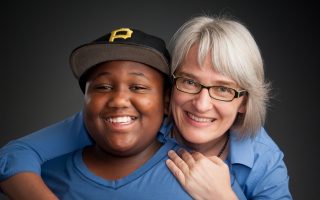 Since 1962, parents and doctors have sent children with sickle cell disease to St. Jude. The reason is simple: outstanding expertise from exceptional professionals.
Current Patient Contact Information
If your child is a current sickle cell or blood disorder patient at St. Jude, you can contact us anytime.
For questions about your child's symptoms
Monday-Friday, 8 a.m. - 5 p.m.: call (901) 595-5041
After 5 p.m., weekends & holidays: call (901) 595-3300 and ask to speak to the on-call hematologist
For general questions, call your nurse case manager.
Diagnosing sickle cell disease
Sickle cell disease is an inherited blood disorder. People with sickle cell disease have red blood cells containing mostly hemoglobin S, an abnormal type of hemoglobin. These red blood cells become sickle-shaped (crescent-shaped).
If one family member has sickle cell disease, other members may also carry the trait, or pass it on to their children. Learn more about the disease, how it's diagnosed, and abnormal hemoglobin traits.
Educational information for families and teachers
Explore these free publications to learn more about sickle cell disease, treatments and healthy lifestyle choices for patients.
You can also use our order form to request up to five hard copies.
Refer a Sickle Cell Patient