Thank you for joining us at the 22nd Annual St. Jude Four Stars Restaurant Extravaganza. With your generosity, this event raised a record-breaking $995,000 (and counting!) for the kids of St. Jude.
Read more about the 22nd annual event
Special thanks and recognition goes to Morton's Steakhouse for their generous support as a featured restaurant partner.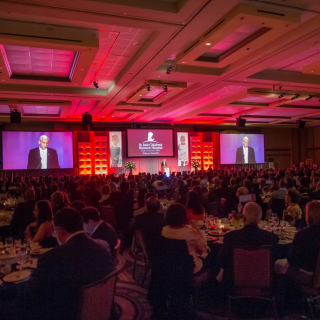 Treatments invented at St. Jude have helped push the overallchildhood cancer survival rate from 20% to more than 80% since it opened more than 50 years ago.
You can still help the kids of St. Jude.
Be a part of the lifesaving mission of St. Jude.
We are grateful for the generosity of the following restaurants for serving our guests at the event!
American Wild Burger
Atzimba Catering
Chicago Burger Company
Cite
Emilio's Sol y Nieve
Epic Burger

Fancy Pig
Garrett Popcorn
Gene & Georgetti
Greek Islands
Lao Sze Chuan's
Latinicity
Lyfe Kitchen
Mercadito Kitchen
Mexique
Nothing Bundt Cakes
Phoenicia
Pork n Mindy's

RA Sushi Bar Restaurant
RPM Steaks
Ruth's Chris Steakhouse
Shula's Steakhouse
Smoke Daddy
Taco Joint Urban Taqueria & Cantina
Texas de Brazil
2016 sponsorship opportunities
Presenting Sponsor - $50,000
company highlighted as a presenting sponsor on all marketing materials, website, press releases and promotional announcements.
premier recognition in all media materials as presenting sponsor
logo showcased on over 2,000 event invitations
company name mentioned during program
logo placement on scrolling multimedia piece during event
full-page color ad on the inside front cover of the program book
name acknowledgement in program book
logo placement on event signage
three tables with VIP seating for thirty guests
Miracle Sponsor - $25,000
logo showcased on over 2,000 event invitations
company name mentioned during program
logo inclusion on the Four Stars website
logo placement on scrolling multimedia piece during event
full-page black & white ad in program book
name acknowledgement in program book
logo placement on event signage
recognition as Miracle sponsor in all media outreach including press releases and promotional announcements
two tables with VIP seating for twenty guests
Dream Sponsor - $15,000
logo inclusion on the Four Stars website
logo placement on scrolling multimedia piece during event
name acknowledgement in program book*
logo placement on event signage
recognition in program book, including company logo
recognition as an event partner in all media outreach including press releases and promotional announcements
two prominently placed tables of ten
Hope Sponsor - $10,000
logo inclusion on the Four Stars website
logo placement on scrolling multimedia piece during event
name acknowledgement in program book
logo placement on event signage
one table of ten
Promise Sponsor - $5,000
logo inclusion on the Four Stars website
logo placement on a scrolling multimedia piece throughout the evening
recognition in program book
one table of ten
Honorary Event Chair
James Sanfilippo - Clear Lam Packaging, Inc.

Event Chairs
Joseph G. Bisceglia, Esq - Jenner & Block, LLP
Joseph G Shaker - Shaker Recruitment Advertising & Communications

Kevin Adam
Lieberman Management Services, Inc

Maruta Bergmanis
Hill + Knowlton Strategies

Andy Daniels
Daniels Trading

Ann Danner
Residential Homes of America, Inc.

Eric Fudala
Merrill, Lynch, Pierce, Fenner
& Smith Incorporated

Katie Haley
Morgan Stanley
Sana'a Hussien
Law Offices of Cohen & Hussien

Paul Juettner
Greer, Burns & Crain, Ltd.

Katherine Keenan
Clif Bar & Company

Craig Kopkash
Wilson Sporting Goods Co.

Mike Maali
PricewaterhouseCoopers LLP

Cynthia Mufarreh
BMO Harris Bank
Mary O'Toole
Primera Engineers

Anthony Shaker, Esq.
Shaker & Associates

Marianne Silver
Coyote Logistics

Caesar A. Tabet, Esq.
Tabet DiVito & Rothstein LLC

Mallory VonRohn
Coyote Logistics
Kevin & Maria Adam
Mary & Patrick Leone

Caesar Tabet, Kathy Smith and Tabet DiVito & Rothstein LLC
The Corcoran Family Foundation
Cynthia Mufarreh
Sussman Family Foundation
Jill Steinfeld Cunniff

Paul and Mary Rose Juettner Family