Unraveling the mystery of childhood tumors
With projects like the Childhood Solid Tumor Network and the Advanced Research Center,
St. Jude

is forging breakthroughs in pediatric cancer.

December 11, 2020 • 3 min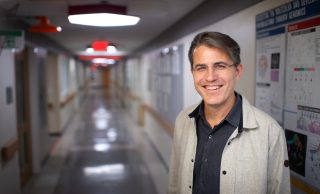 Michael Dyer, PhD, grows tumors in the lab just so he can figure out how to kill them.
Dyer, who chairs the Department of Developmental Neurobiology at St. Jude Children's Research Hospital, co-founded the Childhood Solid Tumor Network with St. Jude associate faculty member Sara Federico, M.D., as a means of developing new treatments for some of the deadliest forms of pediatric cancer. In the 10 years since the launch of the network, more than 700 patients have donated samples of 25 different types of tumors for use in the research effort.
"We grow them in the lab, we study them, we find new drugs to kill them, and then we can freeze them down," Dyer said.
"And that is a legacy that goes on forever. Cancer is immortal — it'll keep on growing as long as you give it food and oxygen."
Dyer discussed his research, as well as the vast opportunities he sees in the $412 million advanced research center that St. Jude is set to open this spring, as part of the St. Jude Insider Spotlight Series hosted by Richard Shadyac Jr., President and CEO of ALSAC, the fundraising and awareness organization for St. Jude.
The tumor network, Dyer said, is another example of how dollars donated to St. Jude pay for studies that otherwise might not get done. What's more, because tumor samples have been shared with labs in 16 nations — each of which then spend money on their own studies — those donated dollars get "magnified" perhaps one thousand-fold.
This past year, the tumor research yielded what Dyer called a "major breakthrough" in tracking down and identifying elusive cancer cells that survive treatment in some patients. Although few in number, those cells often remobilize and lead to difficult-to-treat relapses. Survival rates for recurrent cases haven't significantly improved in more than two decades.
"What we didn't know was: What was it about those few cells that was different from all the others? What allowed them to survive?" he said.
"And for the first time we've been able to identify those cells and start to study them and find vulnerabilities."
Over the next several years, Dyer and his team will pursue what he calls a "huge program" aimed at finding out which drugs can kill the cells.
Much of that work, along with a wide variety of other studies, will be done in the hospital's new advanced research center, which will feature 625,000 square feet of space for computational biology, artificial intelligence and one of the most advanced microscopes in the world, as well as labs for immunology, developmental neurobiology, and cellular and molecular biology. What distinguishes the building most, Dyer said, is an open design that invites clinicians, physicians and researchers from across several disciplines to work together.
"This is an incredible space," he said.
Upon its opening, the center will house 56 labs and 300-400 people. "And that's not even going to fill the building," Dyer said.
Research space at St. Jude has been tight and "bursting at the seams," Dyer said. The new center will not only alleviate the space crunch, he said, but help St. Jude attract pre-eminent scientists and specialists from around the world.
"It brings together people in a collaborative way that just isn't as easy to do in these buildings that are 20 or 30 years old. That is what people are looking for, and that will help us recruit the best people."