Hope for the holiday
As we pause for the 4th of July during this difficult year, it's worth remembering how far we've come to achieve Danny Thomas' dream

July 03, 2020 • 2 min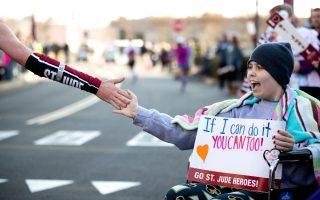 Faced as we are with an unrelenting public health crisis amid sharp spasms of social and economic turmoil, it's easy to get overwhelmed.
In these times, we tend to forget how far we've come. We tend to lose sight of hope.
Those thoughts occurred to me the other day when a small item in the Memphis newspaper caught my eye. It was just a paragraph in one of those on-this-date-in-history columns.
Under the heading "50 years ago," there was this bit of news from June 21, 1970: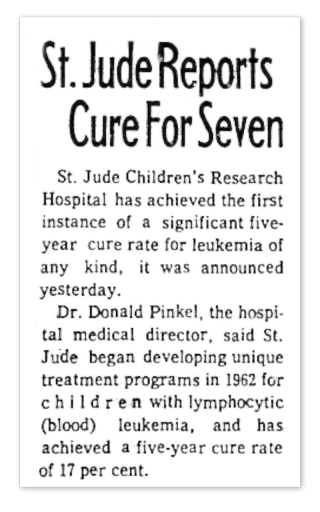 "St. Jude Children's Research Hospital has achieved the first instance of a significant five-year cure rate for leukemia of any kind, it was announced yesterday," the item began.
It went on to quote Dr. Donald Pinkel, the hospital's pioneering medical director, discussing how St. Jude, since its opening in 1962, had been developing "unique treatment programs" for children with lymphocytic leukemia, or acute lymphoblastic leukemia as it is called today.
Through those efforts, Pinkel said, St. Jude had achieved a five-year survival rate of 17 percent.
Let that sink in for a moment. A half-century ago, a five-year survival rate of 17 percent for children afflicted with the most common form of pediatric cancer was something to celebrate. It was, after all, a more-than fourfold improvement from the 4 percent survival rate for ALL patients when St. Jude opened just eight years earlier.
The same article quoted Carl Simmons, administrative assistant to Pinkel, voicing optimism for further progress. "We expect the cure rate for the disease to continue to climb substantially, if our program beats the test of time."
Fifty years later, we can definitively say the optimism of St. Jude leaders in 1970 was justified. The survival rate for ALL now stands at 94 percent for kids treated at St. Jude. Not only that, but discoveries made at St. Jude have helped push the overall survival rate for childhood cancer from 20 percent in 1962 to 80 percent today.
When I think about these incredible ALL stats, I see faces.
Of Lindsey Alsup and Tayde Cruz-Dodds, who survived ALL decades ago and are my colleagues today.
Of Adam Cruthirds, whose college graduation we just celebrated.
And Javon Bass, his mom and little sister, whose family has faced way too many heartaches with the disease, but are thriving now.
Happily, I could go on and on.
I know it's hard to look too far ahead with so much uncertainty immediately in front of us. But in another 50 years, imagine all the further discoveries and cures likely to be made. Imagine how much closer we'll be to St. Jude founder Danny Thomas' dream no child should die in the dawn of life.
Donors like you have made this mission possible from the outset. I hope you'll read the full article from the newspaper that day and marvel at what you've done. We can never thank you enough.
Richard C. Shadyac Jr. is President and CEO of American Lebanese Syrian Associated Charities, the fundraising and awareness organization for St. Jude Children's Research Hospital.