St. Jude

donors, volunteers, corporate partners keep the beacon of hope shining
From some of the largest businesses to individual supporters everywhere, our gratitude knows no bounds.

March 19, 2021 • 3 min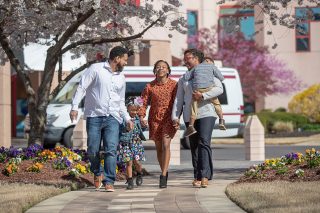 If there is one thing this past year has provided, it's time for reflection. I've spent a lot of time thinking about our patients and their families. About the fear and hopelessness they must feel when diagnosed with cancer, and then having to shoulder the added weight of the pandemic.
I've thought as well about the hope and comfort provided by St. Jude Children's Research Hospital, thanks to all of you, our supporters. Millions of you.
It's led me to reflect on gratitude.
I'm so grateful for the tenacity of our patients. For the courage they display in their darkest hours. And for the smiles we're so often blessed with at end of treatment.
Patients like Jordyn, a gymnast with Olympic-sized dreams, who came to St. Jude with acute lymphoblastic leukemia, the most common form of childhood cancer. She was at the right place. The survival rate for ALL at St. Jude is 94 percent today. Had Jordyn arrived here in 1962, she would have had almost no chance at survival. Instead, she was able to return to training during her two-and-a-half years of treatment. And today? Today she's thankful to be back on the balance beam doing what she loves most.
She said, "I feel like I could do anything."
That's just how we feel with our donors, volunteers and corporate partners by our side: We could do anything to help more kids around the world.
This year has shown us nothing will stand in the way of your support for our mission. Through your own challenges, you've remained engaged as we've shifted our normally in-person fundraising events to virtual. Connecting with each of you is such a meaningful part of our shared experiences and awareness of the critical issue of childhood cancer.
We're thankful as well that you've engaged as your comfort levels allow with St. Jude partners like Signet Jewelers, whose recent donation of more than $4 million brings total giving to more than $81 million over two decades.
Or Best Buy and its $22 million St. Jude Thanks and Giving contribution, equal to its total from the prior year.
I can go on and on about our partners: The $6.8 million Chili's has raised this year lifts its total contributions to $85 million. And AutoZone with a Thanks and Giving season of nearly $5.9 million. Or more than $150 million raised through Facebook, so crucial during this time of social distancing.
And even in a pandemic, new partners are signing up. Our friends at Coldwell Banker became part of our expanding St. Jude family, committing to $250,000 in their first year. Six months into their program and they've raised nearly that much already.
These are extraordinary totals in extraordinary times. It's not lost on any of us at ALSAC and St. Jude just how difficult the past year has been for our friends in the retail and service industries. Or that each of these brands is made up of thousands of employees and staff. And that, as they focused on their work, they also juggled the responsibilities of virtual school and disrupted childcare and health concerns of their own. Yet, they kept the St. Jude mission and our kids in their hearts.
Gratitude.
I'm not sure I can express effusively enough how thankful we are for our corporate partners who make it a point to include St. Jude in their cultures of caring, community and purpose. So I'll leave it to someone who understands better than most just how much hope you give.
"I thank you from the bottom of my heart. I thank you on behalf of my child. I thank you on behalf of my family. I love you." That's from Jordyn's mom, her eyes filled with tears of gratitude.
I'm grateful every day for the opportunity to serve the St. Jude mission, and that all of you have so willingly come along on a journey more than 60 years in the making. Thanks to your support, we'll see more kids survive and go on to live full lives of meaning and purpose.
For this, on behalf of everyone at ALSAC and St. Jude, I thank you.