In the lab,
St. Jude

researchers uncover origins of deadly inflammation caused by the novel coronavirus
New study identifies potential treatment strategy using combination of existing drugs that appear to disrupt deadly process

November 19, 2020 • 2 min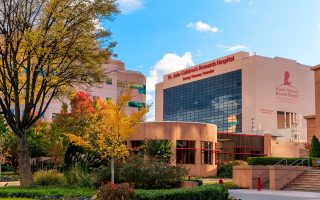 On a day when COVID-19-related deaths in the U.S. topped 250,000, researchers at St. Jude Children's Research Hospital announced findings that point to promising new therapies aimed at preventing many of the life-threatening complications of the disease.
A team led by Thirumala-Devi Kanneganti, PhD, vice chair of the St. Jude Department of Immunology, identified a previously unknown interaction between two messenger proteins that can unleash a cascade of inflammatory cell death, leading to tissue damage and multiple organ failure. The team also reported that two existing drugs based on neutralizing antibodies appear to disrupt this deadly process.
The study, published online in the journal Cell, comes as researchers around the globe race to develop therapies and vaccines to staunch a pandemic that, in less than one year, has killed some 1.2 million people and sickened millions more. With effective treatment options currently limited, doctors often rely on supportive care, including supplemental oxygen and mechanical breathing assistance, in their efforts to save patients.
"Understanding the pathways and mechanism driving this inflammation is critical to develop effective treatment strategies," said Kanneganti, who was corresponding author of the study. "This research provides that understanding."
The work by Kanneganti's team focused on cytokines, tiny proteins secreted primarily by immune cells. Infections involving SARS-CoV-2 — the virus that causes COVID-19 — can lead to increased blood levels of cytokines.
These proteins sometimes cause inflammation, and when they flood the bloodstream in dramatically increased levels, lead to what researchers call a "cytokine storm." Other life-threatening disorders such as sepsis and hemophagocytic lymphohistiocytosis (HLH) can lead to the same immune system overreaction. But the exact pathways initiating the cytokine storms and subsequent inflammation have remained a mystery.
To find them, Kanneganti and her team examined the cytokines most often present in elevated levels in COVID-19 patients. After finding that no single cytokine caused cell death, the scientists tested 28 combinations of the proteins and discovered that just one pair, working together, did induce inflammation and tissue damage mirroring the symptoms of COVID-19.
Researchers further concluded that existing drugs, Remicade and Gamifant, which are used to treat such inflammatory diseases as Crohn's disease and colitis prevented COVID-19 complications in laboratory models.
"The results also suggest that therapies that target this cytokine combination are candidates for rapid clinical trials for treatment of not only COVID-19, but several other often fatal disorders associated with cytokine storm," Kanneganti said.
The study's co-first authors are Rajendra Karki, PhD, and Bhesh Raj Sharman, PhD, of the Kanneganti laboratory. The other authors are Shraddha Tuladhar, Parimal Samir, Min Zheng, Balamurugan Sundaram, Balaji Banoth, R. K. Subbarao Malireddi, Patrick Schreiner, Geoffrey Neale, Peter Vogel and Richard Webby, of St. Jude; and Evan Peter Williams, Lillian Zalduondo and Colleen Beth Jonsson, of the University of Tennessee Health Science Center.
The research was supported in part by a grant from the National Institutes of Health (NIH); and ALSAC, the fundraising and awareness organization for St. Jude.