Podcast Title
L;orem ipsum dolor sit amet, consectetur adipiscing elit, sed do eiusmod tempor incididunt ut labore et dolore magna aliqua. Ut enim ad minim veniam, quis nostrud exercitation ullamco laboris nisi ut aliquip ex ea commodo consequat. Duis aute irure dolor in reprehenderit in voluptate velit esse cillum dolore eu fugiat nulla pariatur.
close player 
Title Unavailable
Description unavailable
St. Jude Soundbites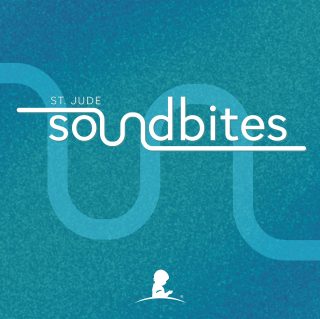 The life-threatening illness of a child has far-reaching effects. It can uproot families, mobilize communities, cause people to question their faith or to find their purpose. St. Jude Soundbites collects the stories that unfold around St. Jude Children's Research Hospital, as told by those who live them: patients, parents, donors, volunteers and more.
https://www.stjude.org/inspire/podcasts/soundbites/st-jude-soundbites-elizabeth.html
https://www.stjude.org/inspire/podcasts/soundbites/st-jude-soundbites-amy.html
https://www.stjude.org/inspire/podcasts/soundbites/st-jude-soundbites-brittney.html
https://www.stjude.org/inspire/podcasts/soundbites/st-jude-soundbites-ryan.html
https://www.stjude.org/inspire/podcasts/soundbites/st-jude-soundbites-jillian.html
https://www.stjude.org/inspire/podcasts/soundbites/st-jude-soundbites-janine.html
https://www.stjude.org/inspire/podcasts/soundbites/st-jude-soundbites-quinton.html
https://www.stjude.org/inspire/podcasts/soundbites/st-jude-soundbites-nadine.html
https://www.stjude.org/inspire/podcasts/soundbites/st-jude-soundbites-tekia.html
https://www.stjude.org/inspire/podcasts/soundbites/st-jude-soundbites-the-solomons.html
https://www.stjude.org/inspire/podcasts/soundbites/st-jude-soundbites-dean-troutman.html
https://www.stjude.org/inspire/podcasts/soundbites/st-jude-soundbites-julie-wurl.html
https://www.stjude.org/inspire/podcasts/soundbites/st-jude-soundbites-lindsay-walter.html
https://www.stjude.org/inspire/podcasts/soundbites/st-jude-soundbites-john-f.html
https://www.stjude.org/inspire/podcasts/soundbites/st-jude-soundbites-sarah-emerson.html
https://www.stjude.org/inspire/podcasts/soundbites/st-jude-soundbites-john-bennett.html
https://www.stjude.org/inspire/podcasts/soundbites/st-jude-soundbites-jose-zambrano.html
https://www.stjude.org/inspire/podcasts/soundbites/st-jude-soundbites-missy.html
https://www.stjude.org/inspire/podcasts/soundbites/st-jude-soundbites-jared-isaacman.html
https://www.stjude.org/inspire/podcasts/soundbites/st-jude-soundbites-hayley-arceneaux.html
https://www.stjude.org/inspire/podcasts/soundbites/st-jude-soundbites-rock-n-roll-runner-sue-ellen-henderson.html
https://www.stjude.org/inspire/podcasts/soundbites/st-jude-soundbites-rock-n-roll-runner-rob-devine.html
https://www.stjude.org/inspire/podcasts/soundbites/st-jude-soundbites-rock-n-roll-runner-anamaria.html
https://www.stjude.org/inspire/podcasts/soundbites/st-jude-soundbites-special-report-ukraine-natalia-wobst.html
https://www.stjude.org/inspire/podcasts/soundbites/special-report-ukraine-malgorzata-dutkiewicz.html
https://www.stjude.org/inspire/podcasts/soundbites/special-report-ukraine-yuliya-nogovitsyna.html
https://www.stjude.org/inspire/podcasts/soundbites/st-jude-soundbites-rock-n-roll-runner-lynda.html
https://www.stjude.org/inspire/podcasts/soundbites/st-jude-soundbites-rock-n-roll-runner-dave.html
https://www.stjude.org/inspire/podcasts/soundbites/st-jude-soundbites-rock-n-roll-runner-frank.html
https://www.stjude.org/inspire/podcasts/storied-lives-podcast/storied-lives-podcast-craig.html