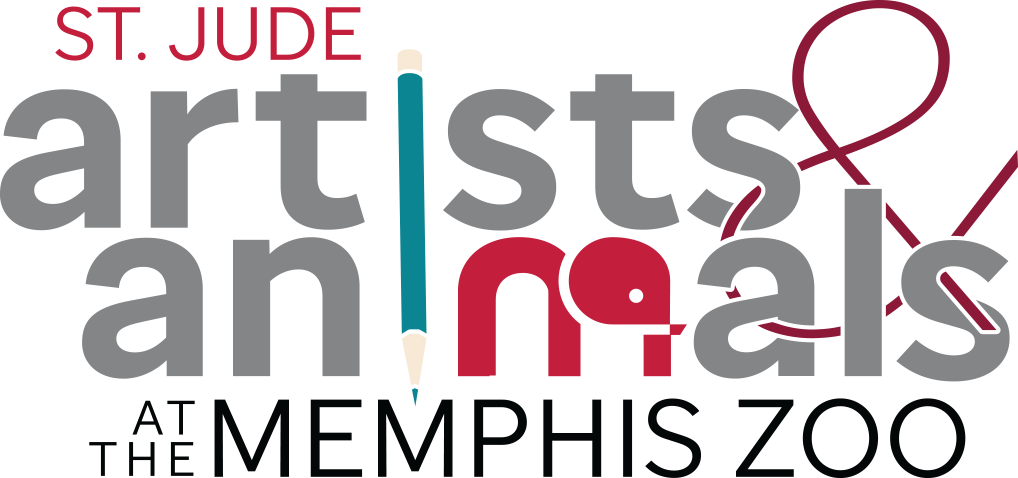 The Memphis Zoo is a favorite destination for patients of St. Jude Children's Research Hospital® and their families. At the zoo, families get outside, relax, see some of their favorite animals and connect with a sense of normalcy during a difficult time.
Now, the Memphis Zoo is highlighting the stories of St. Jude families with lively patient and sibling artworks featuring some of the animals found in the zoo.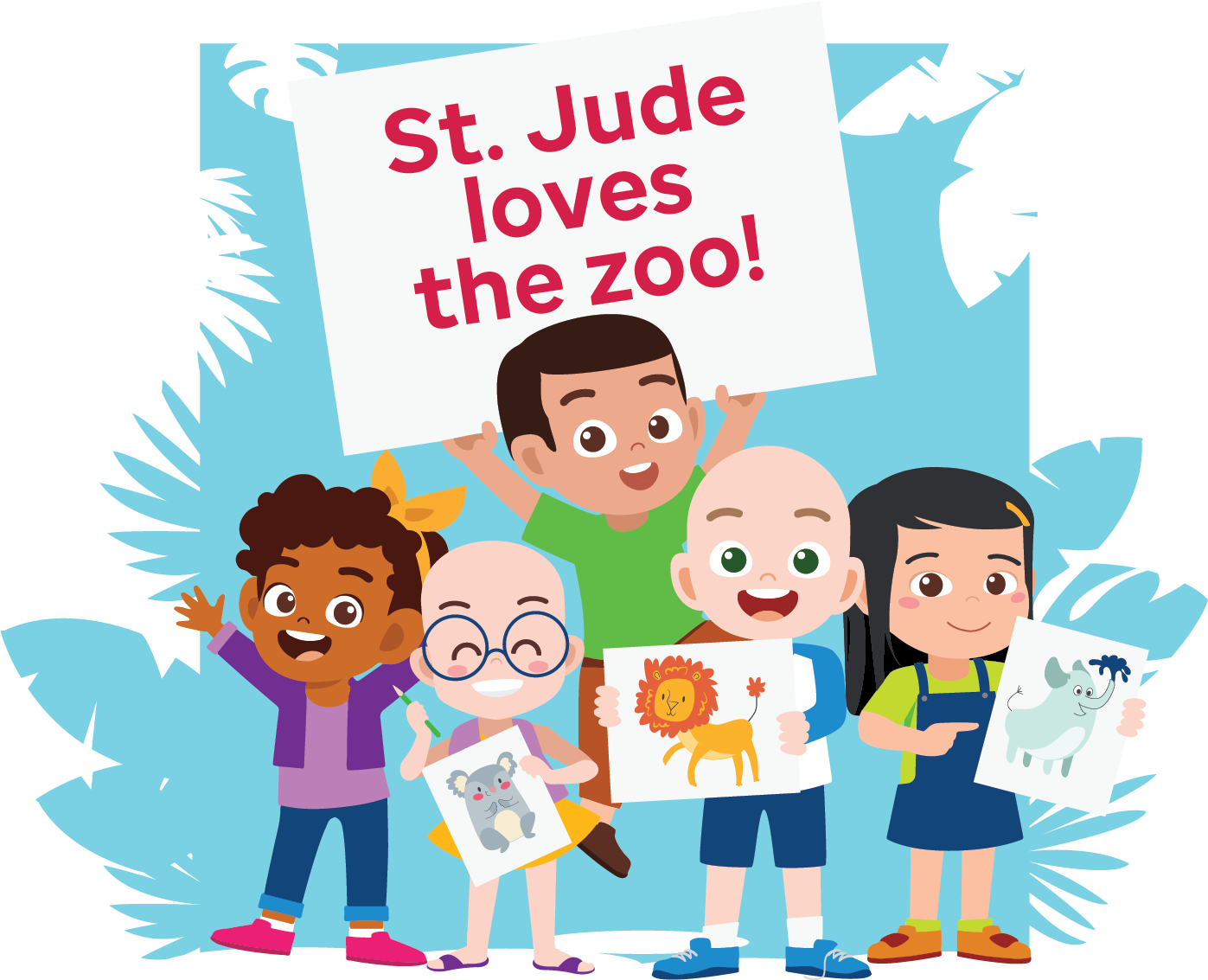 The Artists
Calvin
In 2018, after a family bike ride, Calvin's mom noticed he had a bump on his back, and his right leg was swollen. It was discovered that Calvin had rhabdomyosarcoma, a cancer of the soft tissue, and it had spread. There was tumor growth in five places.
A referral to St. Jude was recommended by his doctor. "We had no idea what we were up against," said Calvin's mom. "We just knew that St. Jude was the best place. We didn't hesitate to come."
Calvin's treatment included chemotherapy and two kinds of radiation therapy. Through it all, Calvin kept his mom and his care team laughing. His mom says he's "quick-witted, happy-go-lucky and strong-willed." He loves sports, swimming and art.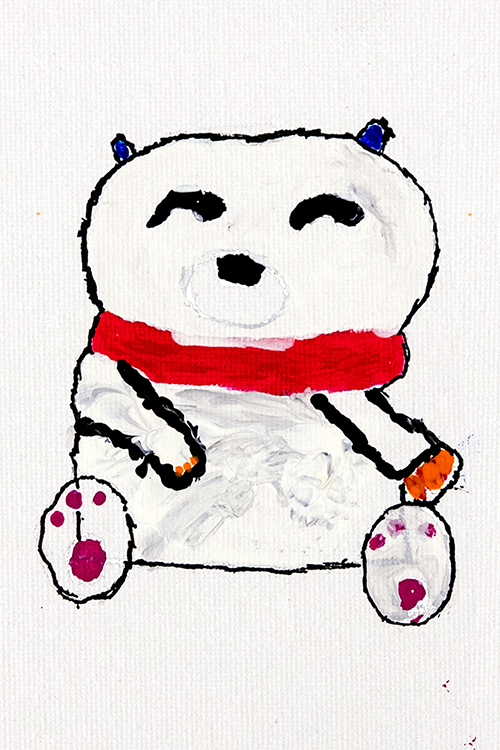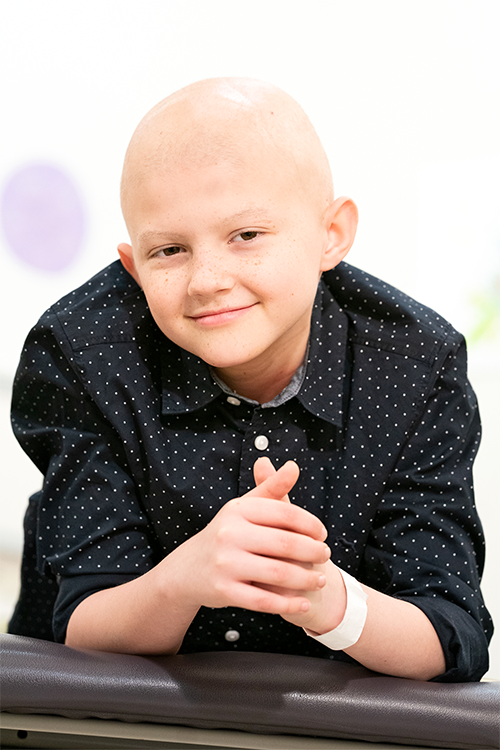 Animal: Polar bears
Why polar bears? "One cool thing about polar bears is, they usually have twins."
Maelin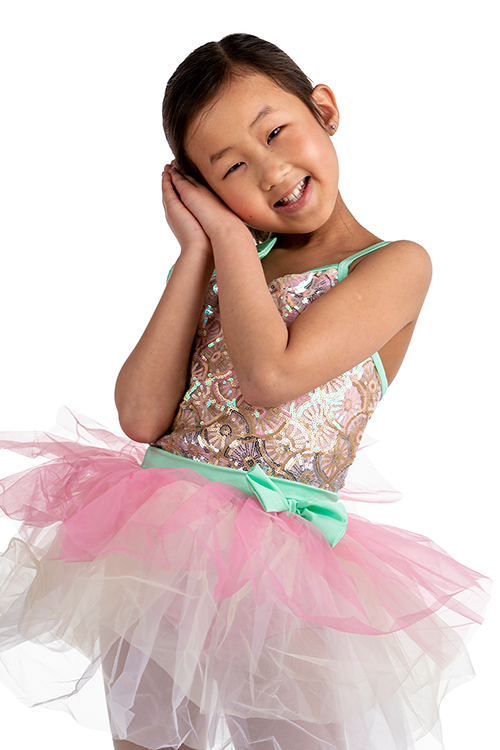 Animal: Panda
Why pandas? "Did you know that pandas' poop is green? It's because they eat bamboo!"
When Maelin's parents brought her home from China in 2017, they knew she had medical needs. She was scheduled for orthopedic surgery within weeks of her adoption. However, the bloodwork to prepare for that surgery revealed she had Fanconi anemia.
Fanconi anemia is a rare and serious inherited blood disorder that leads to bone marrow failure – causing an inability to produce healthy blood. Untreated, this genetic disease can cause leukemia. Fortunately for Maelin, her's was caught early.
At St. Jude, Maelin received chemotherapy and a bone marrow transplant. Today, she is a healthy, happy girly-girl with "glitter in her veins," according to her mom. "She's just super joyful. Every day, she finds a reason why it's the best day ever."
Alana
Alana has big plans for the future — a teacher, a lawyer, a ballerina, a scientist, you name it. But those dreams were threatened when an MRI revealed cancer.
At St. Jude, Alana was treated for Hodgkin lymphoma. She credits her mom with getting her through cancer treatment. Her mom credits St. Jude.
They both agree that Alana's future is limitless.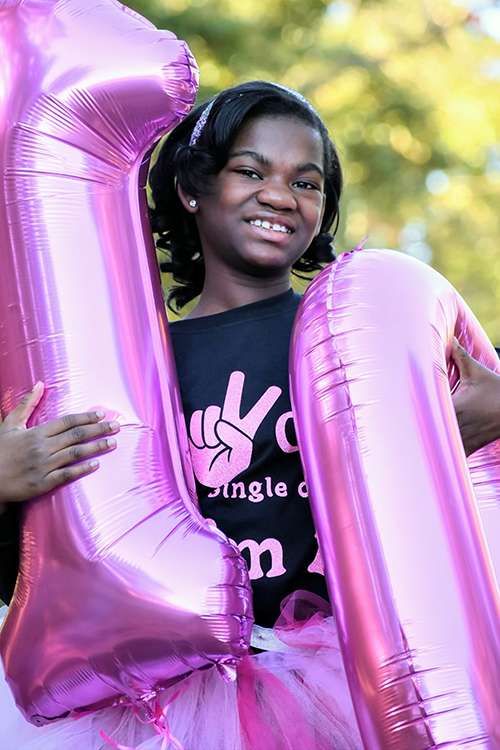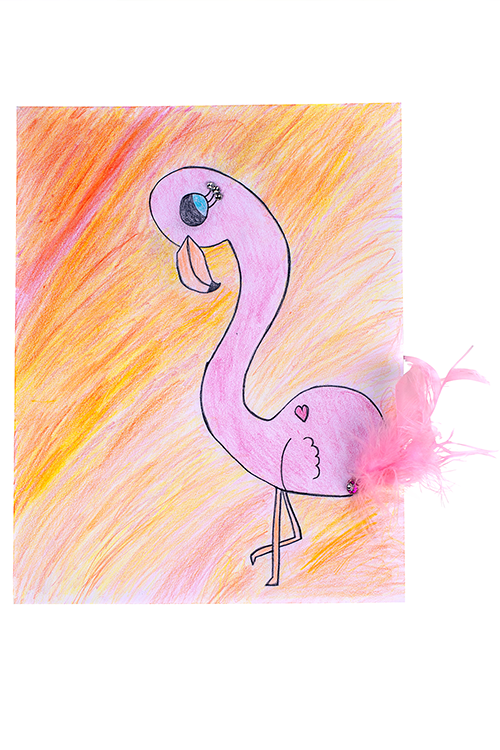 Animal: Flamingo
Why a flamingo? "Flamingos are pink which also happens to be my favorite color. My flamingo is a little different because she likes all things sparkly, shiny and because she's fancy."
Kenzie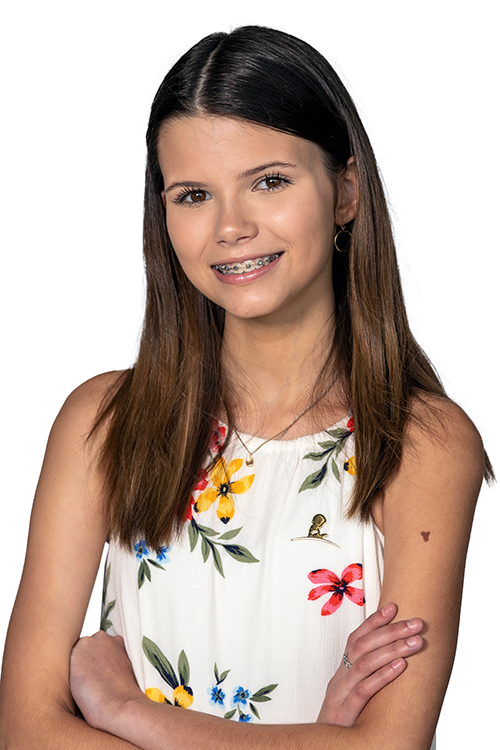 Animal: Eagle
Why an eagle? "Bald eagles are special. They are the national symbol of the United States."
"It wasn't that I was feeling bad. It was that I was weak," remembered Kenzie. No one expected anything serious, but when she was 13 years old, Kenzie was diagnosed with acute lymphoblastic leukemia, a form of blood cancer.
Kenzie was referred to St. Jude, where she received more than two-and-a-half years of chemotherapy.
In 2020, Kenzie finished treatment. She is now a college student with hopes to one day be a nurse at St. Jude and give kids the same support she received. "St. Jude is my second family," she said. "We have created a bond with so many people there that cannot be broken. It 100% means the world to me because they saved my life."
Ty
When Ty was two years old, his family noticed a white spot in the center of his right eye in certain lighting.
Tests showed Ty had a type of eye cancer known as retinoblastoma. After a referral to St. Jude, his family learned the tumor had filled his eye socket and had spread to the surrounding tissues.
The best outcome required the removal of Ty's right eye, followed by chemotherapy. Even at such a young age, Ty had a special interest that helped take his mind off treatment: art. The St. Jude staff always had art supplies waiting for him after procedures.
Cancer has been in Ty's past for more than a decade now. But art is still a part of his life – and so is St. Jude.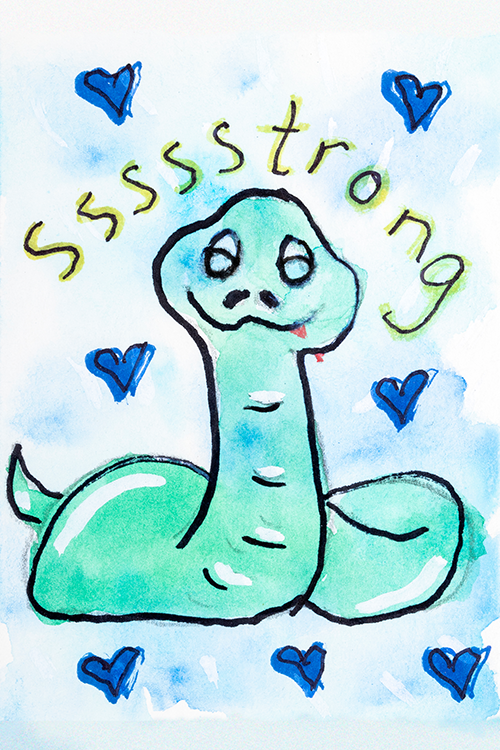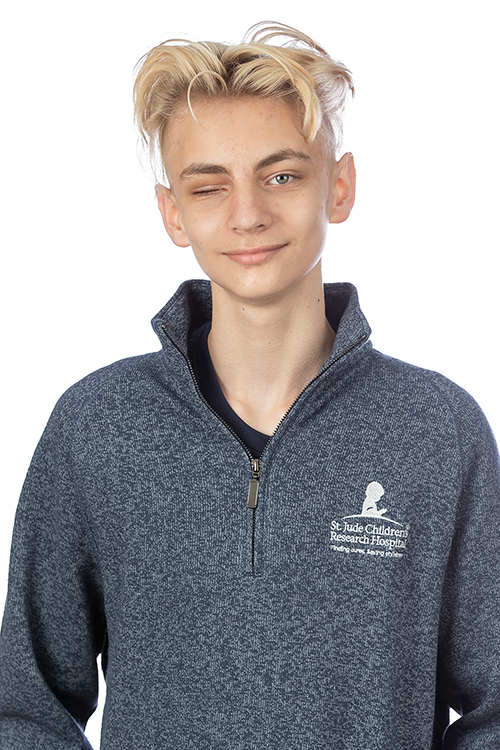 Animal: Snake
Why a snake? "I love the patterns and colors of snakes. They are a very misunderstood creature because some people think they look scary but they really aren't."
Gabby - sibling of
St. Jude

patient Dylan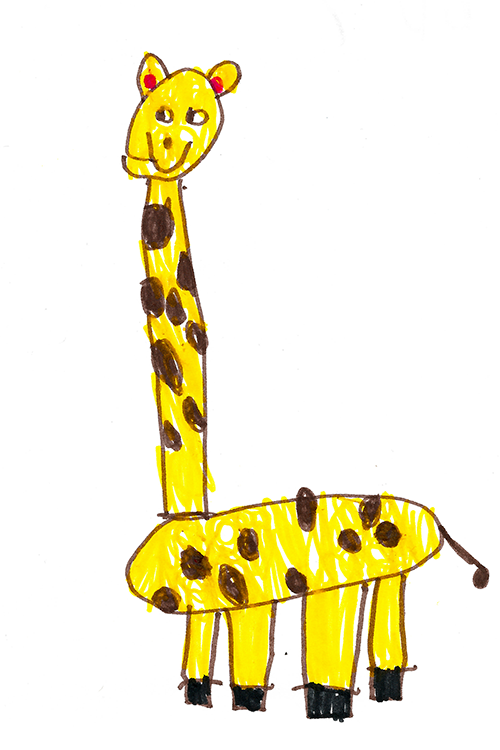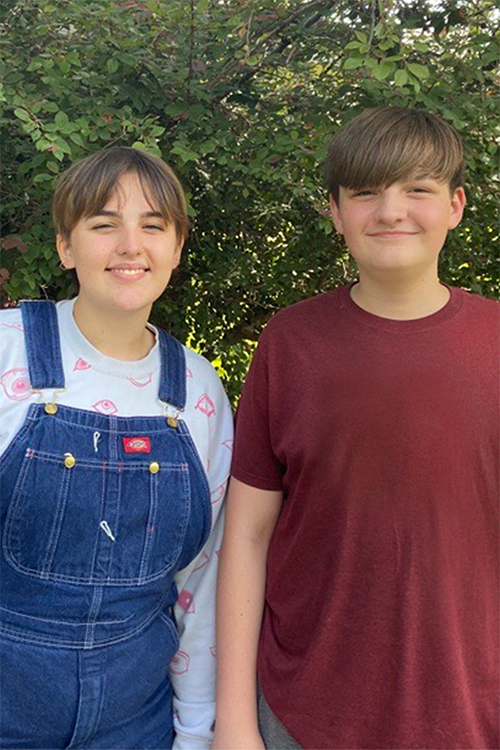 St. Jude siblings, Gabby (left) and Dylan (right)
Animal: Giraffe
Why a giraffe?: "I love giraffes' unique spot patterns and their blue tongues!"
Gabby is a counselor at a summer camp for kids who have had cancer and their siblings, and she can relate. Gabby's little brother, Dylan, was diagnosed with acute myeloid leukemia when he was only about a year old.
After a referral to St. Jude, Dylan started a treatment plan which included receiving his father's natural killer (NK) cells to help attack his cancer. He finished treatment in 2009 and has remained in remission.
Dylan is now a teenager who raises money for St. Jude. Gabby, who drew this giraffe when she was 7 years old, enjoys arts and crafts, especially sewing and making jewelry.
Javier - sibling of
St. Jude

patient Juan

From the age of four, Javier spent a lot of time at St. Jude while his big brother, Juan, was in treatment for a rare cancerous brain tumor. Despite his treatments, and just after Javier turned 10, Juan passed away.

"We loved each other. We had a bond," said Javier. "I'll never forget him because he was an important person in my life."

Javier is now a teenager and a talented artist who finds art – not only fun but therapeutic. He says being with his brother through cancer treatment taught him about staying positive and having gratitude for family.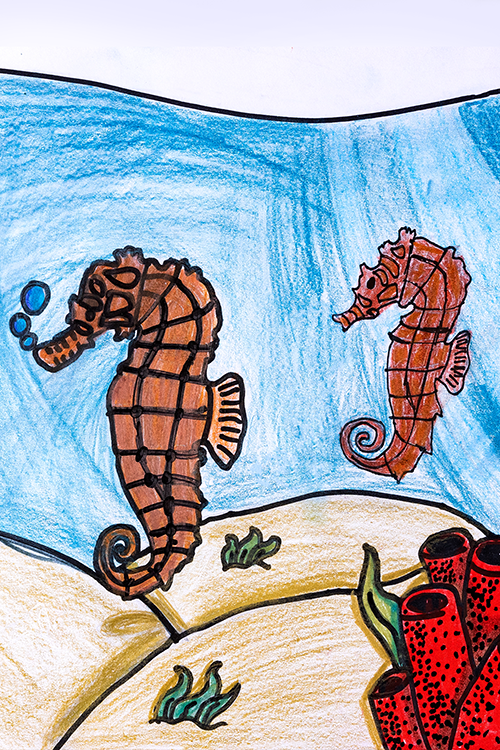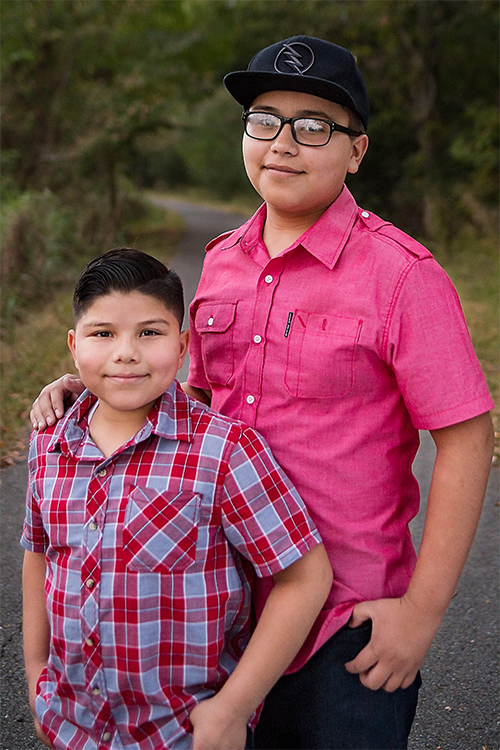 St. Jude siblings, Javier (left) and Juan (right)
Animal: Seahorses
Why seahorses? "I like seahorses because they are calm and gentle animals."
Lilly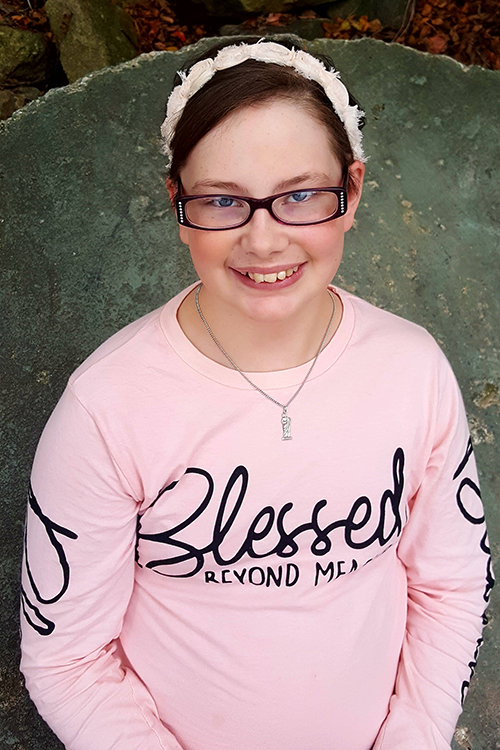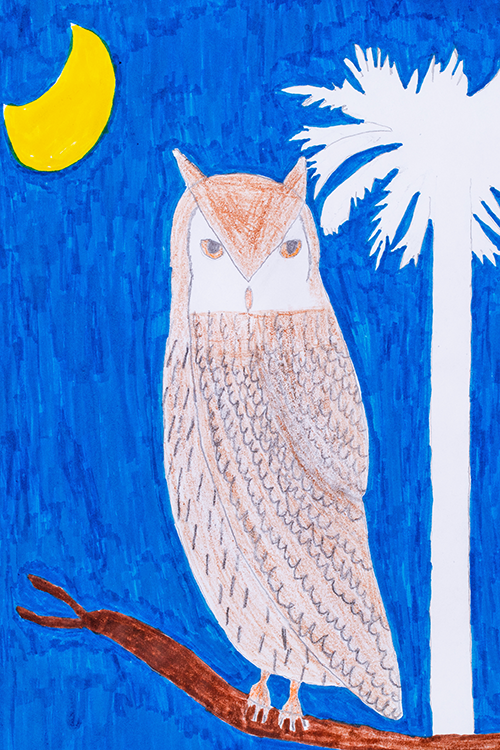 Animal: Owl
Why an owl? "Owls can turn their heads all the way around, and I think that's very cool."
In 2015, Lilly was diagnosed with a cancerous brain tumor called medulloblastoma. Following surgery at a local hospital, she was referred to St. Jude Children's Research Hospital®. When she arrived, she couldn't walk, talk or swallow. She underwent radiation therapy, chemotherapy, intensive physical therapy, and more. St. Jude Music Therapy program was part of her recovery too.
Now, Lilly is back at home, and back to what she loves: choreographing, dancing, performing.
"Certain things, yes, they are hard," said Lilly. "But I look back at all of it, and I look at where I am today. And I'm like, what I did and what I went through is truly amazing."
Reid
One evening in January 2015, something completely unexpected happened. Reid looked up at something – but only his right eye moved.
Doctors at the local children's hospital referred Reid and his parents to St. Jude Children's Research Hospital®, where it was confirmed he had soft tissue cancer, called rhabdomyosarcoma.
At St. Jude, Reid's treatment included chemotherapy and proton therapy, and he remains cancer-free. Today, Reid, an honor student, is on his high school's robotics team and is interested in video production. He loves playing guitar and is dedicated in his support of St. Jude. "He wants to see the day when no child dies of cancer," said his mom, "and is more than willing to do his part to see this through."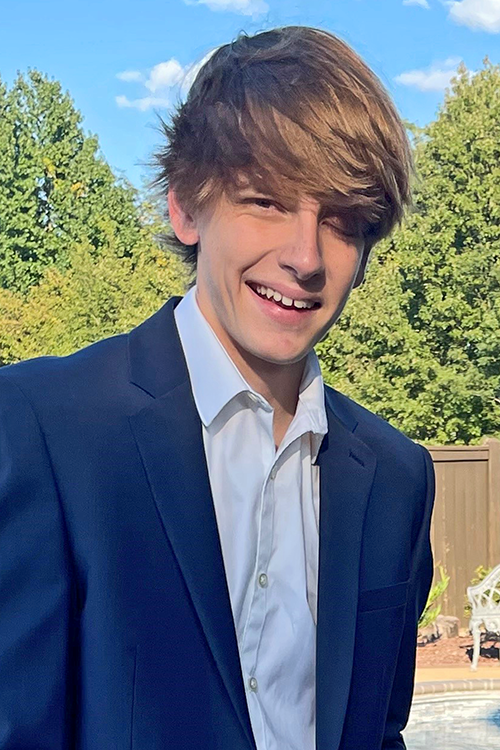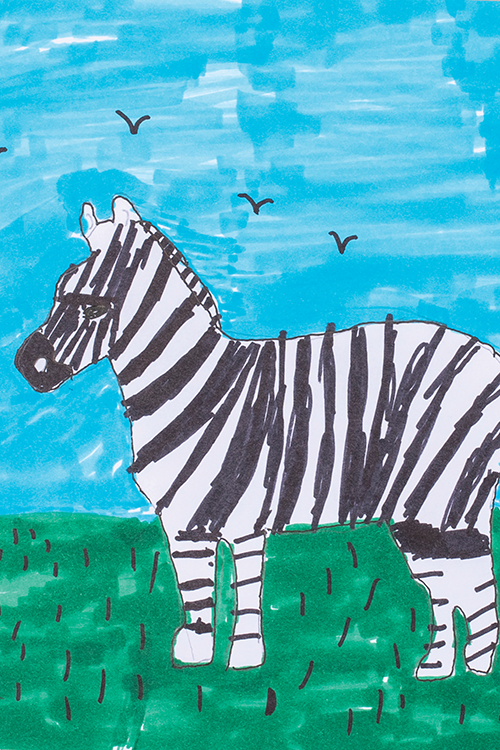 Animal: Zebra
Why a zebra? "My favorite thing about zebras are their bold stripes."
Hazel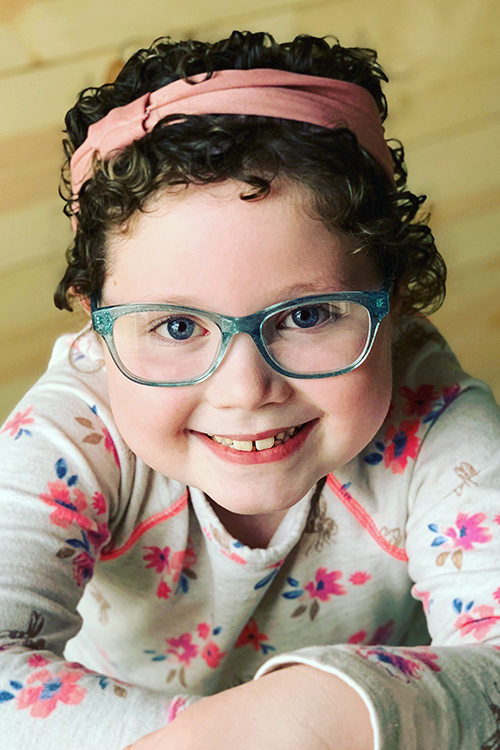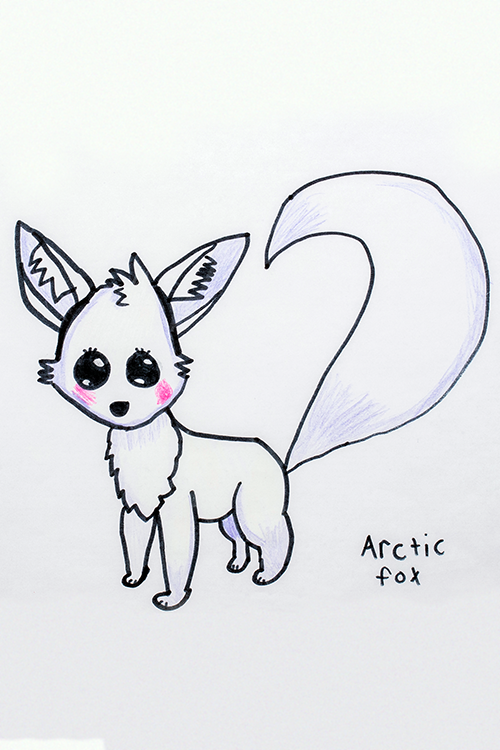 Animal: Arctic fox
Why an arctic fox? "I love that Arctic foxes are so sneaky! They use their fur to camouflage into the Arctic snow."
When Hazel was diagnosed with acute lymphoblastic leukemia at 5 years old, she was kind of shy.
When she had her first chemotherapy treatment on her 6th birthday, she knew she would have to stay on chemotherapy for almost three years. But rather than withdraw into her shell, Hazel blossomed. The experience of being at St. Jude, "a world of all eyes on her" according to her mom, brought out another side of Hazel's personality. She became the talkative, outgoing and confident girl she is today.
Hazel finished cancer treatment in early 2021. She loves playing outside, drawing and reading — especially facts about animals and mysteries.

The Location
Located just outside the China exhibit, the St. Jude patient art banners are displayed along the fence facing the northern pathway.
Pinch to zoom in on the map and explore the zoo.

Virtual Fence Walk
Can't make it to the zoo, don't worry! Below you can 'virtually walk' by the St. Jude patient art fence and view the banners displayed at the zoo. Each banner highlights a patient and a piece of art created by that patient or their sibling.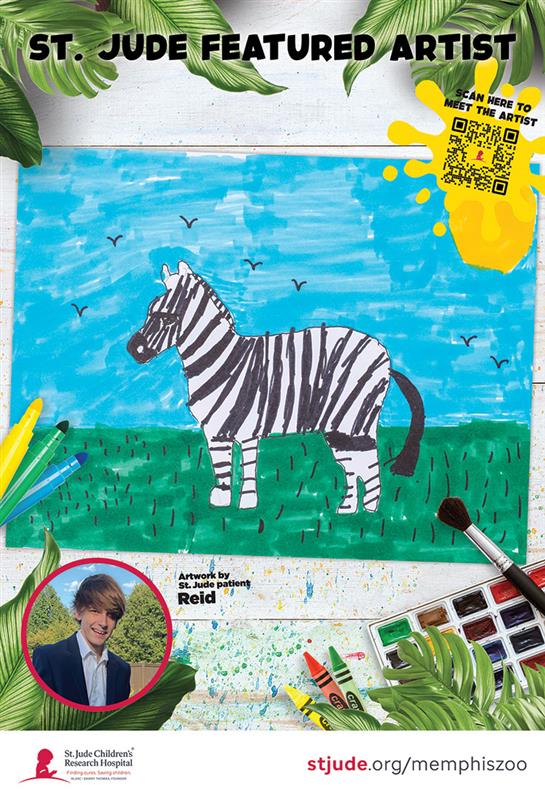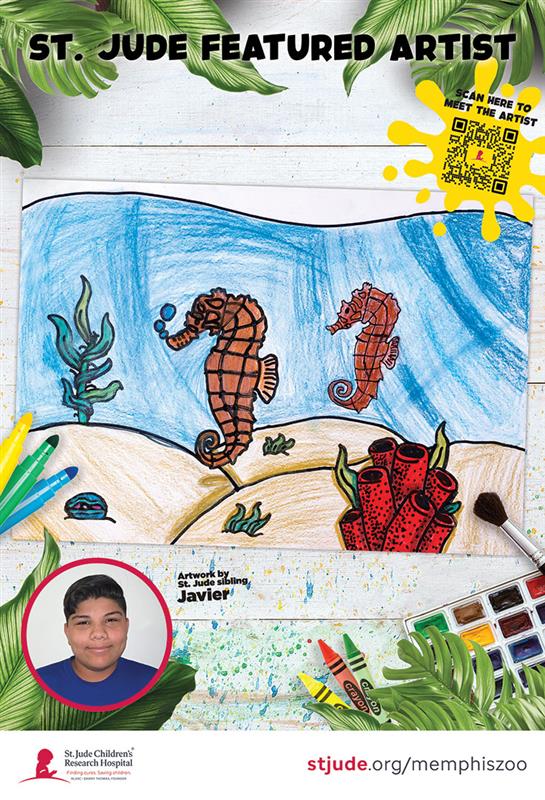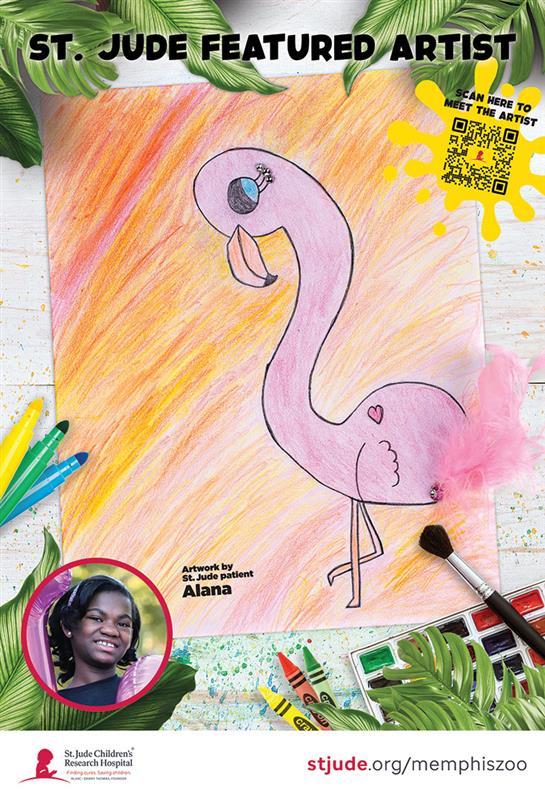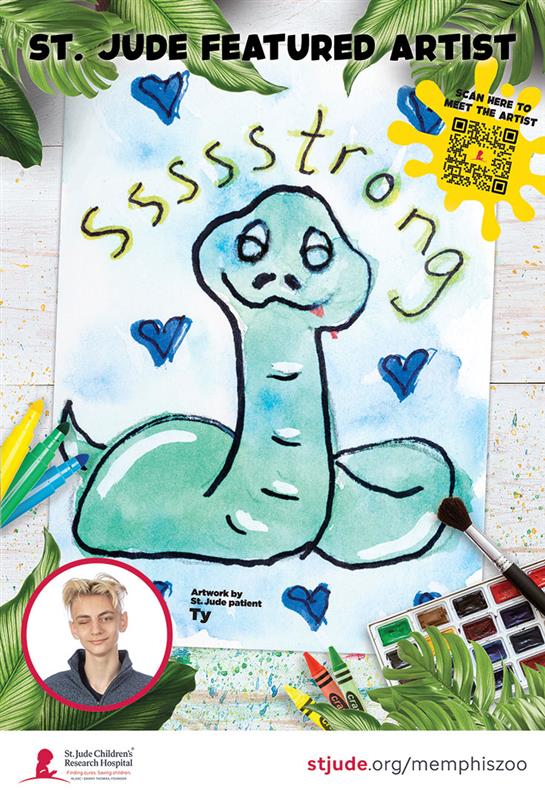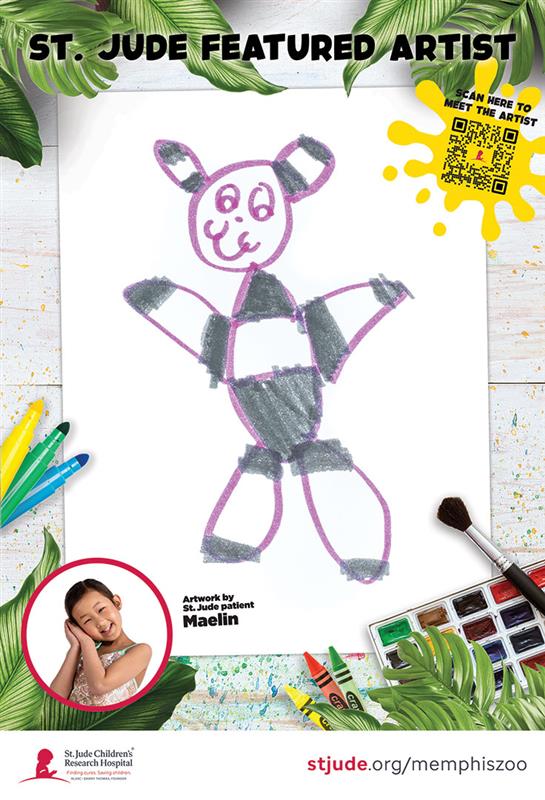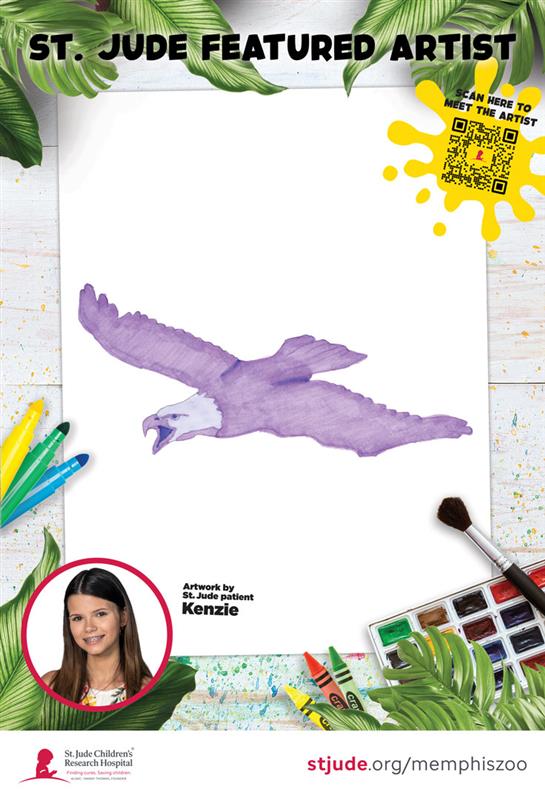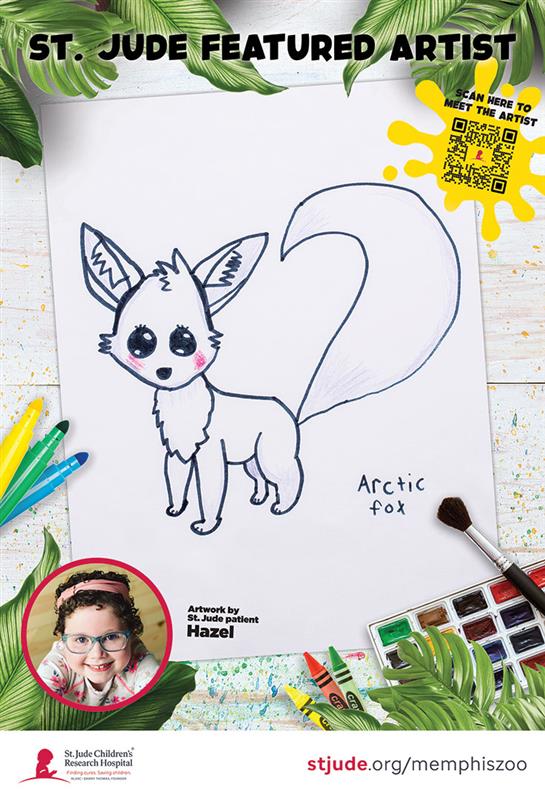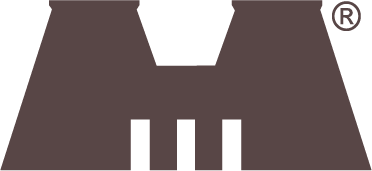 The Memphis Zoo
The Memphis Zoo is the single most visited attraction in Memphis. Over 100 years old, the zoo is home to more than 4,500 animals and was named one of the top zoos in the country. The animal residents inhabit one-of-a-kind exhibits such as Teton Trek, Zambezi River Hippo Camp, Northwest Passage and Cat Country.
Learn more about the Memphis Zoo and plan a trip today!