In a year, this MIT student athlete went from brain cancer at
St. Jude

to mentoring Boston high schoolers

July 06, 2021 • 7 min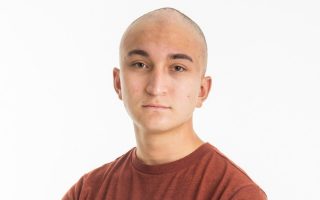 CAMBRIDGE, Massachusetts — Watching him out there, rowing along the iconic Charles River, you might guess that Serafin Garcia is just as he describes himself — a lucky guy.
Lucky to be a student at a prestigious university, and competing in a sport he loves as a member of its crew team.
Lucky to be able to make a difference in his college town, mentoring high school students as executive co-director of Amphibious Achievement, a program that uses athletics to strengthen academics.
And most of all — though you wouldn't imagine it to look at him — lucky to be alive.
Because in 2017, just as his life was poised to take off, came news that could have have meant it was ending. Serafin was diagnosed with an aggressive brain cancer. There were multiple spots of concern, and cancer cells in his spinal fluid.
"It was basically unbelievable," he said. "Every single time we went to the doctor, we just learned to expect that the news we were going to hear was going to be worse than what we had already."
After undergoing treatment at St. Jude Children's Research Hospital, Serafin has "a second chance at life, and not in some weird way you see in a movie."
He intends to make the most of it — like now, mentoring teenagers who perhaps didn't grow up with the advantages he says he had.
"I'm lucky to be alive," he said. "It makes me want to actually do something with my life."
Falling into place, then falling apart
There's this certain feeling when you're rowing with a good team. Flying over the water, muscles firing, lungs full, many moving as one in seamless coordination. It's a feeling of everything falling into place, and it's wonderful.
Just before his diagnosis, it seemed that for Serafin everything was indeed falling into place. He was captain of his high school crew team, an Eagle Scout, a good student, a popular kid. He had been recruited to MIT for rowing, and in a matter of months would be embarking on the first great adventure of young adulthood: leaving California for faraway Massachusetts and a new life as a college student.
But the Friday he was supposed to leave for college would find him in an operating room.
He had been having headaches severe enough to seek out a neurologist, but not so bad that he wasn't willing and able to pop some ibuprofen for a day trip to an amusement park with friends. Between roller coasters, his mom called. He needed to drive the two hours home immediately. The MRI had been assessed.
"In fact I had a giant tumor in my head," said Serafin.
After surgery, instead of going to college, he would go to Tennessee, to St. Jude, for months of treatment that included chemotherapy, radiation and proton therapy — "pretty brutal," he said.
But luck, and St. Jude, were on Serafin's side. His treatment was targeted to his specific subtype of medulloblastoma and, despite suffering side effects, he began to nurture the hope that things might return to "almost normal."
They did more than that.
A year later than expected, Serafin got to Cambridge. Amazingly, after brain cancer, he enrolled at MIT.
Coming out the other end strong
Arriving on campus five months out of treatment, Serafin "looked the part" of a cancer patient, he said. He was underweight, had lost his hair, and was in a wheelchair due to an ankle infection. There were some awkward conversations with his peers.
"If a conversation comes up that I took a gap year, someone will be like, What did you do with your your gap year? And I'm like, I had cancer treatment. And then they're like, Oh no! And I'm like, Actually I'm totally fine. It was pretty short, and I came out the other end strong."
The breeziness with which he looks back shouldn't be mistaken for minimizing. It's just that he isn't bogged down in the bad parts, but is focused more on the triumphs than the trials.
Maybe that's the special perspective he brings to Amphibious Achievement, the student-run athletic and academic mentorship program he joined freshman year and now helps lead.
The program guides Boston-area high-school students, called Achievers, in cultivating the grit, discipline, and confidence required to succeed in athletics and applying these same skills in the academic setting.
"The Achievers in the program really care, you can see it," said Serafin, "and the fact that we have around 40 Achievers come in every Sunday ready to learn and to have fun, it makes it impossible to not love what I'm doing."
In Serafin, they don't just have a college athlete as a mentor.
They have a cancer survivor as a role model for facing, and overcoming, life's greatest challenges.
So maybe it's not just Serafin who's lucky.
It's all those Achievers who benefit from his good soul, his giving nature — and his rower's sense of many moving as one, for the betterment of all.