Rhode Island couple streams cooking show with a pinch of silly for
St. Jude

July 06, 2021 • 4 min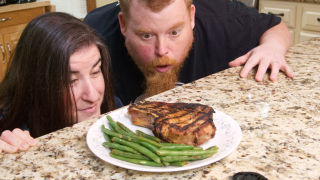 NORTH SMITHFIELD, Rhode Island — It's not something Chris and Renee Cotnoir saw coming but it's a cherished part of their lives now, hosting a cooking show from their kitchen, raising money for a children's research hospital they've never needed 1,300 miles away in Tennessee.
But advocacy for the mission of St. Jude Children's Research Hospital has often begun in humble, personal ways attracting people just like the Cotnoirs. A couple with two schnauzers living in a modest home in a small New England town with history steeped in cotton mills and Quaker tradition. Their support was born of grief after the loss of Renee's father to pancreatic cancer.
"By the time they caught the cancer, it was everywhere. It had really spread. They had given him three months to live, we had him for six," Renee said.
Father and daughter spent their last weeks together watching documentaries because, as Renee said, "he was never one to waste time; he was always learning." They were also nostalgic reflecting on the countless hours he had spent helping other families in need through his work with the local chapter of the Knights of Columbus.
After he passed away in February 2019, Renee wanted to honor his legacy of service. But she wasn't sure how and what campaign and organization to join. It can be dizzying all the options out there and she wanted to be methodical and thoughtful about choosing a cause to support. Little did she know, her husband's penchant for gaming on Twitch, an Amazon-owned livestreaming platform, would present the perfect opportunity.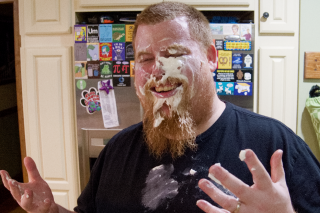 Renee wasn't into gaming the way her husband was. But then she and her husband wondered, what about a talk show? What if they could stream themselves just talking and hanging out in their basement, inviting virtual followers in the way people invite friends to drop by spur of the moment?
It occurred to Renee and Chris that if the talk show took root on the platform it would help build a virtual community of supporters. That became particularly important when they launched their talk show last May, just as parts of the Northeast were on lockdown in response to a spring surge of COVID-19.
As folks stayed home distancing from loved ones, this Rhode Island couple, who go by the streamer names Rusty Rhymez and Lady Naginata, virtually opened themselves up to new friends and silly conversations. A handful of followers at a time joined them as they talked about interesting news tidbits like what would happen if the Earth's North and South poles flipped and unusual laws like the one in Texas that doesn't allow shooting a buffalo out of the second floor of a hotel.
A month later, they began to stream a cooking show out of their kitchen twice a week, too. It wasn't long before their audience was about three dozen strong at any given time. A kitchen draws in guests, as every host knows. No matter how nicely you set up the living room, the kitchen is where everyone gathers. And that's what happened with the Cotnoirs.
People tuned in to watch them make fresh ravioli from scratch on their kitchen island and roll out empanadas and season couscous. Chris and Renee needled each other lovingly, made a mess of their kitchen and hilariously spooked their dogs with the vacuum trying to clean up the mess. It was all good fun and their followers, numbering in the hundreds by last fall, then over 1,000 this spring, were hooked.
"I think people just like to watch a regular couple you know, doing their thing, and food and eating dinner together is a big thing for us. We've got to come home and have dinner together, that's important; no matter what's going on, you come together and you eat and I think people could relate to that," Chris said.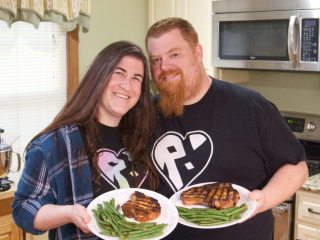 This January, they translated that homegrown popularity into purpose. Chris Cotnoir had begun to follow other popular streamers who used gaming and cooking to raise money and awareness for various organizations. St. Jude emerged as a frequent and popular beneficiary.
"We could raise money for pancreatic cancer helping people who have lived 50, 60, 70 years. But then you look at St. Jude helping kids," Chris said. "These patients are fighting for their lives to do those simple things like learning to ride a bike, kiss a girl, go to a dance. We just decided it made sense for us to focus on helping kids fight cancer."
So far this year, the couple has raised nearly $10,000 for St. Jude, $3,600 of which they raised during a 30-hour marathon stream in May. Chris even developed a rhyme he often used during his fundraising streams: "Life is tough and is not fair, kids are innocent and that is clear. So if you have time or change to spare, let's show these kids how much we care."
"Look it's just me and my wife, we're not famous or special, we just wanted to give our time and effort for something we care about, St. Jude, and that is making a difference," Chris said.