Small in population, this Virginia town is big of heart, wrapping its arms around local
St. Jude

families

July 06, 2021 • 7 min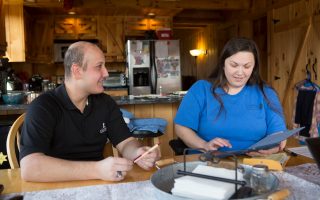 DAMASCUS, Virginia — Approaching Damascus (pop. 814) by car, you can be forgiven for wanting to get a little lost.
You notice tumble-down barns next to streams ribboning through the foothills, and then all of a sudden you've taken a hairpin turn and are climbing, climbing — up a mountain, you suppose. If you didn't have to concentrate so hard on driving, you'd have time to process the waterfalls, the galloping horses, the farms that look like snapshots of rural life 100 years ago.
A scenic stop on the Appalachian Trail, as well as a convergence point for six other hiking and biking trails, Damascus is home to a tourist economy of sorts, with Baptist churches next to shops for cycling and hiking gear; overlooks for RVs to plug in; and places to stay named after the sort of creatures you might encounter here, such as Woodchuck's Hostel, the Dragonfly Inn, the Duck House & the Duck Nest, the Dancing Bear Inn and, of course, Crazy Larry's B&B.
People still mourn the loss of Virginia "Miss Ginny" Adams, who checked in her first guest at the Lazy Fox Inn in 1991 when she was 67. For more than 25 years in the white Victorian by Laurel Creek, she prepared a full and varied breakfast for her hike-weary travelers of pancakes and baked cheese grits, bacon and fried apples, biscuits and baked pineapple, and the best apple butter.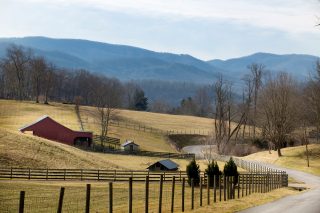 It's a strange kind of fame, to be just another member of a small town while also chatted about on German travel sites. As hikers got close, they'd begin to reel off enraptured lists of the wonderful foods they'd eat once they got to Damascus.
Miss Ginny passed away in 2019 at 93, and her beloved Lazy Fox Inn has closed. One more story for the trail, but way more than that for the people who live here.
When you live in a town of 814 people, it's so hard to lose even one.
Surrounded on three sides by national forests, home to the annual Trail Days reunion event for hikers, often called the friendliest stop on the Appalachian Trail, Damascus charms its travelers.
But there are deep worries here, too, and it's sometimes hard to keep smiling, particularly for the people who live here year-round. They worry about the mining economy on the skids, and the problems that come with anxious folks out of work. For all of the tourist business, there are still empty storefronts. Twenty percent of the population lives below the poverty line. Some of the houses are leaning. There are clear, visible problems with foundations.
"It's been tough. It's tough here. It's a terrible thing to see, and our community hurts from this," says Jim Watson, a trucker.
That's why when one neighbor has a need, the other neighbors try to fill it.
As much as the community may hurt, it also knows how to heal. Which is why its residents — and those of neighboring towns such as Chilhowie, Glade Springs and Abingdon — are always coming together in support of St. Jude Children's Research Hospital.
Jim Watson first learned about St. Jude years ago, when a family from church had a child diagnosed with cancer. Jim helped them get to St. Jude. The mother and child flew, while Jim and the dad drove two cars to the hospital so the family would have their own transportation. More than 1,000 miles to St. Jude and back, but that's what you do for your neighbor.
But what Jim didn't expect — what he never could have imagined — was that one day he'd be the neighbor in need.
In summer 2010, his son Cade's vision grew cloudy.
"My eyes started looking funny," said Cade. "I could see white around everything."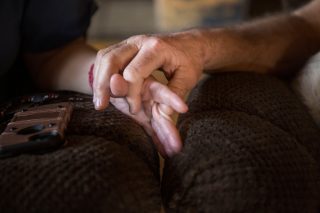 Soon Cade was diagnosed with an atypical teratoid/rhabdoid tumor, a brain cancer so rare and aggressive the local hospital talked immediately about hospice.
"They told us to take Cade home and make memories with him, because he had just two or three months left to live," said his mom, Jolene Watson, who works in corrections. "He was given only a 10-percent chance of survival."
Cade's parents put their full-time jobs on hold as they sought options to prolong his life.
"I asked the pathologist, 'If this was your child, where would you take him?'" said Jolene. "And he said, 'Well, St. Jude is the teacher, and the other two places doing this protocol are the students, so I would take him to the teacher.' "
At St. Jude, Cade underwent surgery to remove a second benign tumor, radiation therapy treatments to his brain and spine and four grueling rounds of high-dose chemotherapy. During this time, his family and loved ones in Southwest Virginia and Northeast Tennessee sent cards, held prayer vigils, picked up mail, made meals and did whatever they could.
The family found a second home at St. Jude, and an approach to helping families in need that mirrored the support they had back home.
"Cade's doctors, his nurses, the radiation techs — whenever we see any of these people in the hallway, they hug Cade, they speak to him, they talk to us," said Jolene. "The people make it so wonderful at St. Jude."
St. Jude felt almost like a small town unto itself, with its shared sense of community and everyone-knows-everyone vibe. And that was true whether the St. Jude family sitting next to them in the waiting room lived one state away or half a world away. It was true no matter the color of their skin or their religion or how they voted.
The no-bill policy at St. Jude kept the family from going under, from losing the log cabin they'd built themselves. "We had worked for years and years to pay for our home," Jolene says. "We would have given up anything for our son, but it was such a relief to know we didn't have to."
The Watson's sense of community grew to include not only the people who live nearby, but also any family at any time facing pediatric cancer or other serious illness at St. Jude. They began raising money.
Cade's family threw its first St. Jude fundraiser as Team Cade in 2011, the year he completed treatment, and felt lucky to have raised more than $2,000.
Eleven years after Cade's diagnosis and the 10-percent chance, Jolene and Jim still have their boy.
It's two hours before the Sweetheart Banquet at the Damascus Volunteer Rescue Squad, and everyone has a job. The men inflate red and white balloons. Jolene fills paper trays with sweetener packets.
Cade dons his winter jacket to go get ice, happy to have an errand. He's 21 now and works at the same food production company as his dad, only his dad does trucking and Cade does shelving. It's good honest work, and he likes it.
Trish Jenkins of Jonesborough, Tennessee, does the table settings. Jenkins met the family through the Gold Wing Road Riders Association (GWRRA) motorcycle group a few years ago, and something clicked. "I just love that boy," she says of Cade, "and his mom and dad, too."
She became the kind of volunteer who shows up early, stays late and hosts her own fundraising events for Team Cade, such as garage sales in Jonesborough and Kingsport, Tennessee.
The Sweetheart Banquet is one of several fundraisers Team Cade puts on throughout the year in support of St. Jude. They hold golf tournaments in summer, sell pumpkin rolls in October, throw bluegrass barbeque events in spring, something nearly every weekend, and generally try to build up and empower their supporters to spin off their own fundraisers for St. Jude.
They make it personal.
"You've got to lift people up," says Jolene.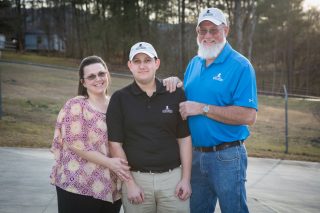 Each September, Cade's family and the other members of Team Cade and the Iron Mountain Riders, along with nearly 100 motorcycle riders from the GWRRA, set out from Bristol, Virginia, to begin a two-day trek to St. Jude to deliver the funds raised from the previous year. COVID-19 delayed their trip last year to January, when Team Cade and the Iron Mountain Riders donated more than $112,000 to St. Jude. To date, Team Cade has raised more than $500,000 for St. Jude.
"St. Jude is like our second full-time job," jokes Jolene.
"This is our God-driven mission," says Jim.
As they talk, students from the local culinary school pile into the kitchen. Jolene steps away to get them started on catering.
And the good work continues.
A heart for children and families
A person could drive through Damascus in five minutes, but to know its heart, they'd do well to spend two hours on the Saturday before Valentine's Day at the St. Jude Sweetheart Banquet.
The people of the town show up, just like they said they would. Just like they always do when it matters.
Cade, a product of this place, talks about how he ­­learned to whittle by practicing for hours on his front porch and about how when he wants to fish, he goes right across the street from his house and down the hill to the South Fork Holston River, which is rich with trout.
Jim points out who's here. "Over there's where you have the group from Macedonia Baptist Church, and at this table, you have my coworkers, the people I've worked with for years. Jolene's work group is here, and over here you have the C Chapter of the Tennessee Gold Wing Road Riders Association. Cheyenne and her parents are St. Jude patients over there, and so is Miranda and her family. This isn't just about Cade. There are lots of St. Jude kids in this community, and we work together to make sure the families have everything they need. We also work together to do the fundraising to support the research because that's what's most important: that the research continue."
He points out Ronnie Wilson, the man in the St. Jude ball cap, who convinced Jim, "We can do it," when Cade set the team's first $100,000 fundraising goal
With him is Larry Combs, the man who quietly wrote a check for $3,000 when he knew it would help put them over.
Each person has a story.
Generations of local people have come together in this meeting hall. They'll eat herb-roasted chicken, roast beef and sides, and support a good cause. They'll tap their feet to the gospel band.
They are here because they care.
"It makes me emotional to talk about St. Jude," said event volunteer Roy Rethford. "I love everything they do. I love the kids and the families. The families are the main things." His wife passed away not long ago, and she used to send in the mailers to St. Jude. He's carrying on her legacy because he misses her. It's a way to heal his heart.
These are the good people of Bristol and Kingsport, of Jonesboro and Boone, of Glade Springs and Chilhowie, of Damascus and Abingdon. They come from the small towns of America, and they give what they can to St. Jude.
"Cade is here today because of you," Jim tells them.
And now it is time to break bread.