Woman wins childhood home in
St. Jude

Dream Home Giveaway

Fifty-six years after leaving, Montana woman comes home.
They say you can never go home again, but don't tell that to Janet Sanchez of Billings, Montana. Because 56 years after moving with her family from her childhood home, she walked back inside on June 25 as its new owner. For the first time in St. Jude Dream Home® history, and despite the odds, Sanchez had the winning ticket for her childhood home, which has been fully renovated by Dream Home builders and designers.
"It's a miracle," said Sanchez. "To some people, when they win a home, it's a St. Jude Dream Home. For me, it is a dream home, because I have so much connection to it."
She had been listening to the Cat Country 102.9 radio station in her car earlier this year when they announced the address of this year's St. Jude Dream Home in Billings. She recognized the street and the first three numbers as that of her childhood home, but couldn't hear the last digit. But her interest was piqued. When she got to work, she pulled up the info online and realized they were giving away the home she'd lived in from birth to 6 years old.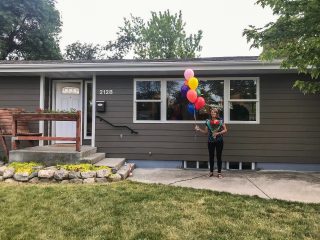 "I remember it's the first place I learned how to ride a bike, up and down that sidewalk," said Sanchez of the home on Hewitt Drive where she lived with her parents and four siblings. "There's a park half a block away, and that's where I learned how to ice skate for the first time."
She bought her ticket on the first day they went up for sale – ticket #250 of the 4,000 tickets sold. This is only the second time in the history of the giveaway that a renovated home has been the St. Jude Dream Home, which makes it even more remarkable that Sanchez won.
"I couldn't even talk. I was speechless," said Sanchez.
Sanchez loves the upgrades in the renovated home, and feels glad to see familiar things like the fireplace. "I remember that so well," said Sanchez. "It's not red brick anymore. They painted it white, but it's still there. …Because we had a lot of fires when I was a kid at Christmas, and it was decorated all the time."
Sanchez says that, with paperwork, it could take up to 90 days before the home officially becomes hers. She's hoping she can get special permission to bring her hoses to the new home to keep the grass green.
She's also looking forward to showing off the new home to her dad, who lives on a farm outside of Billings. He has early-stage dementia, but his memories of the home are vivid. Every day, he asks when they can go take a look.
"OK, you bet, Dad. I'll bring you there," she promises.
Sanchez, who buys a St. Jude Dream Home ticket each year, said she loves St. Jude Children's Research Hospital so much, she thought about donating the home back.
But words from her daughter convinced her to keep it: "Mom, I understand how you feel, but you've worked all your life, and you've worked hard. There's nobody who deserves it more.'"
COVID-19 precautions make it impossible for her whole family to gather right now, but there will be time, said Sanchez. The hardworking operations manager of a cash advance and tax preparation business is readying her current home for sale so her new Dream Home will become her forever home.
"I decided it's meant to be," said Sanchez. "I'm not going to sell it. I'm moving into it. It is meant to be."