California 'Bulb Guy' plants 14,000 flowers to honor his son and support
St. Jude
Rich Santoros' grand garden is a testament to Boom, the son he and his wife lost to childhood cancer.
The bulbs are planted in late fall. Tulips, daffodils, snow drops, irises, anemones, freesia, ranunculus, muscari and scalia. Months later, they bloom in a beautiful yet brief burst of color.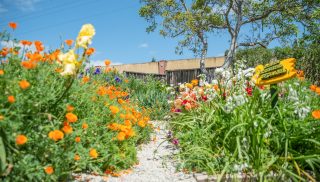 It's not all of the flower varieties under the sun, but Rich Santoros' garden comes pretty close, with nearly 14,000 bulbs dotting his quarter-acre backyard in San Jose, Calif. Since 2010, he has been delighting visitors with tours of his grand garden, with all donations going to St. Jude Children's Research Hospital in honor of his son.
"Let me tell you a quick story from 1985," he said, launching into the tale of his 1983 Cadillac El Dorado, his sister-in-law's flower bed and how he went "right then and there and bought 60 daffodil bulbs." That's how it all began, this garden of his.
Rarely are Rich's stories quick, but they are always worth it.
Which is exactly what you would expect from a man who wears a cape and answers to the moniker "The Bulb Guy." He estimates that over the years since he bought those first 60 bulbs, he's planted 97,000 more with his five-step, not-quite-patented planting method.
But we're getting ahead of ourselves. To fully understand The Bulb Guy, you have to step back to 1976 to learn about Rich and Riza, his wife, and their firstborn, Boom.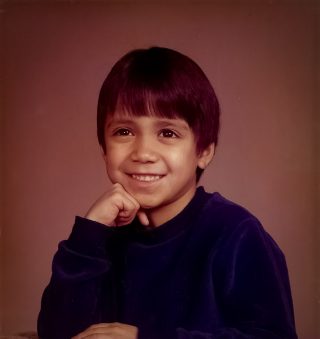 Of course, there's another quick story there. Boom isn't, in fact, his real name. It's Richard, but as a roly-poly 1-month-old, he looked like a cannonball, so much so, his mother thought, that she called him "Boom Boom." The name stuck.
In one of Boom's earliest hospital visits, a nurse tried calling him by his legal name. He repeatedly didn't respond, much to her dismay.
"Oh, he doesn't know real his name," Rich recalled reassuring the nurse.
When Boom became lethargic at age 5, his breathing labored, Rich and Riza were the ones in need of reassurance. In the emergency room that day, a scan found a tumor on Boom's spine, crushing his lung.
The diagnosis was neuroblastoma, and he started on chemotherapy. Boom responded well to therapy until, all of a sudden, he didn't. Rich remembered Riza cradling Boom in her arms the day he passed away. It was June 23, 1982. Boom was four months shy of his seventh birthday.
The cycles of anger, depression and blame came quickly and stayed on repeat. "No family is immune to the grief process," Rich said.
"They leave you, but don't leave you empty-handed," he said, reflecting on losing Boom. "You begin to see life through a different set of eyes. You gain a new perspective in which you don't take anything for granted."
Rich recalled Boom as equal parts serious and silly, with a maturity and intelligence beyond his years, but also a side to him that loved to play Asteroids on the Atari and have IV pole races down hospital hallways. He had to grow up a lot quicker than other kids, to face such a formidable foe as cancer.
During his treatment at a children's hospital in California, Boom drew a rainbow, that universal sign of hope appearing as a storm passes. Boom's artwork blossomed into his father's idea for a flower garden fundraiser. That inspiration didn't strike until much later, when the flower garden had grown into quite the display, drawing crowds of admirers who would sometimes leave donations under rocks for Rich to find.
Rich realized his flowers could serve a greater purpose. Now, visitors are encouraged to donate to St. Jude by writing their name on a piece construction paper cut into the shape of a tulip, which then becomes part of a rainbow mural on Rich's garage.
When asked why he chooses to support St. Jude, even though Boom did not go there for treatment, Rich replied, "It's simple. Families never have to pay.
"There's an innate reaction to all parents unconsciously and consciously to keep their child's spirit alive," Rich continued. "And we will do pretty much anything to do that."
While the public tours of his garden could not take place this year, Rich plans to publish a book about Boom and the garden dedicated to him.
Like a daisy, Rich says, supporters like him are the petals doing the little part, with St. Jude doing the big part of saving lives. His motivation to continue — now at more than $36,000 raised — is so that no family ever has to go through losing a child to cancer.
"This garden for Boom is what drives me and Riza," Rich said. "'Til the end of our life, we will be doing this."