Talking baseball
Major league cancer survivor gives a lift to special St. Jude patient
Two outs. Two strikes on the opposing hitter. Bottom of the 9th inning. No hits allowed so far. It's a moment of childhood dreams. One strike away from baseball immortality.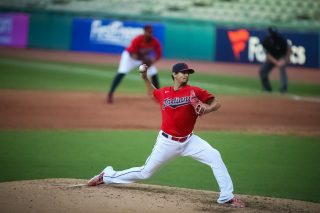 Cleveland Indians pitcher Carlos Carrasco stood on the pitcher's mound at Tampa Bay's Tropicana Field in this exact scenario on July 1, 2015. But history wasn't made. The batter, Tampa Bay outfielder Joey Butler, lined a single just beyond the outstretched glove of the leaping second baseman.
Carrasco's reaction revealed his personality as a giant smile crossed his face and he clapped his right hand into his glove. He waited until he caught Butler's gaze, pointed to him and shouted, "Atta boy," twice.
The same joyful smile was on Carrasco's face recently for a different reason. This time it was because he was talking to a 12-year-old named Brody, a patient at St. Jude Children's Research Hospital, and Brody's mom, Lisa. Brody had just told Carrasco that after 1,015 days of treatment for leukemia, he was done with chemotherapy.
They talked about the game they both love, and how strange it is for Carrasco – the major leaguer – to be playing in front of fewer fans right now than Brody – the little leaguer. No fans are allowed at Major League Baseball games due to the pandemic, not even family, while parents are able to cheer on their youngsters, albeit from a distance.
Carrasco and Brody share a bond beyond their love of baseball. In June 2019, Carrasco was diagnosed with chronic myeloid leukemia. He and Brody told stories of the support they received from their teammates and families during their cancer journeys. It's support both continue to lean on as they attempt to avoid crowds during the coronavirus pandemic. Carrasco said he's strictly following the orders of his team to go only from his home to the ballpark and back.
In an article he authored for the Players Tribune last fall, Carrasco wrote: "Now, after going through what I have, and making it back to the field, I am even more inspired to meet with patients and help them get through their challenges, just like so many helped me over the past few months."
For Brody, that's better than a no-hitter.