Carson's traveling Christmas tree: One
St. Jude

patient's story

Cancer has been keeping Carson away from home at Christmas, but not keeping him down.
Like most kids, Carson loves Christmas. And he loves being at home with his family and his dogs, Bella and Boomer. But in five years, Carson, 11, has only been home for Christmas once. The other four he has spent receiving cancer treatment.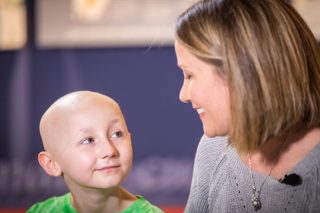 Carson was diagnosed with acute myeloid leukemia on December 16, 2016, when he was 7 years old. It didn't respond well to the treatment available at his local hospital, but St. Jude Children's Research Hospital was able to get his cancer into remission so he could have a bone marrow transplant at the hospital near his home.
When his cancer returned in 2017, he came under the care of St. Jude again for a haploidentical transplant at St. Jude with his dad as the donor. This meant spending Christmas away from home again, this time in Memphis. But his family brought a festive piece of encouragement with them: a Christmas tree decorated with ornaments sent to him from people all over, each one representing a prayer and the love and support of the community that his mom, Kori, calls "the army we have behind us on this journey." This tree has been a big part of Carson's Christmases ever since.
Several months after his second transplant, Carson was able to go home. Said Kori, "He was happy, running around, going to Cub Scouts, about to start back to school. We came back for a checkup and everyone was shocked that the cancer was back just 10 months after his second transplant. But Carson just said, 'Oh well, we'll beat this again.' He's stronger than any of us could have ever imagined — mentally, physically, spiritually. He's stronger than all of us."
So Carson, and his Christmas tree festooned with prayers for healing, spent Christmas 2018 at St. Jude again, for an extremely rare third bone marrow transplant. That year, his tree was "upgraded" from silver to bright green, Carson's favorite color.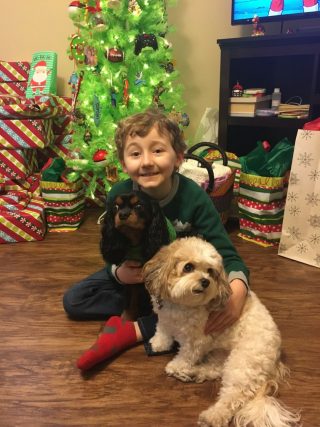 If it sounds somehow routine, it wasn't. "It's hard to explain how big of a deal this is, how serious his diagnosis was, how low our odds have been and how miraculous it is that he's still here," said Kori. "These things don't happen every day."
Christmas 2019, Carson was home for Christmas for the first time in three years. Neighbors had decorated the house with Christmas lights to greet Carson on his arrival, and he lit up almost as bright when he saw them from the backseat. Carson's special tree was set up in his own room, and Christmas morning he woke up in his own bed.
But this Christmas, Carson is back at St. Jude in need now of a fourth bone marrow transplant because the leukemia has returned again. And, in what has become tradition, his special Christmas tree traveled with him because, he said, "My tree brings me joy to think that all these people loved me so much to send me ornaments!"
Though he has been in the hospital for Christmas 2016, 2017, 2018 and now 2020, "he is happy to get up every day," said Kori.
Carson's Christmas story is one of patience, perseverance, courage, love and faith, and prayers that look like ornaments, tucked in the branches of a traveling, bright green tree.