Chicago neighborhood takes to balconies to thank health care and essential workers
When it comes to putting on a nightly musical extravaganza from a rooftop in Chicago, Nicola Perry gets by with a little help from her friends.
Every night at 7:30, a group of five at the Lancaster condo building in the Lakeshore East section of downtown Chicago head up to the roof with a rickety old luggage cart filled with things they'll need for the songs that night.
Dan Miller sets up the speakers. They zip tie the lights.
Another cart has more speakers and a projector.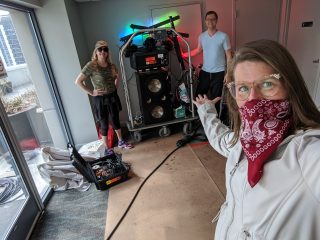 "We have it down to a science. We get it up in 20 minutes and ready to go," said Nicola Perry.
Just before 8, they plug in the karaoke mike and Güliz Sönmez, the emcee, gets the speaker going: "Get ready for Chicago Unite at Night. Watch the clock!"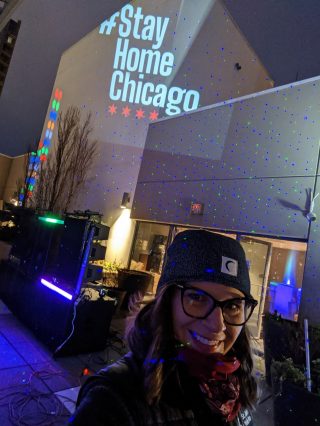 On the hour, the lights dance, the video plays and the song begins. In the individual hi-rise units surrounding the courtyard, lights begin to blink and you can hear the howls from people on their balconies. Songs have included Elton John's "I'm Still Standing," Tom Petty's "Won't Back Down," and Sly & the Family Stone's "Everyday People."
Perry shakes her tambourine. She clangs her cowbell. She uses her cell phone to record video. Sometimes she cries.
Like when the fire trucks round the corner one by one and blare their sirens.
"My hope is they get something out of it, too," said Perry. "We're cheering for them."
Perry wanted to bring her community together for a music and light show everyone would remember and carry in their hearts. So one day in March, in the early days of Chicago's COVID-19 confinement, she spread the word, asking her neighbors to put out lights and join in song at a particular hour to honor the city's health care workers and essential employees. She had heard about the Chicago Unite at Night efforts and wanted to link her neighborhood with what they were doing.
She had all the good intentions but none of the AV equipment. On the first night she launched her music-on-the-balcony effort, "There were four people who participated, and then me," said Perry.
She convinced herself it had been a good effort. Until she saw Bernard Green, the doorman in her building.
"Aww, Miss P. That was just pitiful. That was just sad," said Green. "I know we can do better."
A good doorman knows everyone in the building and how to get a thing done. Perry got linked up with Ginger Menne, who heads the social committee, has lighting and knows the fire chief. And Miller, the engineering genius, who works on stealth bombers and had built his own speaker system. Miller's fiancée, Janine Millensifer, and Sönmez, rounded out the group.
They've become the Lancaster Core5. "We nicknamed ourselves," said Perry, who works for a financial services tech company.
Each night, when the song begins, Perry looks over at a particular unit see if it's lit up – her new friend Sarah Murray.
"When her light's not on, she's not there. She's working," said Perry.
Perry met Murray through the Chicago Unite at Night Facebook page after she uploaded video that included Murray's decorated window. Murray, a registered nurse, and her boyfriend, a respiratory therapist, had adorned their window with marquee lights and a sign reading: "See the good, Chicago."
"We see you and thank you from the bottom of our hearts," Perry wrote Murray.
Once the song is over, they're pretty much done, except for turning things off and breaking things down.
And for Perry, "It's my little 42 minutes of joy."