Illustrator Mike Bennett's 'A to Zoo' yard installation unites his Portland community
Oregon artist created one wooden zoo animal a day for 26 days, inspired by the alphabet, and propped them in his front yard.
At Mike Bennett's home woodworking shop in Portland, Oregon, he cuts out his whimsical, cartoon creatures from plywood and paints them. Afterward, he installs them in his yard to the delight of neighbors. The wood cutouts act as their own best advertisement for Bennett's work.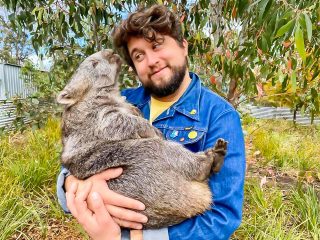 But earlier this year, as the first COVID-19 cases were being reported in the U.S., several of his wood cutouts were stolen. So he took the artwork down and that was that. Maybe you just couldn't trust people.
It wasn't the end of his story. Within days, he began to hear from families who told him his work had made the community a better place and they missed it. Could he please bring his artwork back out?
"I realized so many people used this block as a destination, especially ones with kids," said Bennett. "Especially right now, it gave them a reason to go outside."
Faith in humanity restored, the consummate creator came up with a new idea to fit the times.
By then, public places had begun to close, including the zoo. So he got the idea to create a drive-by zoo in his front yard. He'd make one zoo creature per day for 26 days, each based on a letter of the alphabet. And like a typical zoo, his "A to Zoo" would keep regular hours: 11 a.m. to dark. (The daytime hours provided a safety measure to keep the animals from walking away.)
He picked well-known animals, such as the sloth, and not-so-well-known ones, such as the humuhumunukunukuapua`a, the state fish of Hawaii.
And that's how he's gotten through the pandemic: a schedule to keep, animals to tend to, the public to please and educate.
"People who pass by will sometimes call me Zookeeper Mike or Mr. Mike, so it hit me: 'Oh, this is a job. I made myself a job,'" said Bennett. "Honestly, I feel like I just gave myself a month's pass to feel normal, even though none of this was normal."
More than 50,000 fans from as far away as Singapore check in on his work through his @mikebennettart Instagram account. A boy in Iceland has been inspired to create his own daily zoo in his community.
Now that he's done with the alphabet, Bennett is moving on to daily bugs. He's created a line of t-shirts, bumper stickers and art-making kits to promote the zoo and raise funds for some of his favorite charities. He's also created an animal alphabet video with composer Joe Kye.
Four years ago, Bennett took a leap of faith, leaving his job as a preschool teacher to make a go of his art. Now he's come full circle, back to the ABCs and to teaching, by example, the basic virtue of kindness.
While we're on the topic, check out St. Jude A-Z.