We're grateful for: Jerry Thompson and his sister Theresa for sharing their mountain with
St. Jude
In the middle of the Saddle Up for St. Jude trail ride in Maui, Hawaii, Theresa Thompson will fill with a kind of happiness that's almost spiritual, "like church."
Sometimes in the middle of the Saddle Up for St. Jude trail ride on the Thompson Ranch in Maui, Hawaii, Theresa Thompson, the youngest of the 11 Thompson children born in nearby Kula Hospital and raised on Mt. Haleakala, will glance behind her for a moment and see the horses thread out across the mountain for more than a mile. She fills with a kind of lightness, a kind of happiness that's almost spiritual, "like church."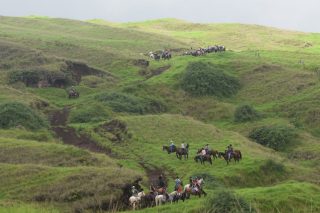 Theresa, a mom and a fourth grade schoolteacher, and her brother Jerry Thompson, who owns the ranch, put on the charity event to benefit St. Jude Children's Research Hospital. The annual trail ride event began in 1992, attracts anywhere from 50 to 100 riders and has raised more than $430,000 for St. Jude. Their extended family pitches in to help.
"Cancer is near and dear to our hearts," said Theresa. That's because several years ago when a little girl they knew, Lokana Rodrigues, was diagnosed with leukemia, she was successfully treated in a hospital in Oahu on a plan pioneered by St. Jude.
Today, Lokana is doing well with children of her own – and supports St. Jude herself through her work as a lead executive recruiter for Target.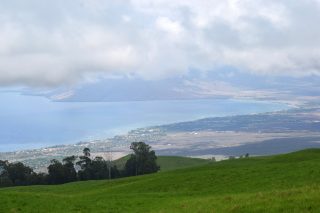 "We brag to everybody that St. Jude shares breakthroughs with everybody in the world. We're just so proud of that. It's not just the children (in Memphis) they're helping. They're helping everybody," said Theresa.
And it's why this ranch family in Maui supports a pediatric cancer hospital more than 4,000 miles away.