We're grateful for: Larry and Susan Patrick, who use the airwaves to rally a region around
St. Jude
Every spring, Larry Patrick — a former broadcaster turned radio-industry pro — rushes between his Big Horn Radio Network country stations in Wyoming to get behind the microphone during an annual, two-day radiothon for St. Jude
Every spring, Larry Patrick — a former broadcaster turned radio-industry pro — rushes between his Big Horn Radio Network country stations in Wyoming to get behind the microphone during an annual, two-day radiothon for St. Jude Children's Research Hospital.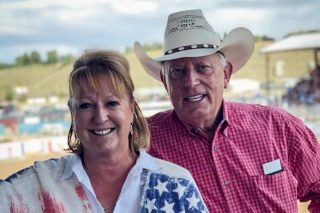 This year, he shared a story on-air about an 11-year-old cancer patient he met during a visit to St. Jude. The boy was strongly gripping the sides of his bed rails as he greeted Larry, who asked how he was able to be so stoic. "I don't want to scare the littler kids," the boy told him.
"I pretty much lost it. I was blown away by the strength. He was being the bravest little boy I'd ever met," Larry said.
At the country music station, the phones lit up. A man who lived 40 miles away called in, ready to donate a small monthly amount. "When I heard that story, I just sat here crying like crazy. I thought about my own children," the man said.
The moment crystallized the impact Larry and his wife, Susan, have had in spreading support and awareness for St. Jude across Wyoming — helping raise nearly $1.8 million for St. Jude over more than a decade.