Kindness in bloom: Peoria teenagers deliver flowers to Illinois communities
St. Jude Club board members wouldn't let a pandemic stop them from fundraising. From their experience and hospital visit, bloomed empathy and action.
May Day – May 1 – is an ancient festival of spring. It's a celebration of flowers and renewal and life. And this year, amid a pandemic and social distancing, Josie Graham and Fionn Libert, neighbors in Peoria, Illinois, chose the day to deliver flowers – and cheer – to their community.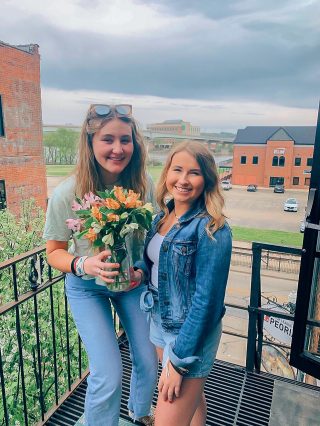 Josie and Fionn are a junior and senior, respectively, at Peoria Notre Dame High School, and on the board of the school's St. Jude Club. The club's No More Cancer rally earlier in the school year raised more than $16,000. This spring should have been a time for annual car washes and pet washing as fundraisers for St. Jude – kids helping kids in the best possible ways – instead of safe-at-home orders and online classes.
Out of hardship, though, blooms opportunity, and the two friends made the best of it by arranging flower bouquets in baskets, taking orders via social media, and delivering the packages in exchange for donations to St. Jude. And not just throughout Peoria, but into Chillicothe, Bartonville and 10 surrounding communities.
They left the house at 8 a.m. on May Day, delivered for two hours, came home for online classes, then were back out delivering until 7 p.m. The hard work paid off to the tune of 80 flower bouquets delivered and $900 raised for St. Jude.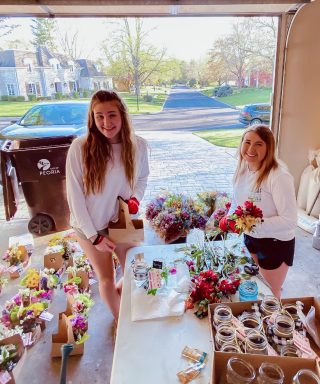 Supporting St. Jude is a family business of sorts – both girls' moms work for ALSAC, the fundraising and awareness organization for St. Jude. They visited the Memphis campus last year for the annual St. Jude Memphis to Peoria Run – a 465-mile relay that will take place virtually in July this year – and both took away lasting memories from their time there.
"It was really eye-opening because you hear all the stories but you never actually get to see it with your own eyes, it's really inspiring," Josie said.
They're hoping to get back to school, and back to normal, next fall, with Josie as co-president of the St. Jude Club and Fionn involving herself in St. Jude Up 'Til Dawn and other activities at Illinois State University. Their experience with St. Jude has inspired them to keep on, even when the world seems to have ground to a halt.
"The hospital is not stopping even though we all are," Josie said. "They still need money raised to keep it all going."