With baseball on hold, 9-year-old and his dog run laps for
St. Jude

instead

East Peoria student finds the perfect equation: Big yard + daily runs = Fundraising success.
Call it Spring Training, home edition. Nearly every day for 20 consecutive days while the Illinois Steel baseball team is on a COVID-19-induced break, Everett Zimmerman runs laps.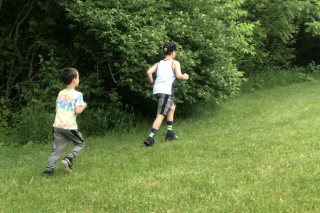 So far, it has added up to 102 laps.
Sticking to a running regimen for that long is no small feat. When you realize Everett is all of 9 years old, and he is running to raise money for St. Jude Children's Research Hospital, it suddenly becomes a very big achievement.
Factor in that Everett isn't even all that fond of running — he actually goes so far as to say he hates it — and it becomes even more remarkable.
His lack of interest in running certainly won't stop him from lacing up his shoes and galumphing around his yard to get in as many laps as possible. Because for every $5 donated, Everett has vowed to run a lap.
Did we mention the size of his yard yet? Because it's big.
"Really big," Everett said, sighing for exaggerated emphasis as only kids of a certain age can pull off and still be on the cute side of precocious.
He began this lap quest back in May. School was already over for the year, and with it, the Laps for Life fundraiser at his Woodrow Wilson School had all but ended too.
Everett wasn't ready to give up. So he began running, and posted in a video early on the reason he was running.
"Because running is harder to do (than walking) it encourages people to give," he said. "And I've kind of gotten used to the running now — I almost even like it."
Besides, he said, how he feels doesn't matter right now. This is all for the kids at St. Jude. So every day, rain or shine, he runs and his mother posts a video of his run. Fans cheer him on online, which his mom shares with him.
What helps Everett keep going are his sidekicks, his younger brother Ryder and his dog Bullet. Ryder brings more enthusiasm than energy, so he peters out early into the run, Everett said. Bullet, a Labrador retriever, is better built for the long haul. (Good for hunting, not so much for snuggling, according to Everett.)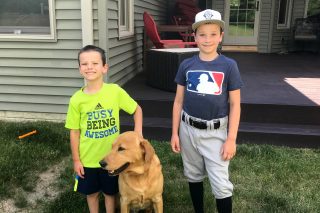 We caught up with Everett on an off day, as he was feeling under the weather. In sports parlance, he was put on the DL, so a few reinforcements came in to help out, Ryder among them. Their grandfather also joined, as did their cousin, Julie.
Everett isn't sure he'll count their laps toward his final tally, but he appreciates the assist as he recuperates. So far, his school's team has raised $1,535 in the Laps for Life fundraiser.
Everett said he'll stop running when everyone stops donating. Until that happens, he'll be back out on his grass course, Bullet by his side, making a difference one lap at a time.