Hayley Arceneaux: What the Inspiration4 mission for
St. Jude

means to me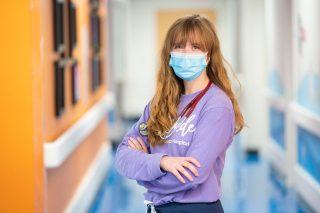 Hayley Arceneaux, a pediatric cancer survivor, will be part of the world's first all-civilian space crew on Inspiration4 later this year. She talks about the meaning behind the mission, which will raise money and awareness for St. Jude Children's Research Hospital, the place that saved her life and where she now works as a physician assistant.
Imagine being a 9-year-old girl, visiting NASA on a family vacation, falling in love with space and the wonders of exploration.
That was me, just a few months before I found out I had osteosarcoma — bone cancer — and was bound for St. Jude Children's Research Hospital.
I remember pretending to be angry as we arrived, but in reality, I was just so scared. At the time, cancer to me seemed like a death sentence because everyone I had known who had it passed away.
As soon I entered the doors of St. Jude, however, everything changed. I felt hope, a sense of optimism that I could get through this.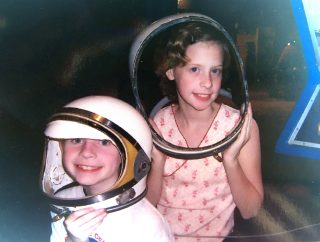 That's why I'm so grateful to be a part of Inspiration4, the world's first all-civilian mission to space.
Because the mission supports St. Jude, the amazing place that saved my life, and where I've returned to work in my dream job as a physician assistant.
And especially because of the message it sends to the kids of St. Jude, like the leukemia and lymphoma patients I work with every day — that a cancer survivor can do things they never dreamed possible. A cancer survivor can even go to space.
That's what happens when people support this historic mission. They're supporting the healing mission of St. Jude, to find cures for catastrophic diseases, and to treat some of the sickest children in the world, regardless of race or creed or their family's ability to pay.
But St. Jude doesn't just save lives. It changes them. I'm living proof. St. Jude gave me hope and strength, and even a new career choice.
Being at St. Jude as a patient made me want to come back and work there. I wanted to be a part of that incredibly hopeful environment. I wanted to share the love that my family and I felt.
I remember when my doctor told me I was cancer-free and could go home. I remember crying because I didn't want to leave. I still don't want to leave, because St. Jude means everything to me.
I did go home and get on with my life, but I was determined to someday come back and work at the research hospital. That day came last year, when St. Jude offered me a job as a physician assistant. It was the happiest moment of my entire life.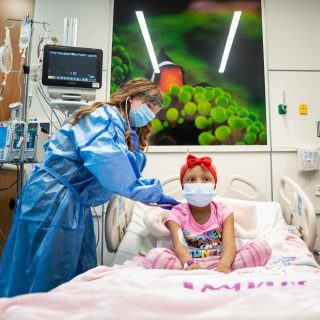 Cancer, and St. Jude, shaped me in other ways, as well. Because I was given a second chance, I wanted to make every day count. Maybe that's why I grew up to have such an adventurous spirit. I developed a love of travel, especially to other countries. Somehow, I feel most alive when I'm immersed in other cultures, enjoying new foods and hearing different languages.
I had planned to visit all the continents by the time I turn 30, which is later this year. The COVID-19 pandemic put that goal out of reach.
Enter Inspiration4. When I first heard about the mission and was asked if I would like to go to space, I could scarcely answer fast enough. "Yes, yes, thank you," I said. "Please send me to space." Then I realized I should talk it over with my mom, who, despite her understandable mixed feelings, agreed this is a once-in-a-lifetime opportunity. My brother and his wife, both of them aerospace engineers, were thrilled for me.
While on Inspiration4, I'll be riding in the seat representing the mission pillar of Hope. It's one of two seats, of the total of four, dedicated to St. Jude. I can't say enough about the commander of the mission, Jared Isaacman, the founder and CEO of Shift4 Payments, who's an accomplished pilot in his own right, as well as a generous, down-to-earth leader.
Since signing on to the mission, I've been to the SpaceX complex in California to get fitted for my seat and my astronaut suit — which, if you can believe it, involved 220 measurements — and tour the facilities.
And did I mention I'm the first astronaut with an internal prosthesis? That's more than just a source of personal pride. I hope to show how barriers to space travel are falling away. And as a survivor of childhood cancer, I particularly want to inspire my patients back at St. Jude, proving to them that not even the sky should be the limit to their dreams.
So while I won't be able to visit all the continents before I turn 30, I will be circling the globe every 90 minutes during the Inspiration4 mission, and raising awareness for the St. Jude mission along the way.
As an avid adventurist making the most of her second-chance life, I can't think of a more thrilling way to see the world.