He may have passed away five years ago, but my brother Connor is hard-coded into my story
It's been five years since my brother, Connor Rohde, died. Five years growing up without him. I've watched my parents up on stage at St. Jude fundraisers, sharing Connor's story. I've seen a roomful of strangers donate to help families like mine. I've been at St. Jude Walk/Run events, honoring Connor, and I've seen people coming together to help make sure St. Jude families never receive a bill.
These are big things for our family, and for me, too.
My brother died when he was 7. I was 9 years old.
When you're as young as I was, you don't know what's going on when it comes to cancer. When Connor was undergoing treatment, I remember my parents and Connor not being home a lot, and I worried about him. It was strange to go to school and have my friends talking about going to the movies with their siblings. And I wasn't.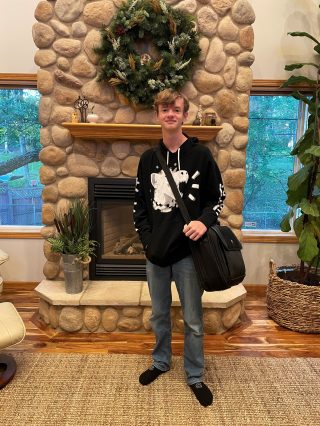 When we were together, Connor and I used to play Minecraft a lot. We were just trying to learn the game, trying to survive.
If Connor were here today, I know that he would be very smart. He'd be the person telling all the jokes and trying to get our family to play another round of board games. He would probably still be in Chinese class and might even be an athlete of some sort.
I've gotten into computer coding, and maybe he would have wanted to learn with me.
Each year, on Oct. 17, my family has a pay-it-forward day to celebrate Connor's birthday. We never really plan it much but will stick a few dollars in a Redbox movie or donate school supplies. Just things that will help somebody out and make them smile, like Connor would have done.
In the last five years, I've grown. I've changed. I've learned a lot. I'm still playing Minecraft (and have gotten a lot better), I've traveled and I went to my first concert (The Hella Mega Tour with Weezer, Fall Out Boy and Green Day, for those wondering).
But I want to make sure that Connor is remembered because he's hardcoded into my story.
Happy birthday, Connor. We love you.