A founder's dream — a father's dream — for
St. Jude

to save more lives around the world
On Father's Day, we celebrate those who go to any length to see their kids safe, happy and healthy.

June 16, 2021 • 2 min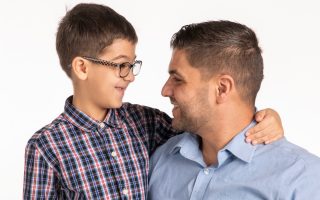 Imagine having the home where you'd grown up become a battlefield and your very way of life threatened. Imagine having to flee that home for the safety of your family to live in a refugee camp a hundred miles away.
Now imagine that in the midst of all of that upheaval, uncertainty and fear, your only child was diagnosed with a severe eye cancer threatening to spread to his brain.
This was the situation Hussam found himself in nearly 10 years ago when violence in Damascus, Syria, had he and his family running for their lives to Amman, Jordan.
Retinoblastoma. Eye cancer.
That's what Hussam's 6-month-old son, Farouk, was facing. Finding treatment far from home with little money and no resources was the challenge his dad faced.
But as fathers we'll do all we can for our children, won't we?
As we look to Father's Day this weekend, we celebrate all the dads and father figures out there giving everything they have to support their families, teach, coach, listen or give comfort on particularly dark nights.
It's what we do. We lead by example, building things with our children to create memories, whether through a pinewood derby racecar or one last push on a bicycle.
My father was CEO of ALSAC before me and not a day goes by that I don't call on his example and guidance in my role. I like to think we've helped, along with all of you, to build upon Danny Thomas' dream of helping sick kids around the world.
That dream — built on a promise made by Danny, an Arab American and new father just days after the birth of his first child — helped another father, half a world away and 60 years later, find the treatment that would save his son's life.
Hussam and his family eventually made it to St. Jude Children's Research Hospital where Farouk was treated for his cancer. And today, that 6-month-old with a seeming lifetime of obstacles in front of him is a happy, healthy 9-year-old who loves pizza, superheroes and watching videos online.
And Hussam is a father again, to a second son born in 2017 and named, aptly, Jude.
He said, "Now I feel like I finally have a house, a home, something to feel safe. And St. Jude is always there, too."
On this Father's Day, everyone at ALSAC and St. Jude wishes all those building forts, giving advice, wiping away tears and fulfilling dreams all the best. And we thank you for all you do for our kids, no matter where in the world they are, who look to St. Jude for hope, health and happiness.