Artist Derek Fordjour's 'Rhythm & Blues' raises $410,000 for
St. Jude
A rising star of the New York art world captures the optimism of a hometown institution that inspired him as a young boy.

November 18, 2020 • 2 min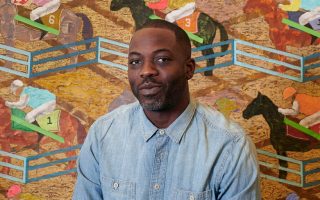 Photo credit: Jason Schmidt
As an artistic youngster growing up in Memphis, Derek Fordjour was inspired by how St. Jude Children's Research Hospital made art a part of the healing process for kids with cancer.
As a rising star of the New York art world, he's used his creativity to support his hometown cause. His original painting, Rhythm & Blues, sold recently for $410,000 at private auction with all proceeds going to St. Jude.
"I am so immensely proud, not just that I was able to participate, but to bring other people along," Fordjour said. "I can make the art, but I can't sell it and I can't buy it. So to make the creation of the art become a catalyst by which all these other people could get involved and become aware of the work that's happening at St Jude, and really putting their money where their mouth is, that's exciting."
Fordjour was familiar with the creative, uplifting aesthetic and art-filled walls of St. Jude from a young age because his father, an oral surgeon, worked at the adjacent St. Joseph Hospital. Derek and his younger brother, Richard, played on the grounds and would visit St. Jude, drawn by its bright colors and artistry.
"I wanted to paint an image that felt optimistic," said Fordjour, adding that along with capturing the "spirit of play," and of parades and pageantry, he also wanted to reflect the rich musical history of Memphis.
The result is Rhythm & Blues, an 80- by 72-inch painting — acrylic, charcoal, oil pastel and foil on newspaper mounted on canvas — featuring two high-stepping marching band musicians with orange-trimmed uniforms and brass instruments.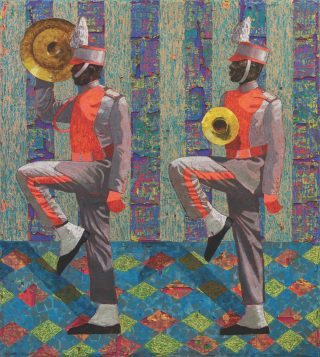 The painting was purchased in the three-day private auction by a New York art dealer. The price rose more than $100,000 in a spirited final afternoon of bidding.
The painting's subject matter and bold colors typify the style of the 46-year-old artist, who's been called "one of the art world's most coveted newcomers." His solo exhibition, "SELF MUST DIE," opened this month and continues through Dec. 19 at New York's Petzel Gallery.
Fordjour originally planned his St. Jude project for 2021, but opted to move it up after the pandemic struck and this became such a year of strife, need and uncertainty.
"To think about a hospital that cares for children and has such an amazing track record, to be threatened by this year, felt more urgent to me," he said.