The patron painter of hopeful causes
Celebrated artist Derek Fordjour, inspired in his youth by
St. Jude

and its embrace of art, is donating an original painting to raise money for the cause.

September 22, 2020 • 7 min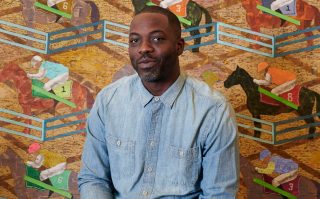 Photo credit: Jason Schmidt
When the artist Derek Fordjour toured St. Jude Children's Research Hospital last year at the invitation of former Memphis Mayor A C Wharton, it was "mind-blowing" to see how his hometown institution had grown.
But in another way it was just as he remembered, from his days as an artistic boy growing up in Memphis — the very picture of inspiration, a colorful place where walls were canvasses, where design was all part of the art of healing.
"We were drawn to it," said Fordjour, who used to play on the grounds with his little brother, Richard, back in the days when a much-smaller St. Jude campus was adjacent to St. Joseph Hospital, where the boys' dad was an oral surgeon.
"I was, of course, very drawn to the art. Because St. Jude would always have a mural or it would have prints hanging. Now I know, in retrospect, that that was very intentional, around creating a lively environment for patients. But even as a kind of art-interested kid, I found myself very often inspired and gravitating to go look at their walls."
Picture it, if you will: A boy of about 12, attracted to a pediatric cancer hospital — not scared of the place, not feeling unwelcome, but drawn there.
"I was never clueless that there was something serious happening, and that people needed care," he said. "But the environment was uplifting, you know? And also inviting. We never felt like we were unwelcome or that we were intruding.
"Hospitals can be very serious places. But the two things that I knew were that this was a warm and friendly place that cared about art and color or design, and that we were welcome there.
"And I'm telling you, being two small black boys who are unsupervised, at that time in Memphis's history, you know, that wasn't always the case. But St. Jude kind of became a safe haven for us, in that way."
More than three decades later, at 46, Fordjour is a rising star based in New York City, with a painting last year selling for $250,000, more than doubling pre-auction estimates. He's been written about as "one of the art world's most coveted newcomers" and collected by the likes of Jay-Z.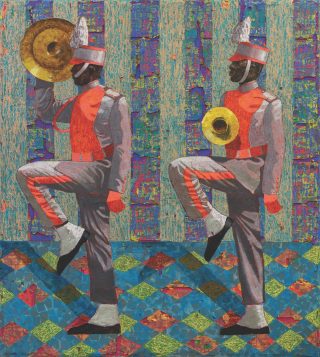 But the hometown-kid-made-good is still being inspired by St. Jude — literally so: He's creating an original work of art to be sold at auction, with 100 percent of the proceeds donated to St. Jude.
As he talked, he'd yet to put brush to canvas. The piece was still just swirling about in his mind, but …
"I want to capture the joy and optimism that has remained consistent in my thinking about St. Jude," he said. "As a child who was very sensitive to aesthetic environments, I think of the experience of any child moving through there and encountering a piece.
"That's what's going to drive the image."
Portrait of the artist as a young Memphian
His art is full of life and color, pageantry and politics. His subjects include marching band drum majors, cheerleaders and — spotlighting a frequent sight in horse racing's early days that's rare today — black jockeys.
His 2018 painting "Half Mast," commissioned by the Whitney Museum of American Art and reproduced billboard-sized for outdoor display, reflects on the violence in the country. It shows a crowded scene populated by law enforcement and civilians (some are students, some have targets on their backs, some are seen only in silhouette), amid teddy bears and balloons suggesting makeshift memorials.
The Whitney described it as a "portrait of this divided moment in U.S. history" that "speaks to loss and abuse of power," and yet, the museum added: "Painted brightly in his signature graphic style, the work points to the possibilities of a future civic movement or celebration."
While critics reach for adjectives to describe his work, Fordjour seems more interested in stretching the bounds of the noun art. A major solo show earlier this year at the Contemporary Art Museum St. Louis featured dirt floors, corrugated metal walls and simulated rainfall on the roof — framing his art, as it were, with a sense of place. The show's name? SHELTER. For what he calls his "most ambitious show yet," this November in New York's Petzel Gallery, he's collaborating with a puppeteer and musicians.
Ask Fordjour to describe his own style and he laughs. Tough question, he says. But he promises a good answer.
"I'm honest," he said. "I'm honest in my work."
Which is to say, his art is reflection of his life, of growing up in Memphis with "extremely generous" parents who emigrated from Ghana and would open the family home to immigrant students in need of housing.
There were the religious tent meetings his parents would have on Third Street, "and the sensation of wearing church shoes outdoors," he said, "where I kind of first got that sensibility of being out in nature but also having a spiritual experience."
There was Mississippi close by, and the frequent family visits to Brownsville, Tennessee, giving the city boy a taste of rural life.
And there was art everywhere, everywhere art — from St. Jude, to Central High School, where a teacher named Bill Hicks "got a lot of us started on a lifelong journey with art," to visiting the Memphis Brooks Museum of Art and Dixon Gallery & Gardens.
So if you've met Fordjour the artist, it seems, you've met Fordjour the man.
"This is who I am," he said. "I see artists' role in society as people who share our lived experience through art, rather than sort of sitting high and making political calculations about the world.
"I think I'm just telling my truth."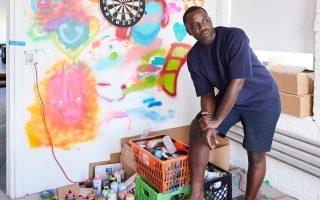 The artist and his assistant
If you want a sense of how inevitable it was that Derek Fordjour would become an artist, ask his first assistant — little brother Richard.
"At a young age, he was getting commissions to do things. I think when he was maybe 10 years old, he was commissioned to do a banner for the church," Richard said. "The banner was so large we had to do it in our backyard. I was always there, helping him.
"Then when you move on from there to middle-school age, I think he was at the time doing some airbrushing on denim for people. They were coming over to pay for it. I was helping him kind of churn that out.
"I have never not known him to do art. Even when he was wasting time, just being a kid, I'd look up and he would have belted out a whole portrait of something, without even trying."
Richard, four years younger, remembers the first time a fuss was made about big brother's art, but not in a good way. They were in elementary school, and Derek "had drawn in a text book on every page, almost like a flip-art kind of thing."
Mom was summoned to school and Richard, probably a first grader at the time, tagged along. "The teacher pulled the book out and flipped through it," he said. "I remember sneaking a look. I was thinking, 'Wow, this guy really is good.' It looked like you were watching a cartoon."
In retrospect, the teacher might have confiscated the book not as evidence, but as an investment.
That idea didn't escape Richard, who followed his father's career path — he's a dentist in Washington, D.C. — but had a keen eye for art. Call him the world's leading collector of Derek's early work.
"I've got a lot of stuff from when he was in the eighth grade, ninth grade, 12th grade, that was just sitting in our attic," he said. "I now have it, and a couple of those pieces are up in my house here in D.C."
When Richard looks at Derek's art today, he doesn't just see his brother's creativity. He sees his brother in all his complexity — taking on "deep and heavy things," but expressing it in art with a "fanciful effect to it, or some sort of celebratory aesthetic."
"The juxtaposition between his kind of jovial side and his intellectual side, that I see in his art, is a direct reflection of who he is," Richard said. "I think that's definitely him shining through."
It's sort of the art of life, isn't it? How dots connect and allow us to see the larger truths of the world.
Like how Derek, as a boy in Memphis, would watch St. Jude founder Danny Thomas's star-studded, fundraising telethons on TV more as entertainment than anything else. But then …
"I had a friend growing up who had sickle cell," he said. "It wasn't until I learned that he had to go to St. Jude that I connected everything. I connected this entertainment that I was watching, and this really fun, wonderful television show" with the fact that "the only hope for my friend was going to St. Jude.
"So maybe the seeds of philanthropy were planted in my mind very early. That you can use something like entertainment to save a life. And that was very young that I realized that."
It was a powerful lesson for an artist to learn. If a joke or a song could save a life, so could a picture, a painting.
So, just as Danny Thomas, a struggling comedian turned Hollywood star, put his hospital in Memphis because the need was there, so is Fordjour, a New York City-based artist, showing us how his heart remains in his hometown. In addition to his painting for St. Jude, he's planning a local art camp — Contemporary Art Memphis Summer Fellowship — to begin in 2022.
The patron painter of hopeful causes, anyone?
"I'll tell you," Derek said. "As an artist, like a comedian, I would imagine, sometimes the product of your work can feel futile. That you're not impacting real-life issues. That you're doing something that is, in many ways, removed from real life."
When he's feeling like that, though, Derek knows just where to go. Where he was drawn as a boy. Where the art of healing makes room for the healing power of art.
St. Jude.
Editor's Note: The private auction for Derek's painting Rhythm & Blues - on behalf of St Jude - will commence on October 26th and conclude on October 29th. For further information please contact Tiffany Graham (tiffany.graham@stjude.org).