At
St. Jude

we hurt and heal as a family
Last week's World Sickle Cell Awareness Day brought us together to honor and remember those afflicted with the disease.

June 24, 2021 • 3 min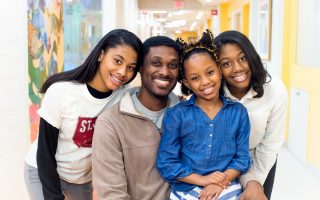 Maurice Walton Tate's daughter died from complications of sickle cell disease in 1949. St. Jude Children's Research Hospital wouldn't open for another 12 years, but when it did it would already be working with its first grant — $10,000 for the study of sickle cell disease.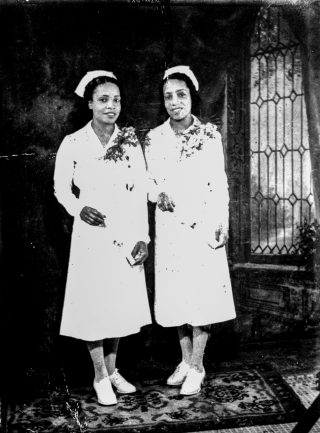 Mrs. Tate, as she was known, would come to work for St. Jude as one of its first nurses and go on to help establish a sickle cell program that today is one of the largest in the country.
Christopher Bridges came to St. Jude to help further that very program. He works today as a lab technician contributing to the research and treatment of sickle cell disease. And he, too, did so because of a daughter. Or, in his case, two daughters — Kaitlyn and Khirsten — who were born with the disease.
Last weekend was World Sickle Cell Awareness Day, when we champion those living with the disease and remember those who have lost their lives far too soon.
Perhaps it was serendipitous that such a day would share a calendar square with our own celebration at ALSAC — St. Jude Spirit of the Dream, honoring the achievements of African Americans who embody the lifesaving mission of St. Jude and its founder, Danny Thomas. A time to celebrate the doctors, scientists, nurses and lab technicians hard at work in search of better treatments and, God willing, a cure for this disease that affects one in 365 African-American babies each year.
At St. Jude, these important tributes are not limited to a single day. We remember the promise Danny made when he committed to building his dream in the heart of a segregated South: that St. Jude would be a place to treat all kids, regardless of their race, religion or economic status. That it would be a place where women and men of all races would work side by side and be treated with equal respect and dignity.
During our Spirit of the Dream celebration Kaitlyn and Khirsten's mom, Nichole, talked about their first visit to St. Jude and the overwhelming feeling of caring for a 2-week-old baby newly diagnosed with sickle cell disease. She said they had no idea what to expect that day, but "everybody was just so welcoming and we realized that we were just joining another family."
St. Jude was founded as a place to treat some of the sickest kids in the world. But it is also a place for family, because we know kids heal better when surrounded by love. Over time, the caregivers, patients and supporters of St. Jude would become a family as well.
This is the legacy of Danny and those who commit to supporting his dream. This is the promise to those parents just receiving the overwhelming news that their child has sickle cell disease or cancer — that you will be family.
As we reflect on World Sickle Cell Awareness Day and Spirit of the Dream, we vow to do all we can as we go through life and face the world the way St. Jude does, as a family. All we can do to ensure moms like Mrs. Tate don't know the devastating pain of loss. And all we can do so that dads like Christopher realize his dream "to see my girls healthy, smiling and living life to the fullest."