At
St. Jude,

Dr. Amar Gajjar's work reveals a lifetime of progress for brain cancer patients
Gajjar will be honored with the prestigious ASCO Pediatric Oncology Award this summer for his work to transform how doctors around the world understand and treat medulloblastoma.

April 19, 2022 • 4 min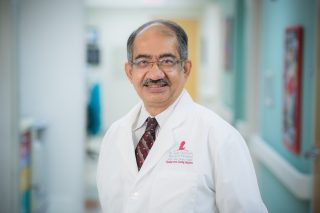 Before he was a world-renowned pediatric brain tumor expert, Amar Gajjar, MD was a newly trained physician and young father curious about how he could make a difference in the vague and little understood field of childhood brain cancer.
It was 1989. He had a toddler daughter and wife and had joined St. Jude Children's Research Hospital fresh out of medical training programs in Oklahoma and Florida. He had immigrated to the U.S. from Mumbai, India, roughly a decade earlier, emerging from a populous city on the Arabian Sea more renowned for maritime commerce and the glittering Bollywood movie industry than healthcare and academics.
But he was a serious sort, with a mind for science and problem solving. Back then, the brain tumor program at St. Jude was in its infancy, said Gajjar, who is now Chair of the Department of Pediatric Medicine and Director of the Division of Neuro-Oncology. It served about six patients a year. They used mostly CT scans in those days. There was only one MRI machine available to get more detailed images of the brain, and it was housed in a trailer on the grounds.
With limited imaging available, surgery was based "on visual guidance," recalled Gajjar, with surgeons doing their best to remove tumors they could see with the naked eye. Chemotherapy use was just beginning. Radiation therapy was unrefined, sending rays of photons indiscriminately and in high doses throughout the body, killing tumors but also harming healthy organs and tissues with it. Less than half of the children survived their disease, and those that did emerged with serious physical and mental handicaps.
"When I was training, my mentor told me, 'You need to take this on as a challenge and make this a career for yourself,' and that's how I started focusing on this disease," he said.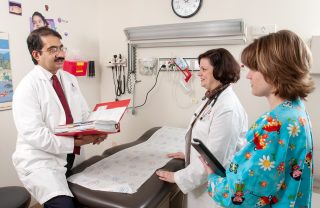 For the next 30 years, Gajjar would lead the development of innovative clinical protocols that have nearly doubled survival rates in some patients, by providing treatment risk adapted, targeted therapies for medulloblastoma, the most common malignant brain tumor in children. He has shared data with and collaborated on research studies with scientists around the world.
Within seven years of joining, he developed a clinical trial named SJMB96 that sought to ameliorate the effects of craniospinal radiation for newly diagnosed medulloblastoma patients while improving survival rates that were around 50 percent.
He remembers the very first patient he enrolled into that research study, a child from East Tennessee whose father was a dentist and whose mother was pregnant with her fourth child.
Hearing the diagnosis, "the father was in a complete state of shock," Gajjar recalled. "And as always happens in tough situations, mothers get tough and take control."
He asked her if she'd be open to trying out a novel protocol of treatment testing newly adjusted doses of chemotherapy and radiation for her son. She asked him how many children they'd treated using this new approach.
"Your son will be the first," he remembers telling her.
"And without batting an eyelid, she said 'let's go for it,'" he said. "That's the faith that has been reposed to us by these parents."
On that study, he enrolled 134 patients. The lessons Gajjar and his colleagues received on the side effects of treatments and how medulloblastoma behaves differently in each patient informed a successive study in 2003, where 330 patients were enrolled. He then opened SJMB12, a study which has enrolled more than 650 patients to date and is wrapping up. All along, Gajjar has tirelessly advocated for the better therapies he believes St. Jude offers. He counsels patient families whenever they call him, late in the evenings after he's left clinic and even mid-travel, pausing in airports and hotel corridors to answer questions.
As the studies have grown in size, so has the body of knowledge about this type of brain tumor, and not just at St. Jude, but around the world.
In 2006, Gajjar and his team published a paper showing early evidence medulloblastoma was not one big disease, but a tumor with four distinct molecular groups that behave differently in patients and responded to varying treatment combinations of radiation and chemotherapy. Other programs in Europe and Canada have confirmed the findings.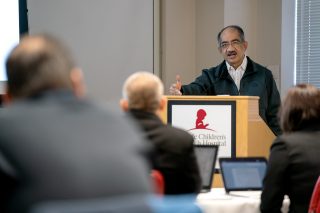 "So now we are developing newer therapies, targeted therapies based on risk," he said. "It has been a dramatic, exponential increase in knowledge in a relatively short time."
Thanks to these new findings, patients with lower risk medulloblastoma now receive less chemotherapy, just four months compared to one year, leading to fewer long-term side effects such as hearing loss, bone marrow suppression and second malignancies.
During his time at St. Jude, Gajjar has helped lead a program that uses sophisticated imaging to diagnose and track medulloblastoma and other brain tumors. He collaborates with a team of neuro-radiologists trained to pick up the subtlest changes in the tumor.
Over the last decade, Gajjar has also focused on efforts to remediate neurocognitive side effects from radiation treatment. In collaboration with Dr. Heather Conklin, strategies such as reading interventions have been a part of his medulloblastoma clinical trials. He also works patients and their local schools to ensure academic support in their hometowns.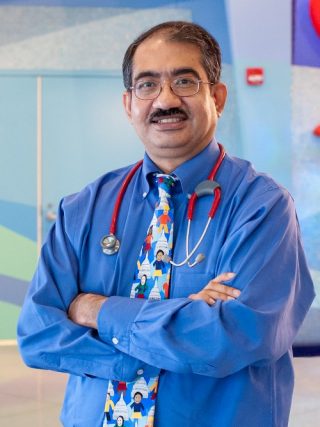 Throughout his career, he has authored more than 370 papers, many of which have contributed to the improved clinical care of children with medulloblastoma and other pediatric brain tumors. And all the while, he has steadily progressed in his career at St. Jude. He is the Scott and Tracy Hamilton Endowed Chair in Brain Tumor Research. He is also Co-leader of the Neurobiology & Brain Tumor Program at St. Jude.
But he's ill at ease with titles and accolades. Asked about his progress, he brings the conversation back to the children he has served.
"It's been an amazing journey," Gajjar said. "For our average risk patients, we've reduced treatment significantly. Now we've got children who are completely intact neuro-cognitively. They're in college, they've got jobs. You can't even tell they had medulloblastoma."
Now, he issues challenges to the next wave of young doctors and scientists to continue to build on the foundational work he has done.
"My challenge to my junior staff is put your neck out there and do work that is paradigm changing," he said. "Devise new therapies for high-risk patients and try to pull them up using the technology available to us."