Celebrating 10 years: FedEx Purple Eagle honorees then and now
In the past 10 years, 10
St. Jude

patient have been honored as FedEx Purple Eagle honorees, a program in which a plane features the name of a child or a grandchild of a FedEx team member. Here's what they're up to now.

August 10, 2022 • 3 min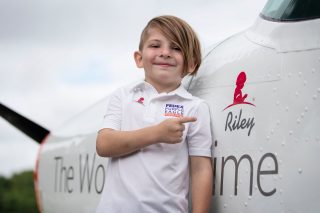 After he was found to have acute lymphoblastic leukemia at just 19 months old, Riley underwent two-and-a-half years of chemotherapy at St. Jude Children's Research Hospital.
But to look at the 5-year-old on a typical day now – jumping on the trampoline, playing with his dinosaurs, climbing a tree or chasing after a frog – you might never guess.
"He is healthy and strong and growing constantly," said his grandmother, Kim. "He has so much energy and is always finding new things to explore and learn."
Last year, Riley celebrated the end of chemo.
This week he was honored with a plane.
That's right, an actual airplane.
Each year since 2012, the Purple Eagle plane has flown to honor St. Jude patients whose parents or grandparents are FedEx team members. The FedEx Cessna Caravan carries the St. Jude logo and the child's name as it flies the FedEx network.
Riley will be able to keep tabs on his plane as it goes from place to place.
Kim, a contract transportation dispatcher at FedEx Express and 33-year FedEx veteran employee, nominated her grandson and was there with the rest of Riley's family for the unveiling ceremony.
Riley is the 10th patient to receive the Purple Eagle honor. To celebrate the 10 years of the program, the past honorees were invited back for a reunion both happy and emotional because these families share a bond.
Hayes, who was honored with a Purple Eagle plane in 2013, was there. His mom, Amy, said she loved being able to see how the other families are doing and how big the kids have gotten.
"It's wonderful that all 10 children are alive, when you think about it," said Hayes' mom. "It's not something I take for granted."
She paused for a moment to wipe away a tear.
To help celebrate 10 years of the FedEx Purple Eagle program, here's a lookback at how the past honorees are doing today:
2012: McKaylee, who was treated at St. Jude for an anaplastic astrocytoma, turned 5 on the day she became the first Purple Eagle honoree in 2012. Now the 15-year-old has her learner's permit.
2013: Hayes, a long-term kidney cancer survivor, spent the summer at an outdoor wilderness camp in Hawaii. When the 17-year-old grows up, he wants to be an FBI agent or work in the criminal justice field with canines.
2014: Allie, 23, is a two-time cancer survivor of anaplastic ependymoma and a neuroepithelial tumor. She and her fiancé just bought their first house.
2015: Tyler, now 16, who survived acute lymphoblastic leukemia, is running a marathon. Learn more about Tyler's story.
2016: Alyssa, who is Tyler's cousin, survived melanoma with the help of St. Jude. The 19-year-old is studying to become a special ed teacher. Alyssa's family maintains a St. Jude fundraising team dedicated to her and Tyler. Team Alyssa Rocks and Dude Dance has raised more than a half-million dollars for St. Jude in 10 years.
2017: After being treated for a craniopharyngioma brain tumor at St. Jude, Calvin strives to create joy. The 15-year-old has given funny nicknames to his St. Jude nurses and will sing and dance if it might make someone smile. Learn more about Calvin's story.
2018: Mya, 14, has sickle cell disease and takes hydroxyurea, penicillin and vitamin D to maintain good health. The ninth grader wants to start a social media series to educate the public about the disease. She also loves baking.
2019: Reid was treated at St. Jude for rhabdomyosarcoma, a soft tissue tumor that can arise virtually anywhere in the body. The 15-year-old enjoys video production and his robotics club and wants to be an engineer someday. He also loves playing guitar.
2021: Kenzie survived acute lymphoblastic leukemia with the help of St. Jude. The 18-year-old hopes to give back by becoming a nurse practitioner a St. Jude someday. She also loves painting.
FedEx Purple Eagle honorees