In largest commitment ever, Domino's pledges $100 million to
St. Jude
The Domino's Village will provide a home-away-from-home for families who come to St. Jude from around the world.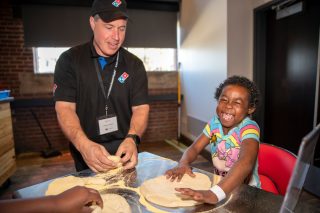 Whether it's the amount of money raised or the number of pizzas delivered, Domino's has a history of going big in its support of St. Jude Children's Research Hospital.
Now, the pizza chain, together with its franchisees, is serving up an extra-large pledge of assistance.
In the largest commitment ever made to St. Jude, Domino's announced it will raise $100 million over the next 10 years for the research hospital known the world over for treating children with catastrophic diseases while also advancing cures and freely sharing its research.
In honor of the pledge, St. Jude will name its soon-to-be-built housing facility The Domino's Village. Located on the St. Jude campus in Memphis, the facility will feature 140 fully furnished units ranging from one to three bedrooms to accommodate patient families of different sizes and lengths of stay. Construction planning is underway and the facility is expected to be ready for patient families in spring 2023.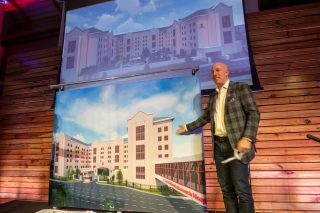 Domino's named St. Jude its national charity partner in 2004, following a franchise vote. Since then, it has raised more than $68 million for the kids of St. Jude, primarily through the annual St. Jude Thanks and Giving® fundraising campaign. Domino's customers also can round-up their online order total and donate the change to St. Jude throughout the year.
"St. Jude and its Thanks and Giving campaign have become part of the Domino's culture, and we are proud to commit to the organization for the long term," said Ritch Allison, Domino's chief executive officer. "Everyone at Domino's is honored to have the opportunity to bring to life a building that will offer community, comfort and care to patient families at St. Jude. We hope it stands as a physical representation and reminder to all on the St. Jude campus that Domino's and customers of the brand care, and we will continue to support them."
Founded 60 years ago, Domino's is the world's largest pizza company based on global retail sales.
"Domino's, in partnership with its employees, franchisees and customers, is the model of the power of corporate purpose to change the world, and has been since 2004," said Richard C. Shadyac Jr., President and CEO of ALSAC, the fundraising and awareness organization for St. Jude Children's Research Hospital. "This new, generous gift is the largest commitment in the history of our organization, and every Domino's employee, franchisee and customer should be proud to be part of this selfless act of making the world a better, more compassionate place. The Domino's Village will provide a home-away-from-home for the thousands of kids and families who come to St. Jude from around the world. They will forever be transformed by the generosity of Domino's in their greatest time of need."
For longtime Domino's franchisee Jason Shifflett, the pledge came as no surprise. "Everything we do, and attempt to do, is at the very highest levels," he said.
Shifflett began working at a Domino's store in Olive Branch, Mississippi, when he was just 14 years old. When he was 19, he managed a store full-time, doubling sales within nine months, while attending college. He purchased his first store two months after graduating.
Now 44, with 22 stores in his franchise, Shifflett said he's proud of Domino's support for St. Jude, which never sends families a bill for treatment, travel, housing or food. It's a partnership "made in heaven," he said.
"St. Jude has a very big purpose, obviously, to change the world, and Domino's pizza wants to do it as well."
Shifflett's bonds to St. Jude have only grown tighter through the years. In 2006, he was able to purchase the Downtown Memphis store that delivers to St. Jude.
Each year, Domino's delivers some 3,000 pizzas for runners participating in St. Jude Memphis Marathon Weekend races. It also provides pizzas for patient events on campus and gift certificates for patient families arriving in housing facilities.
Shifflett got a more personal look at St. Jude when the daughter of his college roommate, who is also his vice president of administration, became a patient.
"I knew what St. Jude had done, had seen it firsthand, from afar, if you will. But the amount of love and care that was given to that family…was just remarkable to me. And it touches you to the core of what I believe we're here on earth to do, and that's to serve God and others."