St. Jude

Children's Research Hospital coordinating global partners to evacuate children with cancer from Ukraine
Hundreds of kids have been moved to hospitals across Europe and some may soon come to U.S.,
St. Jude

.

March 15, 2022 • 6 min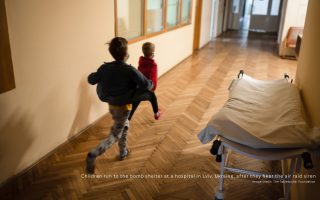 Working with a network of partners established over decades, St. Jude Children's Research Hospital and ALSAC, its fundraising and awareness organization, have helped evacuate hundreds of Ukrainian children with cancer to countries across Europe where they can be treated in safety.
St. Jude Global, a program aimed at improving survival rates of children with cancer and other catastrophic diseases worldwide, has coordinated partner hospitals and foundations in its Global Alliance to move those young patients in peril in hospital basements in Ukraine to Poland, Moldova, Germany, Italy, Spain, United Kingdom, the Netherlands and Canada.
Some may even be headed to the U.S. and St. Jude.
The massive, coordinated effort provides urgent help to Ukrainian families suffering through two profound events simultaneously: a cancer diagnosis of a child and an unprovoked war.
To date, the organizations have helped more than 500 patients by translating medical records as well as providing transport convoys for many through the Polish border to the Unicorn Marian Wilemski Clinic in Bocheniec before they're transported to their final care destination at some of the best cancer centers in Europe.
"When the Russian army invaded Ukraine, we did what we usually do with our partners, which is what you usually do with your family — jump in and say: 'How can I help? What can we do?'" said Dr. Carlos Rodriguez-Galindo, director of St. Jude Global.
Within hours of the invasion, St. Jude set up a command center to help manage information and coordinate what partners needed on the ground. St. Jude's longstanding relationship with Alliance members across the region — it has worked with partners on the ground in Ukraine for more than two years — has been crucial to a complicated, urgent logistical effort to get hundreds of critically ill children away from the gunfire and explosions to safety. The St. Jude Global Alliance has partners in more than 60 countries around the world, including in Ukraine, Poland and Moldova. Foundations in those countries support more than 100 hospitals and clinics.
While doctors in partner hospitals in Ukraine give children blood and evaluate them for transport, staff at the Tabletochki Foundation — a Ukrainian charity devoted to supporting pediatric oncology patients in Ukraine, and a St. Jude and ALSAC partner — finds drivers, trains and buses to take them to the western city of Lviv.
These are children with leukemia, brain tumors, some on the cusp of receiving bone marrow transplants and others who need surgery and radiation therapy.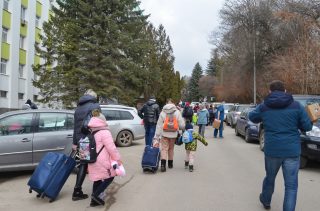 "Our main focus is to evacuate children from Ukraine — as many children with cancer as possible — and to make it as fast as possible because we do not know what will happen next, in the next day, in a couple of days," said Yuliya Nogovitsyna, Tabletochki's program director.
One social media post from Tabletochki embodies the peril these families face on the journey out of the country and the impact of collaboration on families that desperately need help. It's the story of a Ukrainian mother trying to get her 8-year-old son, Oleksiy, to safety and treatment for brain cancer.
When they spoke about the possibility of leaving on the 26th, I got ready in 20 minutes and did not even realize what was waiting on the road. It is difficult for my child to move around and when the ambulance dropped us off at the railway station, it became really scary. A large crowd, people move chaotically, quickly, and no one paid attention to the mother and child. The crowd just carried us…

 

Thank God we got on the train. We moved and it was scary again. Explosions and gunshots were heard outside the window. The train didn't stop at stations, and that was also scary. People were standing in corridors, vestibules, toilets – wherever possible. (Translated into English) 
That harrowing journey led them to the triage center, into Poland, then Germany where Oleksiy is being treated, his mother at his side.
Hundreds of families are making similar journeys to reach the network of help that awaits. While Tabletochki staff recruit drivers and buses, Lviv doctors arrange police escorts for convoys and set up train transports headed for the border. They then work with a partner in Poland to find buses and ambulances to move the young patients and their families to a triage center established by St. Jude Global and collaborating partners.
Malgorzata Dutkiewicz, director of Herosi Foundation, another St. Jude Global partner and pediatric cancer charity in Poland, has transferred patients to vehicles on her side of the border because Ukrainian ambulances and buses can't cross. Sometimes, the exchange takes as much as three hours.
The last convoy had three buses and 12 ambulances. Once, when too few ambulances were available, a colleague somehow found a helicopter.
"This is no peanuts that we're doing," she said.
It has been emotional work — 20 hours a day for 12 days in a row.
"The patients start their trip at 10 a.m., and they end their trip at 9 p.m.," Malgorzata said. "That is a long day for an oncology patient. That is a long day for a family and for the trauma they are going through because it's not only the trauma that they have a sick oncology child. It's not only the trauma that they are leaving their homeland or that the country is at war. But most of the families are divided because it is the women that are leaving their husbands.
"And they don't know when they come back, will they ever see each other again."
The family's journey is still not over. From a triage point in Poland, volunteer doctors, including medical personnel from St. Jude, determine where patients should be sent. The decision depends on the type of cancer and the kind of treatment they need, as well as the receiving hospital's capacity.
"But for (St. Jude Global), but for our Polish partners, we would not be able to manage this in such an impactful way," Yuliya said. "Probably we would have brought out of Ukraine dozens of children, but not hundreds of children. Because it would be near to impossible to triage them to various European hospitals.
"All negotiations with the foreign hospitals are being held by St. Jude Global."
St. Jude is also working with governments to coordinate flights for patients, Dr. Rodriguez-Galindo said. They're keeping a database of patients soon-to-be evacuated, en route, and those who've made it to their destination clinics. St Jude is also translating medical records so patients can receive timely care. That care is being provided by hospitals in multiple countries without charge.
Yuliya's foundation has now moved the largest groups of children with cancer from Ukrainian hospitals and will focus next on those still at home. She's arranging a fleet of cars and will hire drivers to take them to Lviv.
St. Jude, too, is moving into its next phase of assistance.
At some point, European hospitals won't be able to take more patients, especially those who need highly complex care. St. Jude has coordinated with hospitals across North America that have said they are willing to take patients from Ukraine. And St. Jude has made room, potentially for 20 to 25 patients at its campus in Memphis.
"We are ready, the doors are open," Dr. Rodriguez-Galindo said. "We just want to make sure we do the right thing at the right time."
Like other St. Jude families, they'll be provided with treatment, travel, housing and food without ever receiving a bill from St. Jude.
He knows it will take a sustained effort to save these children.
"To take care of a child with cancer takes a village," he said. "It is not just a pill or a short treatment. In many cases it is more than two years of complex treatment, and you need very specialized doctors and nurses, coordination of care across many teams and complex scans, surgeries and radiation therapy"
"So, if you take one of these steps away from this continuum of care, everything you have done before is for nothing. Every single piece in the care of these children needs to align. The world needs to know that it's not only about moving these kids away from a danger zone. It is about moving them to another country, to a place where the care they need can be completely repackaged."
Dr. Rodriguez-Galindo worries, too, about families with critically ill children who haven't been reached; families suffering and don't know what to do. Those caught in the crossfire and those too scared to leave their homes without their fathers and grandparents.
"While the war is a catastrophe and a reminder of how evil humans can be, the response to help these unfortunate children has given us hope, because there is still love, there is still care, and this will save us."
Still, Yuliya said, as long as the war continues, children will die.
"They're already dying," she said. "They're dying from shootings. They're dying from explosions. And they're dying because of the breaks in their treatment."
Not only Ukrainian children, but Russian children who aren't receiving medicine or treatment because of economic sanctions that restrict the flow of goods suffer, too.
Evacuations, humanitarian convoys, volunteer drivers, police escorts, foreign countries accepting children with cancer from thousands of miles away — all of it is an extraordinary effort, but not an answer, she said.
"There is no other way to help us than to stop the war," Yuliya said. "Even if we could evacuate all children with cancer from here, new cases will arise. We've discussed it many times already. … Nobody will bring them to the hospital or to the laboratory. So even if we take everybody from Ukraine, those children who stay here who are healthy right now and will develop cancer in the future, they will be deprived of any medical or diagnostic options.
"So, the only way, is to stop the war."
–
We know our partners, patients and their families appreciate your care and concern during this very difficult time. We continue to work around the clock to ensure our partner foundations have the resources to help affected families receive lifesaving treatment and care.
For more information about the Tabletochki Foundation, visit https://www.globalgiving.org/projects/war-in-ukraine-help-children-with-cancer
For more information about the Herosi Foundation of Poland, visit http://herosi.eu/sposoby-pomocy/#4. ** Given the wartime situation, the Herosi Foundation also directs donors to Paypal.