Filipino artists spread joy for
St. Jude

during karaoke broadcast

Musicians sang their hearts out and raised awareness for the mission of St. Jude during a karaoke event hosted by Roslynn Alba Cobarrubias.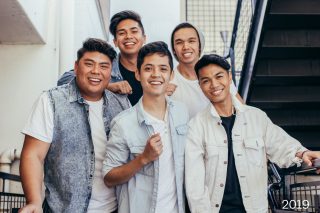 Better known for performing catchy pop tunes, love songs and even the national anthem in concert halls and sports stadiums, a group of Filipino artists switched venues and genres to help support St. Jude Children's Research Hospital.
Inigo Pascual, Jules Aurora and a vocal quintet called The Filharmonic lifted their voices for holiday classics like "Jingle Bells," "O Holy Night" and "Sleigh Ride" during a recent livestreamed event called "Karaoke for St. Jude." The virtual performances served to highlight the mission of the research hospital, which freely shares its discoveries and never bills patient families for treatment, housing, food or transportation.
The event was hosted by Roslynn Alba Cobarrubias, who represents St. Jude media partner myx, the top Filipino-American cable, radio, digital content and events provider. It featured performances by artists well known in the Philippines, the Filipino-American community — and beyond.
Pascual, with 6 million followers on social media, has headlined concerts in New York, Los Angeles, London, Tokyo and other major cities around the globe. Having lost his grandmother to cancer, he hosted parties for Filipino cancer patients each year on his birthday prior to the COVID-19 pandemic.
"Every time I get to encounter someone who has cancer, especially kids, it affects me — just to think of the situation they're in and the stuff they have to go through on a daily basis," he told Cobarrubias before opening the event by singing "Jingle Bells."
Aurora has acted on TV, performed in theatre and sung the national anthem during NBA and NFL games, while the Filharmonic, a five-member a capella group based in Los Angeles, has appeared on The Late Late Show with James Corden and NBC's vocal competition, The Sing-Off. The group also was featured in the hit movie Pitch Perfect 2.
The event didn't end with the performances. There also were meet-and-greets with St. Jude patient families and a sing-along with randomly selected fans.
For the performers, the session did more than offer the chance to sing along with an online audience.
"Honestly, it's an honor to spread joy, even if it's virtually," Aurora said.