Rising country star Gabby Barrett takes
St. Jude

along for the ride

Gabby Barrett's debut album release is accompanied by a virtual scavenger hunt in which fans can learn about St. Jude Children's Research Hospital.
It's been an amazing couple of years for rising country star Gabby Barrett — from American Idol to marriage to having a No. 1 song and now releasing her debut album, "Goldmine."
"Oh, my gosh, it's been absolutely crazy, but in the best way," she said. "I feel very blessed and grateful that all of this stuff has come in pretty much a short amount of time."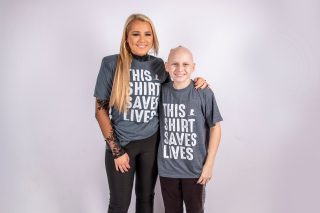 Barrett's not just saying she's feeling blessed and grateful. She's setting the words to music, so to speak, by singing the praises of St. Jude Children's Research Hospital and involving the cause in the hoopla around her album release.
"Goldmine," released June 19 on Warner Music Nashville, will be celebrated with a scavenger hunt for fans. Barrett teamed up with adventure and tour company Let's Roam in support of St. Jude Children's Research Hospital to create a free, original 5-day digital series of indoor scavenger hunts that let fans discover the album in an innovative and memorable way. Let's Roam's first-ever collaboration in music launched June 20 and allows fans to be entered to win a private Zoom call with Barrett by answering trivia questions, completing photo and video challenges, watching and listening to new songs on the album, and sharing tasks on social media.
"I absolutely love St. Jude, so anything I can do to partner, I'd love to," she said.
That's a common sentiment in the country music community, from Country Cares for St. Jude Kids radiothons that have raised hundreds of millions, to promotions like "This Shirt Saves Lives," and benefit concerts. Country artists are taught about St. Jude early in their careers — they're raised on the cause.
But Barrett has known about St. Jude most of her life.
"My parents always donated to St. Jude every month when I was growing up," she said. "I remember the envelopes and the stamps and stuff.
"So it was something very familiar and a charity that I gravitated toward."
Along with her third-place finish in season 16 of ABC's "American Idol" and hitting No. 1 on the Billboard Country Airplay chart with the platinum single "I Hope," her dizzying last couple of years also included her first visit to St. Jude, earlier this year.
First-time visitors often don't know what to expect — it's a research hospital for some of the world's sickest children, after all — and are surprised by the bright, inspiring nature of the place. But Barrett knew pretty much what to expect.
"I had heard all my life these wonderful things about St. Jude," she said. "I did hear it's very uplifting, happy, colorful, and that they try to do everything for the kids to make them feel normal and at home.
"I remember going in and it didn't smell like a hospital, and the hallways are just colorful and have paintings. It's very beautifully done. I could tell they do everything they can to make the children feel comfortable, and like they're not in a hospital."
Asked how she might describe St. Jude, Barrett said, "Oh, gosh," and then offered a few words: Friendly. Lovely. Comforting.
It's an inviting description, and that's what Barrett is doing. She's inviting her fans to keep St. Jude in their hearts, as they follow her musical journey.
And what better way to start a journey than with a scavenger hunt?