Inspiration4 crew marks memorable, busy year since historic mission for
St. Jude
These space pioneers have shared their stories around the nation and world, and some are even considering a possible return to orbit.

September 14, 2022 • 5 min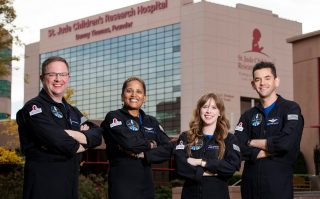 The crew members of Inspiration4 are used to firsts. They were the first all-civilian mission to orbit Earth. Now, a year after the historic mission, they're continuing to forge new paths: publishing books as first-time authors, traveling to new countries and even signing on to command new space missions.
For tech entrepreneur and philanthropist Jared Isaacman, bone cancer survivor and St. Jude physician assistant Hayley Arceneaux, pilot and geoscientist Sian Proctor and aerospace data engineer Chris Sembroski the drive to support the lifesaving mission of St. Jude Children's Research Hospital continues even as they've raised more than $250 million for the research hospital.
Here's what the I4 crew have been up to:
Jared Isaacman
Just five months after splashing down off the Florida coast as commander of the Inspiration4 mission, the tech entrepreneur partnered with SpaceX to develop the Polaris program. The series of three missions will aim to push the frontiers of human exploration, while raising awareness and funds for important causes on Earth, like the cancer research and treatment being pioneered at St. Jude. The first of the Polaris flights, named Polaris Dawn, is expected to launch early next year.
Jared has been training hard for the new Polaris mission, including scuba diving off the coast of California's Channel Islands and high-altitude mountain climbing in Ecuador. On a recent visit to Memphis, Jared said training in such austere environments will help the Polaris Dawn crew build the physical and mental endurance necessary to face demanding tasks such as conducting the first commercial spacewalk.
Jared recently toured labs in the 625,000-square-foot collaborative space at St. Jude named the Inspiration4 Advanced Research Center after the mission he helmed last fall raised more than $250 million for the research hospital. Walking through the space devoted to cell and molecular biology and immunology, Jared saw firsthand the work St. Jude researchers are doing to understand how tumors grow and behave while testing new treatments.
"As little as we understand about the worlds beyond ours, there's so much we still don't understand about our bodies," he said. "Walking through the Inspiration4 Advanced Research Center really reinforced for me the importance of St. Jude and the mission and everything they're trying to accomplish."
Hayley Arceneaux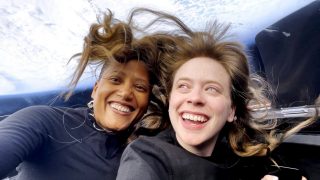 The bone cancer survivor, who was treated at St. Jude in 2002 when she was 10 years old, carries a promise in her heart to live life as "an avid adventurist making the most of her second-chance life."
And this past year, she did.
Hayley traveled to Iceland and Scotland for the first time, turning her Instagram account into an ode to the lush valleys, fjords, hot springs and dramatic mountain scenery of the Nordic island nation.
Over the last 12 months, she also became a first-time author, writing and publishing a memoir titled "Wild Ride: A Memoir of IV Drips and Rocket Ships." The autobiography chronicles her experiences growing up in Louisiana, then moving to Memphis, surviving cancer and traveling to space as the youngest American to orbit the earth, the first pediatric cancer survivor to travel to space, and – with metal rods replacing parts of her leg bones – the first astronaut with a prosthetic body part.
"Writing this book, I was able to look back and see how far I've come," Hayley said.
Going back to work at St. Jude after being in space, Hayley said, "just reaffirmed for me I'm where I am supposed to be." She had only been at St. Jude for a year when she was tapped to go to space and spent six months preparing to go. It was hard to leave.
"I love my job more than ever," Hayley said at a book launch event recently. "I appreciate it so much more."
Over the course of the mission and the last year, Hayley has also forged a close friendship with fellow crewmate, Sian Proctor. In a recent chat, the women finished each other's sentences, talked about the strength and support they draw from one another and even wear matching rings.
"I think I knew we'd become close but didn't know how close," Hayley said. "We're like sisters."
Sian Proctor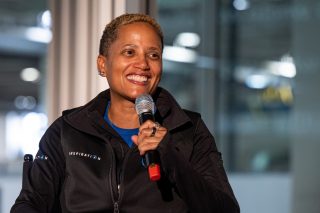 Sian, a geology professor, works just outside Tempe, Ariz. for the Maricopa County Community College District. She also travels around the country speaking about space and advocating for science, the arts, diversity and inclusion.
Just months after the Inspiration4 mission she published a book, "Space2inspire: The Art of Inspiration," featuring poetry and art. Critics described her work as "a whimsical poetic tale of her becoming the first black female commercial astronaut and the first black female to pilot a spacecraft."
The last 12 months have been a whirlwind.
"It's hard to believe it's been a year," Sian said. "…It feels just like yesterday."
Given the chance to go back to space – to the moon or maybe even Mars, Sian said she'd embrace the opportunity.
"Three days wasn't enough," she said, not after the months of training she endured with her crew mates. "I hate to see it be a one-off."
Chris Sembroski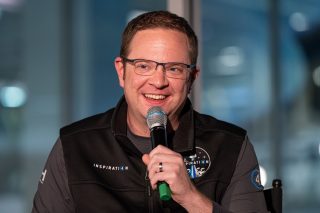 Being part of the Inspiration4 mission only amped up the allure space holds for Chris, an Air Force veteran and engineer from Everett, Wash. He recently took on a new role as an avionics engineer at Blue Origin, a space venture founded by Amazon founder Jeff Bezos.
Announcing the move on social media, Chris said, "Images of our universe from Hubble and JWST pull on our desires to explore and to seek out new adventures. I am thrilled to be a part of our expansion out to the rest of the universe."
Like his crewmates, Chris also gives talks on his space training and travel experience, sometimes standing before high-profile audiences hoping to fund the next generation of space travel, but also to his daughter's preschool, where children just want to learn what it's like to be in space.
"When I'm talking to other people, it's about trying to share with them the impact it had on me, and what I take away from the experience," Sembroski told Seattle-area technology news site GeekWire recently.
"I feel as if we set out to accomplish an incredible mission in space using all civilians who were brought together from all backgrounds, to show that space is open for everyone. You do not have to be at the top of the class to enjoy the experience and be successful in space. At the same time, you have to do it with a purpose — saying that, yes, we are in space, but we have a huge duty to give back and do something great on Earth at the same time."
To commemorate this historic milestone, donate now.