"It's not enough to cure.''
St. Jude

LIFE study tracks survivors of childhood cancer to monitor the long-term health effects of disease and treatment.

February 16, 2021 • 3 min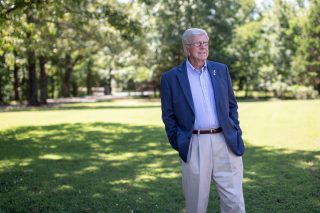 More than a half-century after he was cured of childhood cancer, Dwight Tosh still shows up for appointments at St. Jude Children's Research Hospital.
But instead of the chemotherapy and radiation he experienced as a boy, these appointments involve tasks like climbing onto a treadmill and enduring a rigorous workout.
"They're pretty tough on me over there…," Tosh said, "but I try to hold my own with them, I can tell you."
Back in 1962, Tosh became St. Jude patient No. 17 when he underwent treatment for Hodgkin lymphoma in the brand-new hospital. Today, he's among thousands of childhood cancer survivors taking part in St. Jude LIFE, a one-of-a-kind research study that brings former patients back to St. Jude for regular health screenings throughout their adult lives.
A primary goal is to identify and track the long-term effects of cancer and its treatment — the toll from radiation and toxic chemotherapy drugs — to help survivors enjoy longer, healthier lives.
"The key word in St. Jude LIFE is 'life.' What we've realized is that we need to be committed to our survivors across their lifespan," said Greg Armstrong, M.D., a St. Jude faculty member who is co-leader of the Cancer Control and Survivorship Program.
"It's not enough to cure. We want to cure and return children and adults back into the real world into their lives full-up."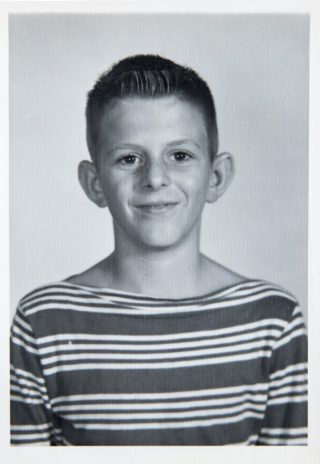 Dr. Armstrong and Tosh discussed the LIFE program and other subjects during a recent presentation of the St. Jude Insider Spotlight Series.
The LIFE initiative is one of two major studies of pediatric cancer survivors coordinated and administered by St. Jude. The other is the Childhood Cancer Survivor Study, a national effort involving 38,000 people, many of whom were not St. Jude patients.
The LIFE study is for former St. Jude patients who have survived cancer at least five years and were diagnosed between 1962 and 2012. About 9,000 former patients are eligible.
Although it draws from a smaller population than the CCSS, the LIFE study in many ways is more rigorous, Dr. Armstrong said. The national study is conducted through surveys, while LIFE participants return to the St. Jude campus to undergo extensive health screenings and exams.
"We don't just ask, 'Have you been told by your doctor you've had heart disease?' We do an echocardiogram, and an EKG….," he said. "St. Jude LIFE is like a precision tool for understanding the long-term health effects of survivors."
During their initial visits, participants undergo a baseline health screening that can take several days. They return every three to five years for follow-ups. In addition to taking scans of organs, physicians put participants through exercise testing.
To make it feasible for participants to show up, St. Jude covers all their travel costs and even compensates them for lost work time.
The testing can help survivors gain more control over their health and provide for early detection of secondary cancers resulting from their treatment.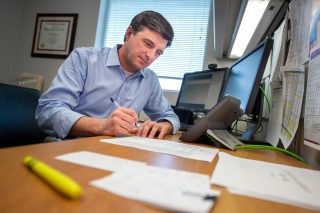 For researchers and specialists, the study has been especially fruitful. By tracking the progressive damage caused by cranial radiation, anesthesia and other procedures, they've learned how to modify therapies to make them safer and more effective for current patients.
"The long-term follow-up has completely shaped how we treat patients on the front end," Dr. Armstrong said.
Participants like Tosh are particularly important, he said, because they represent the first generation of childhood cancer survivors. Previously, pediatric cancer had been a veritable death sentence.
Tosh, for his part, is grateful for the chance to participate. He hopes the information gleaned from studies of his case helps other children survive and thrive.
"No matter what I'm doing, I will stop when I get that call from St. Jude because I'm going to go, and I'm going to participate. I'm going to do what I can to help."