New Family Commons area and support programs provide resources and respite to
St. Jude

families
Home-away-from-home is possible thanks to historic $50 million gift from AbbVie

January 26, 2023 • 3 min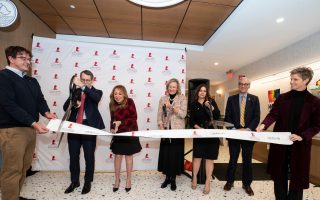 Imagine walking into a hospital and being able to spend the time in between doctor's visits giggling in an indoor playroom under butterfly sculptures and lights shaped like clouds. Or creating a masterpiece in an art studio stocked with paint, markers, clay and paper. Imagine spending time after appointments in a science lab full of microscopes and beakers for testing, experimenting and exploring.
This vision is becoming reality for patients at St. Jude Children's Research Hospital, with the debut of the new 45,000-square-foot Family Commons on the second floor of the St. Jude Patient Care Center.
The kid-friendly haven offers families much-needed respite in between appointments, thanks to a generous and historic $50 million commitment from AbbVie. The donation is the largest single corporate gift in the 61-year history of St. Jude.
"Families will get off that elevator with squeals of joy because they're going to be so excited to be here," said Jason Winkle, whose son Micah was treated eight years ago for Ewing sarcoma, a rare bone and soft tissue tumor.
Winkle, who serves on the St. Jude Patient Family Advisory Council that provided input for the design and services of Family Commons, called it "a gift of peace in the storm of treatment."
AbbVie's donation enabled the design, construction and program operations of the space which features nooks with arching pink armchairs and curvy golden sofas for resting and reading. There's a music classroom with drums and ukeleles and a tropical themed hair salon with blue palm wallpaper and flamingo prints.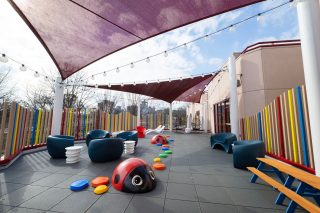 Here, patient families can reconnect and recharge in a cafe with coffee and snacks or reflect in a quiet meditative space adorned with stained glass. Family Commons is also home to new preschool to high school classroom spaces, including a science lab and library as part of a school program named Imagine Academy by Chili's.
"We are incredibly grateful to everyone on the AbbVie team for their extraordinary donation that demonstrates their commitment to helping families thrive," said Richard C. Shadyac Jr., the president and CEO of ALSAC, the fundraising and awareness organization for St. Jude. "We are thrilled to see this plan become a reality as we near the 61st anniversary of St. Jude."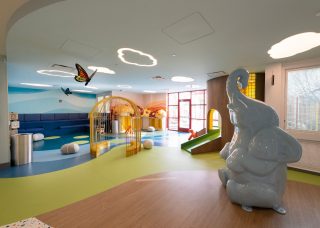 At a ribbon cutting for Family Commons, Tracie Haas, senior vice president of Corporate Responsibility, Brand and Communications for AbbVie said, "Through AbbVie's donation, the thoughtfully designed Family Commons provides patients and families at St. Jude with a home-like atmosphere and sense of comfort during one of the most difficult times in their lives."
"As a company that strives to have a remarkable impact on patients' lives, we are proud to support St. Jude Children's Research Hospital through the creation of the new Family Commons, a place where patient families can benefit from the psychological, spiritual, developmental and social support services provided by St. Jude," Haas said.
The Family Commons has been nearly a decade in the making, St. Jude President and CEO James Downing, MD, said, adding he'd always envisioned a space that would act like a "town square."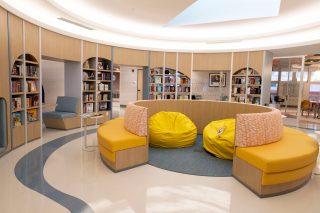 "Treatments for childhood cancer and other catastrophic diseases can take years," Downing said. "The Family Commons will help ease this journey, offering a community respite space for patients and their families during long days at the hospital. The first-of-its-kind floor is designed to provide a full suite of amenities to answer everything a family wants — whether it's quiet time, play time or the many needs that fall in between."
Marlo Thomas, National Outreach Director and daughter of St. Jude founder Danny Thomas, said the Family Commons was filled with whimsy and wonder and offers the kind of holistic care her father envisioned when he founded the research hospital.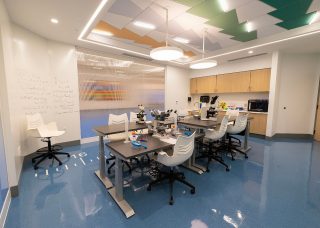 "When my father built St. Jude, his mission first was to defeat the catastrophic childhood diseases that were invading the bodies of these children. But he also wanted to treat the whole child and care for the whole family," Thomas said. "Each design decision we made had patient comfort — whether it was physical or emotional — top of mind. The thoughtful, creative design of Family Commons demonstrates the holistic care St. Jude provides."
A space like this for play and rest, community and creativity, serves an important role in helping children feel better, said patient mom Paula Elsener, who remembers long days of clinic appointments with her son Tristan in 2019.
Elsener said this dedicated space for connection among patient families will be transformational and inspirational. It promotes the type of sharing, support and hopeful dialogue that bolsters families through the treatment journey.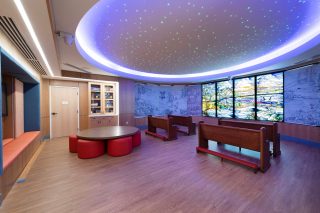 "This space is a physical manifestation of the commitment St. Jude has for the respect and dignity of our families," Elsener said. "I'm thrilled to see this labor of love come to life — as a place for support and connection, an oasis for normalcy, a retreat where you can drop your battle armor if only for a few moments."