A leap forward in 1971 is inspiration for the work we do today
When
St. Jude

ended its Christmas in July celebration 50 years ago, it was a sign of great and hopeful days ahead.

July 21, 2021 • 3 min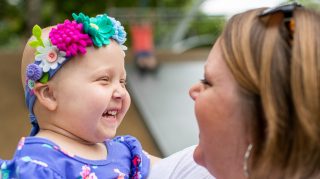 It's July and we're not celebrating Christmas. And that's a good thing. It's cause for its own celebration, really. Because up until 1971, an annual tradition celebrated at St. Jude Children's Research Hospital had been Christmas in July. Most kids diagnosed with cancer at that time, sadly, wouldn't live to see December.
In a July 8, 1971 Memphis newspaper story, in a section aptly titled "Today's Good News," Dr. Donald Pinkel, the first St. Jude medical director said, "The survival rate has improved so much that the majority of children who have leukemia and other cancers are living more than a year. Our clinic now expects a vast majority of the children here to celebrate Christmas on Dec. 25."
In fact, within the year, St. Jude would announce acute lymphoblastic leukemia, the most common form of childhood cancer, would achieve a survival rate of 50 percent. Up from just 4 percent a decade earlier when St. Jude opened. Today, the survival rate for ALL at St. Jude is 94 percent.
Good news, indeed.
But we take such good news in stride because that final 6 percent represents subtypes of leukemia, such as ALL in infants with a survival rate of less than 50 percent, which are extremely difficult to treat.
The survival rates for relapsed diseases and other, more complex cancers such as Diffuse Intrinsic Pontine Glioma (DIPG), are tragically low as well. DIPG is a tumor that starts in the brain stem where breathing and heart rate are controlled. It's typically diagnosed in children between the ages of 5 and 10, is practically inoperable, and affects the muscles that help them see, hear, walk, talk and eat. At this time there is no cure for this tumor.
It's what Joshua's family learned he had while on a trip from their home in Macon, Georgia, to visit the Birmingham Civil Rights Institute. Instead of spending that Labor Day weekend learning about Dr. Martin Luther King Jr., and the struggle of African Americans in this country, his family learned Joshua had roughly 12 months to live.
He celebrated Christmas that year, but it would be his last.
At St. Jude, we recognize each great scientific advancement such as increasing the overall childhood cancer survival rate from less than 20 percent to 80 percent in this country since 1962. But we remember every loss as well. And we vow to do everything in our power to ensure moms and dads like Joshua's don't know the pain of a last Christmas.
In 1971, we saw more and more kids beating the odds and surviving for more weeks, months and years. But even as cancer research and treatment have progressed, with four out of every five kids surviving, that's still not enough.
When the one child dying is yours, it's too many. "The hurt and the heartache," Joshua's mom said, "they never go away."
In the most recent St. Jude strategic plan, thanks to millions of supporters like you around the world, $3.7 billion will be spent over the next six years to expand cancer-focused research and related clinical care focused on raising survival rates for the highest-risk cancers and for children with relapsed diseases.
For kids like Joshua, who loved playing with his toy trains and singing gospel hymns. And for the roughly 300 others who will be diagnosed with DIPG this year.
Thanks to you, our supporters, we're building on the successes of past decades to care for more children around the world, giving them the gift of more holidays spent with family.