A legacy of innovation and compassion: Dr. Donald Pinkel
Sixty years ago, a young doctor came to
St. Jude

Children's Research Hospital and the world of catastrophic pediatric disease research and care has never been the same.

March 23, 2022 • 3 min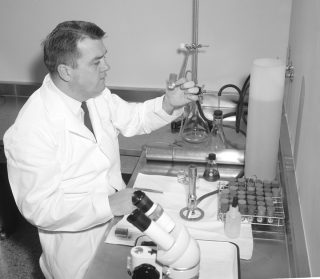 We lost a giant earlier this month with the passing of Dr. Donald Pinkel at 95 years old. The first medical director of St. Jude Children's Research Hospital, Dr. Pinkel set the tone and created the culture for what has become a collaborative, innovative and transformative work environment.
It's an environment that led to an overall childhood cancer survival rate in this country of more than 80 percent, and a survival rate at St. Jude for acute lymphoblastic leukemia (ALL), the most common type of childhood cancer, of 94 percent.
For context, those survival rates when Dr. Pinkel helped open St. Jude were less than 20 percent and 4 percent, respectively.
Childhood cancer in 1962 was a death sentence.
"At that time, with ALL, the idea was to try to prolong life in comfort — that was it," Dr. Pinkel told Smithsonian Magazine in 2016. "We called it 'palliation.' No one thought you were going to 'cure' anybody. That was almost a forbidden word."
Turning that outlook around was the mandate when Dr. Pinkel and his family arrived in Memphis from Buffalo, New York, on October 28, 1961 — the feast day of St. Jude Thaddeus, the patron saint of hopeless causes and namesake of St. Jude Children's Research Hospital.
St. Jude wouldn't open for another three months. Dr. Pinkel was the first employee of St. Jude and his office amid the construction zone was equipped with a table and chair, and two wires from outside utility poles — one for telephone and one for light and heat.
This was the start-up environment he came to when he left a stable position as Head of Pediatrics at Roswell Park Memorial Institute in Buffalo. He had been counseled by others in his profession not to take the job. Told, in fact, that to do so would be career suicide.
He was 35 and had seven children. Imagine leaving stability for a new idea in the world of pediatric disease research and care, one with no clear roadmap to success, at the first fully integrated children's hospital in a segregated South.
I am in awe of Dr. Pinkel's courage and vision in making that decision, and I am forever grateful for what he contributed to the world when he did.
A large part of that contribution was his idea of combination therapy, a mix of chemotherapy and radiation, in the treatment of childhood leukemia. By 1970, just eight years after St. Jude opened, survival rates had increased to 50 percent and Dr. Pinkel and St. Jude would make a statement previously thought impossible: Leukemia can no longer be considered an incurable disease.
Today, his influence is manifest in pediatric research and care institutions around the world.
It's there among teams of St. Jude researchers, doctors and caregivers working with equipment and technology on protocols and projects not even dreamed of 60 years ago.
At ALSAC, his can-do spirit and unyielding compassion inspire my colleagues across the country, just as they inspire me, to give our all for kids in need.
Thanks to Dr. Pinkel's vision and innovation — thanks to his introducing the word 'cure' to childhood cancer — tens of thousands of kids have been given second chances at life. And so many more will be his legacy as St. Jude takes its lifesaving mission to the world.