Bold and innovative thinking the cornerstone of
St. Jude

Children's Research Hospital
With a historic partnership and $12.9 billion strategic plan,
St. Jude

continues a tradition of pushing limits to create the best care for catastrophically ill kids everywhere.

November 10, 2022 • 2 min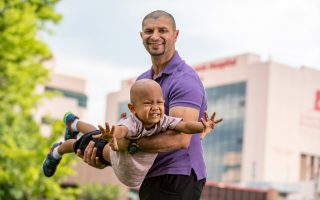 St. Jude Children's Research Hospital was a bold and radical concept when Danny Thomas presented it first to his close community of fellow Lebanese and Syrian immigrant families, and then to the world at large, more than 60 years ago.
An institution built on the notion of diversity, equity, inclusion and belonging for patients, staff and supporters at a time and place when racial segregation was common.
Care and treatment at no cost to families. Bold.
Research shared among the global scientific and medical communities so collaborative work could be harnessed to save even more lives regardless of where a child lives. Radical.
Innovative and progressive. Words used today to describe so many facets of St. Jude.
From our groundbreaking research to a continuing culture and enhancement of DEI&B initiatives to planning for the future.
In line with those bold steps and to better care for patients at St. Jude and impact more of the 400,000 new cases of childhood cancer around the world each year, St. Jude is making its largest single investment in its history for the care of tomorrow's patients through a historic, $12.9 billion strategic plan.
Ground has been broken for two 15-story towers to better accommodate our medical professionals and outpatient care.
Already, the 625,000-square-foot Inspiration4 Advanced Research Center has opened, and the $110 million Domino's Village family housing facility is slated to open next spring.
A $200 million initiative will provide consistent, quality assured chemotherapy medicines to countries in need at no cost — yes, for free. This bold program alone is estimated to impact more than 120,000 kids in 50 countries in the first five years.
St. Jude is focusing on the most difficult cancers to solve and collaborating with institutions around the world as it continues to be determined to impact families everywhere.
These are historic times. The world of global pediatric healthcare is at a turning point and the St. Jude strategic plan, fueled by you, our supporters, is helping affect real change for the better.
We see the impact of your generosity in the expansion of our lifesaving mission and in unity created through purpose and cooperation with the goal of finding cures and saving children.
Sixty years ago, Danny Thomas gathered trusted friends, family and advisors to create a bold and audacious plan for curing childhood leukemia. Because of that early cooperation, great strides have been made in that fight against catastrophic pediatric diseases around the globe.
With bold and innovative planning, and progressive collaborations happening daily on campus and worldwide thanks to our supporters, new breakthroughs and better treatments — and a second chance at life — for kids in need are certainly on the horizon.