Celebrating legacy and a lifetime of giving back
When Dr. Rudolph Jackson came to
St. Jude

in 1968, he initiated a course of care that would ripple through neighborhoods and the world.

February 25, 2022 • 2 min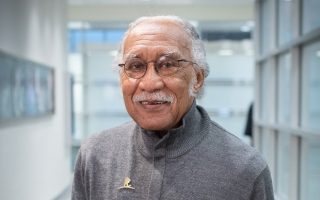 Dr. Rudolph Jackson had studied at Morehouse College and Meharry Medical College and was training in Philadelphia hospitals when Dr. Donald Pinkel paid him a visit.
It was a meeting that left Dr. Jackson with a choice. One that would help shape the healthcare of children around the world as well as in local, impoverished neighborhoods to this day.
Dr. Pinkel, the first medical director for St. Jude Children's Research Hospital, asked Dr. Jackson to join the ranks of St. Jude, an institution not yet 10 years old.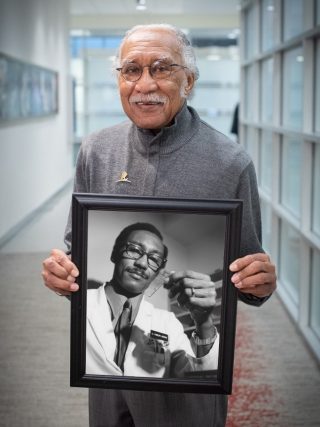 It wasn't a simple request. World-changing ventures are rarely simple.
It was 1968 and Dr. Jackson, an African American physician, was considering moving his family to the heart of the segregated South. In the same year — in the same city — that Dr. Martin Luther King Jr. had been assassinated.
I think about that decision a lot. The courage. The compassion. The purpose behind Dr. Jackson's calling and his willingness to join a new, as-yet unproven mission. I think about his legacy.
He came to Memphis as one of the first African American doctors at St. Jude, the first integrated children's hospital in the South. Here, in addition to his pioneering research into sickle cell disease and leukemia, he helped establish a program offering healthcare and nutrition to poverty-stricken neighborhoods in Memphis. It would become the prototype for the federal Special Supplemental Nutrition Program for Women, Infants, and Children (WIC) initiative. That initiative and St. Jude would become a lifeline for the Farmer family living in the Foote Homes public housing project just two miles from St. Jude.
Jason Farmer was born in 1969, one year after Dr. King's death and Dr. Jackson's fateful decision. Two of his siblings required medical attention. "Were it not for St. Jude," he said, "it could have tipped my family into a deeper state of poverty."
Instead, the Farmer family thrived and, Jason said, "Our parents taught us to dream beyond our present circumstance."
He would go on to join the U.S. Marine Corps, serving in operations Desert Shield and Desert Storm. And today is the founder and CEO of a successful film production studio in Memphis.
Through it all, he's remained a steadfast supporter of St. Jude, where he's volunteered at the annual Memphis PGA TOUR event and run the St. Jude Memphis Half Marathon. Twice.
"The solution to any problem, it always starts at home," Jason said. "Small, incremental steps are part of the bigger solution."
In 2019, Dr. Jackson was honored at St. Jude Spirit of the Dream, an annual event celebrating the achievements of African Americans who embody the lifesaving work of St. Jude and its founder, Danny Thomas. It's an event Jason helped establish and has served as its chairperson.
Though Dr. Jackson passed away last summer, we remember him and honor a legacy that lives on in those who might never have had a second chance. With gratitude, we celebrate Jason's commitment and generosity, the spirit of which makes so much possible.
Thanks to these two figures, and thousands of women and men like them, kids everywhere have the chance to dream beyond their present circumstance, and to make choices that will one day make this world a better place.