Dr. Joseph Simone and Dr. Arthur Nienhuis: Legacies of servant leadership
As we mourn the loss of cherished
St. Jude

directors, we look to their examples and recommit to carry our mission forward.

February 12, 2021 • 3 min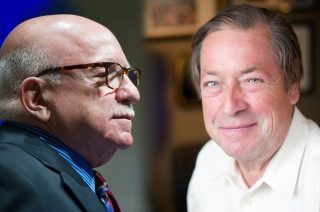 To be a supporter of St. Jude Children's Research Hospital is to walk in the footsteps of dreamers, those with bold visions and the imagination and determination to see them through.
In the past month, sadly, we've lost two of those dreamers — Dr. Joseph Simone and Dr. Arthur Nienhuis. These giants of science and medicine, with their combined 20 years as directors of St. Jude, have made an impact on the world that will be felt for many years.
In the hands of these two men, progress in the field of gene therapy, and the fight against pediatric leukemia and HIV/AIDS, was astronomical. Both men cherished the kids in their care and believed strongly in not just quality of treatment, but the quality of life that treatment allowed.
A native of Chicago, Dr. Simone received his medical degree from the Loyola University Chicago Stritch School of Medicine, named for Cardinal Samuel Stritch, mentor to Danny Thomas who recommended our founder build St. Jude in Memphis. Dr. Simone would go on to help develop the first curative treatment for leukemia through the Total 5 protocol for acute lymphoblastic leukemia. As a result of that study, the survival rate for ALL rose from 4 percent to 50 percent. Today, 94 percent of kids treated at St. Jude for ALL survive, thanks to the direction and work ethic of people like Dr. Simone.
Indeed, his was one of the St. Jude voices whose declaration in 1970 would shake the global scientific and healthcare community: Leukemia can no longer be considered an incurable disease.
As Dr. Simone's successor, Dr. Nienhuis, who spent much of his career at the National Institutes of Health, built on his predecessor's advances and would quite literally build the St. Jude campus itself. In tandem with my father, the CEO of ALSAC at the time, he oversaw an impressive expansion that included the Children's GMP facility; the Hartwell Center; Donald P. Pinkel, MD, Research Tower; and Tri Delta Place, the first on-campus patient housing facility.
Both men recruited and mentored some of the best and brightest in the medical field — scientists whose dreams have helped break boundaries in the fight against childhood cancer and other life-threatening diseases, and who have graciously shared those discoveries in an effort to help more kids around the world.
Our mission is a global one, yet the heart of St. Jude can be found here in its hallways where these giants' footsteps continue to echo, their legacies seen and felt in laboratories and clinics everywhere even decades after their time in the C-suite and boardroom ended.
Dr. Simone continued his distinguished career with other leading cancer research institutions across the country, including Memorial Sloan-Kettering Cancer Center, Huntsman Cancer Institute at the University of Utah and the University of Florida's Shands Cancer Center. I'm sure they're all the better, as are we, for his wisdom and heart, and we honor him through the St. Jude Joseph Simone Endowed Chair in Basic Research.
Dr. Nienhuis returned to his lab at St. Jude to continue his work in the burgeoning field of gene therapy where, along with the late Dr. Brian Sorrentino, a cure — a word as prized as hope within the St. Jude family — was found for SCID-X1, known commonly as bubble boy disease. Dr. Nienhuis' work also provided a safe, reliable source of a necessary blood clotting protein factor for hemophilia, extending new hope to individuals with that disease.
At the end my father's life, it was Dr. Simone who checked in on him — and me — and helped guide difficult end-of-life decisions. Dr. Nienhuis was always willing to give me his insights as well. I know my dad cherished his relationship with both of these remarkable men, as do I.
I'm proud today to call Dr. Nienhuis' son Kevin a colleague at ALSAC, where his work helps ensure the rich legacy of his father, and all who came before, will continue.
One thing we've learned at ALSAC and St. Jude about dreamers like Dr. Simone and Dr. Nienhuis: their shoes are impossible to fill, but their footsteps guide us. I'll forever be mindful for their compassion and, on my road ahead, guided by their service, empathy and imagination.