Five numbers that define our challenge

May 08, 2020 • 2 min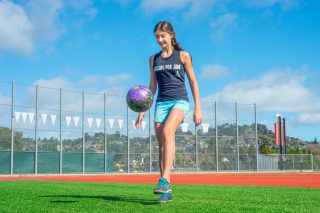 I read a comment recently from one of our tireless volunteers, just 15, about her motivation to fundraise for St. Jude Children's Research Hospital even as her parents' business, their source of income, is closed because of the global pandemic.
Hollis Belger said what drove her was simple: "Childhood cancer doesn't shelter in place."
That's a remarkable sentiment from a teenager facing so much uncertainty in her own life and puts our work, amid the COVID-19 pandemic, into stark perspective.
As do these five numbers:
$1,000,000,000
Like Hollis, I've been connected to this mission most of my life, first going door to door as a child collecting for St. Jude, then as an adult organizing fundraisers in Washington, D.C., my hometown, serving as chairman of the ALSAC board and finally, for the past decade, serving as CEO. When I was collecting change door to door, the operating budget was more than $1 million a year. Now, our incredible team at ALSAC is responsible for raising most of the more than $1 billion a year it takes to operate St. Jude. Those costs don't stop, or even slow, because much of the world is sheltering in place.
20 percent
St. Jude has led remarkable progress in researching and treating childhood cancer but 20 percent of the kids who come through our doors – and yes, they're still coming during the pandemic – won't survive their disease. Our current public health crisis doesn't make losing 1 in 5 kids to childhood cancer any less unacceptable.

400,000
That's the estimated number of new cases annually of childhood cancer around the globe. Sadly, most of these cases occur in countries where survival rates – not death rates – are 20 percent or less. That's roughly where they were in 1962 in the U.S. when Danny Thomas opened the doors of St. Jude. It's like turning back the clock on decades of research and treatments but St. Jude has pledged to raise survival rates of the six most common forms of childhood cancer to 60 percent, globally, by 2030.
94 percent
At St. Jude, the survival rate for the most common form of childhood cancer, Acute Lymphoblastic Leukemia (ALL) is 94 percent, the best worldwide outcome for the disease. It's such a hopeful number because when our doors opened, that number was just 4 percent. Just think how that impacts the world.
And by the way, the average cost to treat one child with ALL is about $300,000.
0
No matter what's happening in the world around us – even during a pandemic - our commitment is always the same: Families never receive a bill from St. Jude for treatment, travel, housing or food.
That's why our work to raise funds is so urgent. We've made an unbreakable promise to our patients: they'll get the best care available anywhere and their bill from St. Jude will always be: 0.
We can do that only because of you.
Richard C. Shadyac Jr. is President and CEO of American Lebanese Syrian Associated Charities, the fundraising and awareness organization for St. Jude Children's Research Hospital.