So much changed overnight, except your love and support of
St. Jude

April 25, 2020 • 2 min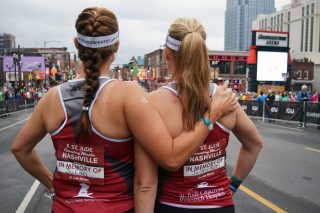 Ordinarily, I'd be in Nashville this weekend, fundraising and celebrating with tens of thousands of runners participating in one of the most important annual events for St. Jude Children's Research Hospital.
Ordinarily.
But I imagine your normal is just as upside down as ours.
The St. Jude Rock 'n' Roll Nashville Marathon has been postponed. Its massive waves of 30,000+ runners won't be crowding the hilly, scenic streets of Music City today as they have for the last eight years – in financial support of St. Jude. There'll be no live music every mile to keep runners energized. Or live crowds cheering them on.
Instead, I've recorded video messages this week from my home office encouraging thousands of St. Jude Heroes – runners who fundraise for us – to continue training and fundraising, to complete the race we set out on together. And, they did. They kept fundraising. And they ran today – on their own, in cities everywhere, connecting virtually through Facebook and other online apps. Because, we share the same belief:
We must continue fundraising despite postponed or cancelled events because sick children continue to count on St. Jude for care, no matter the global COVID-19 pandemic.
It's been reaffirming to see so many kind souls step up to raise money for St. Jude, whether they're competitive runners, famous musicians and artists or just plain folks wanting to help children and families in need. We're benefitting from a wave of creative, do-it-yourself fundraisers – everything from streaming concerts given by some of the nation's biggest stars to extraordinary, ordinary people selling their handmade wares – to generate dollars in this unprecedented crisis.
I loved the story of the Nebraska photographer who took front porch portraits of families in quarantine in exchange for a donation to St. Jude. Isn't that humanity at its level best, its heart shining through the darkness?
And I don't have words for the generosity of one loyal donor who donated his federal stimulus check to St. Jude.
But, sadly, all these beautiful, heartfelt, creative gestures combined can't make up for the loss of event and other giving we've encountered since COVID-19 swept the nation. Our core donors have been profoundly affected by the public health and economic crisis and, as a result, so are donations.
So please give what you can. Even when we are apart, your support keeps us together.
Richard C. Shadyac Jr. is President and CEO of American Lebanese Syrian Associated Charities, the fundraising and awareness organization for St. Jude Children's Research Hospital.