Giving thanks for life and laughter
The unbridled happiness of a
St. Jude

patient is reason for gratitude. Knowing we must do more for kids in need around the world is the reason we won't stop.

November 17, 2022 • 2 min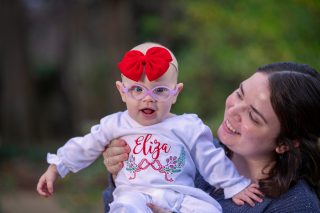 Eliza's giggle is irresistible. Captured in a few seconds of video, her laughter and genuine delight leaves me optimistic for her life ahead and for the work left to do in the fight against childhood cancer and other life-threatening diseases.
Eliza's is a pure joy, made all the more hopeful because when she was diagnosed with retinoblastoma, an aggressive eye cancer, at just 4 years old, life was not guaranteed.
Thankfully, Eliza was treated at St. Jude Children's Research Hospital. Thanks to all of you, our supporters, this little "ray of sunshine," as her mom calls her, is giggling and filling her parents' days with light.
As we look to Thanksgiving next week and the start of the holiday season, I'm reflecting on gratitude and the things I'm most thankful for. Togetherness and family and, yes, the laughter of children and their dreams.
In a world more divided all the time, it's the big things and small uniting us that I'm thankful for. The compassion and empathy of those who have embraced this mission, especially my own parents who imbued our lives with a sense of purpose early on.
I'm grateful for this community and the ongoing opportunity we all have to make a real difference in the lives of families everywhere.
These are families like Eliza's, whose mom said, "We are so thankful that there are people out there who care and who give to St. Jude so we can care for our baby girl."
When I hear their story and her laughter, and the stories of thousands of others who have been given a second chance at life, I'm filled with immense hope for the future and our plans to impact the more than 400,000 cases of childhood cancer globally each year.
I'm reminded, too, especially during this time of year, of those moms and dads who won't hear the laughter of their children. We hold them in our hearts and thoughts, and vow to do all we can to help the kids in need today and patients of tomorrow.
I'm so grateful to share this journey with all of you. Thankful for millions of supporters who hold fast to this lifesaving mission and join together to forge a new frontier of global pediatric healthcare with a goal of raising childhood cancer survivor rates for all.
These are exciting and optimistic times. I see it in the faces of hopeful parents, hear it in the laughter of a child who has her whole life ahead of her and in the articulation of their dreams about the future.
Thank you for the part you play in those moments, and I wish you all a Happy Thanksgiving and safe and happy holiday season.