In praise of
St. Jude

patient parents, whose grace and strength inspire us all
Cancer moms and dads find themselves confronting a crisis they can't solve alone. But they're heroes of the healing process.

October 28, 2021 • 2 min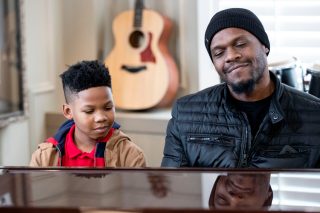 It's tough being a parent even in the best of times. Imagine what it's like when your child has been diagnosed with a catastrophic disease. Your impulse is to protect. Your nature is to nurture. To fix what's wrong and make everything better.
But cancer is beyond your control. Now you must put your trust, and faith, in others.
My heart goes out to the parents of our St. Jude patients. But so does my admiration, for their courage and compassion in the face of such fear and uncertainty. At a time when they feel most helpless, when it seems there's nothing they can do, they do everything they can to help.
I think of Quinton. When his son Quincy was facing chemotherapy, and trying to cope with losing his hair, Quinton had an inspired idea. "After I finish cutting yours, I'll let you cut mine off," he told his son, "and we can be bald-headed together."
I think of Jillian. When her son Alexander was diagnosed with a brain tumor, she found herself juggling everything from medicine and lab appointments to "Is it a radiation day or a chemo day?" She said it's a full-time job — a job she never wanted, but performed heroically, even as her 5-year-old daughter Brinley, Alexander's sister, was back home, hundreds of miles away, starting kindergarten without her mom there to support her.
Our patient parents are beyond strong. And their love for their children is boundless. But I'm most in awe of how they support each, lean on each other, love each other, at a time when it must be so easy to disappear into yourself, focus solely on your own family's worries, and wall off the rest of the world.
Nadine can tell you about the selflessness of St. Jude parents. When her son Braxton was diagnosed with a brain tumor, she struggled with trying to be not just a mother and "nurse" to her little boy, but also learning to be a walking dictionary of medical information and a gatekeeper of that information for her family. It was all a little overwhelming. But then she learned an important fact — she wasn't alone. She was surrounded by moms and dads facing the very same struggles, all helping each other.
"The other families here, they're my family," Nadine said.
They're second families, just as St. Jude is a second home.
This is the essence of what our founder, Danny Thomas, created nearly 60 years ago. A place of research and treatment, yes. But also a place where sick kids and their families — families of every type worldwide — could find comfort and a sense of normalcy in a time of unimaginable crisis.
Our patient parents are a crucial part of making St. Jude the place it is. They may feel helpless at first, but inevitably they become essential to the healing process — from a dad getting his head shaved in solidarity with his son, to one mom being there for another in a moment of crisis.
Such grace and strength make a powerful medicine, and there's no greater source of it than our patient parents.
They symbolize why we all love and support St. Jude Children's Research Hospital.
They inspire us to do even more.